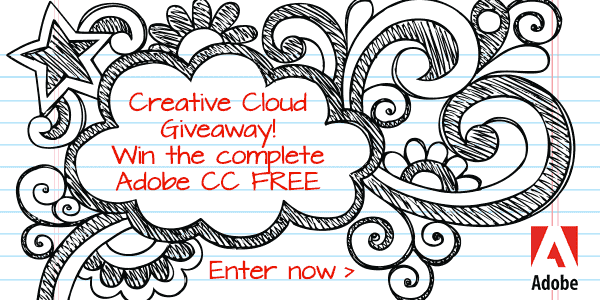 We've previously covered 30 hours of free video tutorials for Adobe's Creative Suite 6, as well as four hours for Lightroom 4 – so here are some helpful (and free) new learning resources for the just-released Elements 11 product line…
Because Elements 11 has an all-new intuitive editing environment with a revamped Organizer plus other new features, the content here doesn't carry well to older versions of Photoshop Elements. However, we do also have a page still available with several hours of free tutorials for PSE 10 & 9 and earlier.
In the brand new course given below, the experts share how to get started with Photoshop Elements 11, the basics of the software, new features, how to use key tools and functions, plus their favorite tips and techniques. In sum, there is nearly 3 hours of free training video, with 33 separate chapters.
Most modern cameras now also take great videos in addition to photos, so Photoshop Elements is well-integrated with Premiere Elements for video editing – and since many people use the tools together, we've also included links for over two hours of free tutorials for learning how to use Premiere Elements 11.
If you need a copy of Photoshop or Premiere Elements 11 to get going right away, just download the free trials and they will work fully for 30 calendar days, which should be plenty of time to get through the classes. Note at the bottom of this page, you'll also find quick demos of the two programs.
Yes – Adobe Photoshop Elements 11 and Premiere Elements 11 are just out and avail­able immediately! Pretty much on the timeframe we forecast, both products are available on both Windows and Mac with the same features across platforms… See what you can do with these tools now with the Elements family comparison. You can instantly download the free trials as well, and the new software will work side-by-side with any previous release(s) of Elements you may own. If do you have an earlier version installed, you can automatically import and convert your work.*
[UPDATE (October 2017) – These still work to download the old Elements 11 trials. We also now have the new Elements 2018 Direct Download Links!]
Continuing our custom of providing the direct download links for major Adobe products such as Creative Cloud, CS6, Lightroom 6/CC, and Acrobat DC, below you'll find the direct links from Adobe's servers for the free trials of the all-new releases of Photoshop Elements 11 and Premiere Elements 11, for both Windows and Mac OS.
These links go to the authentic and secure files residing on Adobe's servers, are guaranteed genuine, safe, legal, and will not change. They are especially useful when you are unable to download Adobe's free trials via other means – often due to difficulties with the Akamai Download Manager or Adobe Download Assistant…
With the links provided below, you can use your own browser's download capability (without DLM), or another download manager of your choice.
For setting up Elements on Windows (both PSE 11 and PRE 11), each program consists of two downloaded files: an .exe and a 7-Zip file (.7z). The .exe file will only work (and install) once the .7z file is fully downloaded and resides in the same location. For the Mac, it's just a single .dmg file for each program.
[UPDATE – Also see our new Adobe CC 2018 Giveaway!]
Adobe Acrobat X, the world's leading PDF document creation software, has been with us for nearly two years now, and there are questions out there on when the next version Acrobat XI will be released…
Now, nobody can actually say whether it would be called Acrobat XI or Acrobat 11, but one thing for sure is that the upgrade will be incorporated into the next release of Creative Suite (CS6.5 according to plan) and the new Creative Cloud, as well as sold separately.
It hasn't been announced by Adobe when or what new features would be in an Acrobat XI Pro or Standard, but we do have some educated guesses…
In the meantime while we wait for developments on this front, we're going to give away two copies of Acrobat 11 to two lucky readers here (meaning you!) as soon as it's available… Pricing is not definite but if version 11 costs the same as version 10, then Acrobat XI Pro would sell for US$449 for a full copy – meaning this new giveaway is valued at US$948.
And importantly, by popular request from previous giveaways, this one is open worldwide.
[UPDATE – See all of Adobe's current deals & discounts!]
A year ago Adobe featured probably their biggest promotion ever, the extremely popular "Switcher" offer for 50% off Premiere Pro and the Production Premium suite…
Now that CS6 is out, they've just relaunched the deal in a smaller but still very attractive form – they're now offering 30% off the price of the Full CS6 Production Premium suite with coupon code SWITCH, or 40% off membership to the new Creative Cloud, which includes all CS6 tools and more.
The offer is geared for owners of competitive software as well as owners of older Adobe suites who can now buy the latest CS6 release (Windows or Mac) at a terrific savings, and these discounts are available all over the world…
The promotion is officially targeted at video users and creators, but because the suite contains top products like Photoshop Extended, Illustrator, Flash Professional, and Audition in addition to Premiere Pro, After Effects, Prelude, and SpeedGrade (see the complete list of applications included), many customers can take advantage of this sale. For example, the normal price of Photoshop CS6 Extended is US$999, but with this special you get that plus an entire suite of 8 other top products for US$1329 total.
[ First Look: Adobe CS6 Production Premium Suite — What's New? ]
[UPDATE (April 2015) – The next major release of Adobe Acrobat – the new Acrobat DC – is now shipping… Download a free trial!]
It's been a while now since Acrobat X was released, and considering Adobe usually runs on two-year release schedules for this product, give or take, what does this imply for when Acrobat 11 (Pro/Standard/Reader) will be coming out?
That's the question of the season – along with, of course, whether the next version will be dubbed "Acrobat 11" or "Acrobat XI"…
At present there is precious little public information out there to answer these questions. Our best estimate would be simply to go with the release dates for the past few revisions of Acrobat and then extrapolate.
Acrobat 8 came out on November 2, 2006 – Acrobat 9 arrived on June 25, 2008 – and Acrobat X began shipping on November 15th, 2010. So a bit of basic math would project the Acrobat 11 release date to be some­time in mid to late November 2012. Typically, Adobe would launch (or announce) the new product lineup a few weeks before that ship date.
But if you can't wait until release day to see (and try) it, then register your interest in a possible Acrobat XI public pre-release program. There are no guarantees on being accepted if/when it opens, but it's free and easy to sign up so it's worth a try. The application is open for Acrobat, Adobe Reader, or both. Adobe's goal with pre­release programs is to receive input on product usage and new features, plus learn about any early issues to help produce a tool that's better for everyone.
You may have heard of the recent releases of Flash Builder 4.6 (formerly Flex Builder, and part of CS6), plus ColdFusion 10 and ColdFusion Builder 2…
And we've written about this particular offer before, but it bears repeating now that we have these major product refreshes for both Flex and ColdFusion.
Adobe will give you full versions of these premium devel­opment tools (US$249 – $1,499 values) absolutely free world­wide if you qualify! And if you don't, you might know someone who does and could benefit…
Free copies of Adobe Flash Builder 4.6 Standard are given for non-commercial use to: (a) students, faculty and staff of eligible educational institutions, or (b) software devel­opers who are affected by the current economic conditions and currently unemployed.
The ColdFusion products are also available for free to educational customers, to use for learning purposes only and not for production purposes. Complimentary installation support is available, and if you are a teacher and would like ColdFusion 10 for multiple systems in your lab, you can request up to 30 education serial numbers.
[UPDATE – See all of Adobe's current deals & discounts!]
Just out for the end of summer season, quite a rare occurrence – a new promotion code to save 10% storewide on Adobe products (full or upgrade) when your total purchase is US$375 and up. However, this new coupon isn't just for the USA – it's for all of North America plus most any­where in Europe as well, including the many countries listed below… The savings also extend to all orders for the recently released new Creative Suite 6.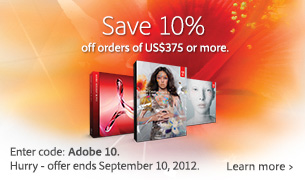 This Labor Day and Back-to-School Sale runs through Monday, September 10th in North America, and until Friday, August 31st everywhere else. It can be used for any products in the Commercial or Educa­tion Adobe Stores (Commercial-only intern­ationally), although it's not valid for sub­scription or volume licensing purchases. It's limited to one discount per customer and you must use the offer code linked here: Adobe10.
Here are the minimum purchase amounts (order size to qualify) by country:
[UPDATE – See all of Adobe's current deals & discounts!]
If you've been thinking of buying or upgrading to the latest version of Adobe Photoshop Lightroom, we have an exclusive coupon code that will save you 15% off the already low price of this industry award-winning product…
Lightroom used to sell for US$299 as recently as last winter, and then with the release of version 4 in March, Adobe dropped the price by 50% to US$149…
Now, using our new coupon code, you can get an additional 15% off that price, bringing the full version to just $127 – and the upgrade version (from LR 1, 2 or 3) to only $67! These are the lowest Adobe prices ever available for this software.
Grab this unique promotion now before it expires at the end of the month. If you're a student or teacher, you can get an even better deal with $20 off the education version of Lightroom.
Here are the details for this special clickable coupon – and note there is a different coupon code internationally:
[UPDATE – See all of Adobe's current deals & discounts!]
Back to school, already? Wow, either time flies or the summers are getting shorter…
Anyway, it's that time again – at least for the sales to start. Adobe is now offering up to $100 off the already-discounted prices of the new Creative Suite 6 Student and Teacher Editions with our special promotion code below in the North America Education Store. Meanwhile, customers in UK/Europe can save €75/£65 on CS6 Premium suites plus get free shipping!
This extra bonus means that the savings for most of these products approaches 80% off the regular prices… To get the discount applied to your online order, you just need to use our exclusive promotion code "BTS12PRODESIGN" at checkout. Internationally, no offer code is needed to get the savings – just visit the online Adobe Education Store in your region.