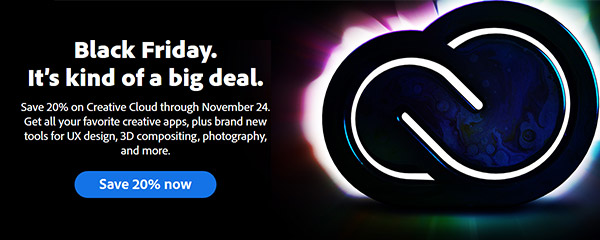 [UPDATE (May 7th) – The final Creative Suite 6 is now shipping, with free trials available!]
NEWS FLASH – Earlier today Adobe surprised everyone by announcing a free public beta release of the eagerly-anticipated Photoshop CS6… The company has slipped out 8 different sneak peeks of the upcoming product since January – and considering there are now about two months left before CS6 ships, the timing for a beta was right.
"The world's best digital image editing software is about to get even better. Explore Adobe Photoshop CS6 beta for a sneak preview of some of the incredible performance enhancements, imaging magic, and creativity tools we are working on. Discover for yourself why Photoshop CS6 will be a whole new experience in digital image editing.
This is a release where we took a more proactive stance on architecture, widespread use of the GPU, and a renew­ed emphasis on UI and design. We also took some time to revitalize existing feature areas, increase our focus on quality, productivity, and stability – and of course, continue innovating and incorporating your feedback.
You can probably tell from the number of "sneak peeks" we shared with you that we're proud of Photoshop CS6, and excited by the opportunity to get this beta into your hands now, as an advance preview."
It's no secret that Adobe lately has been slipping out little sneak peeks of "a future version of Photoshop" – presumably Photoshop CS6, when it comes out…
What's surprising is that over the past two months we're now up to 8 (eight!) different videos released in total, to date.
The first 5 previews arrived in January and February, and now we've got 3 more so far in March…
This latest set shows off new capabilities for working with 3D and Video, as well as easily creating shallow depth of field in any image (a.k.a. the bokeh effect, the technique of aestheti­cally blurring the background).
Photoshop's new "Blur Gallery" including the Iris Blur Filter can quickly add selective blur to any image without masks, layers, or depth maps – making it very easy to "pop out" a photograph's subject with the appearance of shallow focus:
[UPDATE – Also see our new Adobe CC 2018 Giveaway!]
If you like Photoshop and want a free paid trip to Photoshop World plus a CS5.5 suite, check out Adobe's Next Photoshop Evangelist contest… All you have to do is create and upload a 1-2 minute video demonstrating your favorite "Hidden Gem" in Photoshop CS5.
What's a hidden gem? Essentially, it's just a lesser-known feature or workflow of the product that you find valuable – perhaps using a function or tool in a way that Adobe didn't imagine… For some great examples, check out this helpful series of Photoshop Hidden Gems that Adobe produced.
The top 5 videos will be selected and voted on, with the winner receiving a $4,000-$6,000 prize package including a trip to the PSW Conference either in Washington, D.C. this spring, or in Las Vegas this fall – plus a full copy of CS5.5 Design Standard. The trip includes roundtrip airfare, lodging, event admission, and spending money – plus meeting Adobe's Photoshop Product Team personally and the opportunity to demonstrate your hidden gem live at the show. Four runners-up will get a free $1,000 copy of Photoshop CS5 Extended.
We've seen a few sneak peeks already of what Adobe's working on now in Photoshop – but this new one is the best to date, it's pretty incredible… They don't say which release these capabilities could make it in (or when), but presumably it's Photoshop CS6.
This new demonstration takes the much-praised concept of Content-Aware Fill that was introduced in Creative Suite 5 and carries it much further with new Content-Aware Move, Extend, and Patch tool features. It's hard to explain but you can see how it works with the 2½ minute video below.
Last month we actually put together a guide to getting the best results with Photoshop CS5's Content-Aware Fill, but these new tools clearly make the work much faster, simpler, and more flexible… and dare we say magical (see the "before and after" screengrabs below the video).
See more advanced features of Photoshop Content-Aware technology. Straight from Photoshop Senior Product Manager Bryan O'Neil Hughes, this video shares how to seamlessly move, extend, remove, or patch an object from an image.
Last month Adobe quietly revealed a first look at Photoshop CS6, which was received with hundreds of thousands of views… And now we have second and third looks, new sneak peeks which focus on performance gains and vector improvements (with dashed and dotted lines).
As images grow larger and larger in resolution and file size, even simple actions such as saving your files can slow down productivity – which has been a point of interest in Photoshop CS5. In this preview, a smooth and oft-requested Background Save capability is introduced allowing you to fully continue working while all file saving takes place in the background, regardless of size or compression.
Large images also slow down functions like Liquify… In the video, a 100MB photograph lags when loading and editing in Photoshop CS5. Now this new Photoshop (CS6 we presume) uses the Graphics Processing Unit (GPU) to greater effect to bring real-time loading and editing responsiveness. See how much faster and crisper the Liquify filter works, enabling effectively unlimited brush sizes:
[UPDATE (May 7th) – Here it is, Creative Suite 6 has been released!]
Late last week we received these two inquiries via our Contact page:
"Could you please provide a proposed release date for CS6 Design Premium software? I can't see anywhere on your site where this is mentioned except for the U-turn regarding upgrade policy from earlier versions."
"I have a budget meeting tomorrow and need to know the approximate release date and projected cost of the CS5 to CS6 Master Collection Suite upgrade."
---
So, this is something people really want to know now. And we have written about it before, giving clues in posts here as far back as March and July of last year…
But it's clearly time for an update.
Even today, we wish we could give you exact dates and numbers for those questions, but Adobe hasn't publicly disclosed that information – and likely won't until CS6 is launched… However, we can make a best estimate of the possible timing for the Creative Suite 6 release window.
On Adobe's site now there is a document referencing the new CS Release Schedule. Here are a few of the key elements contained within this Message Summary:
Content Aware Fill is one of the major features added since Adobe Photoshop CS5, and is said to be one of its greatest new timesavers. CAF allows you to move or delete parts of your image and Photoshop will automatically and intelligently fill in the space left behind. We've written about it before with the quote, "Any sufficiently advanced technology is indistinguish­able from magic." [Arthur C. Clarke]
And in our shop here we save hours every month from using Content Aware Fill as well as other CS5 advancements like Puppet Warp and the improved edge/masking tools.
Yet we still see some people claiming that Content Aware Fill "doesn't work," "doesn't give results like in the demo video," "doesn't use the right back­ground," or is just hype, smoke-and-mirrors, or a "gimmick."
It's true that it doesn't always work and of course has its limitations. You can't synthesize brand new material or hidden content that doesn't exist in some related form elsewhere in the image. And often it will require some retouching afterwards to get the final result you want.
But usually it will get you most of the way there very quickly – if you know the most effective ways to use the feature. The best is when it "just works" without doing anything special, and this happens often enough too…
[UPDATE (March 6th) – The Lightroom 4 final release is now shipping!]
NEWS FLASH – Adobe has just announced a free public beta release of the eagerly-anticipated Photoshop Lightroom 4, with new tools and advancements to enhance and share your digital photograph library:
"Available as a free public download from Adobe Labs for Windows and Mac, the Lightroom 4 beta is a preview of new features and capabilities that will be offered in the final release of LR4, expected in early 2012.
The beta features refined technology for superior shadow and highlight processing, expanded management capabilities including enhanced DSLR video support and the ability to create beautiful photo books from within Lightroom. Adobe encourages photographers to try the beta release and provide feedback to the product team."
The news comes six years to the day from the very first beta release of Lightroom 1 on January 9, 2006, where it all started… Lightroom is Adobe's digital photography workflow solution helping amateur and professional photographers quickly import, manage, enhance and showcase their images.
And great news – some long-requested new features are here now in LR4…
[UPDATE (October 2012) – Looking for CS6 tutorials? Check out this Photoshop CS6 primer, or 1,000 pages of free CS6 ebooks, or 30 hours of free CS6 videos.]
Adobe Photoshop is a sophisticated tool with a 21-year history and a seemingly-endless array of powerful capabilities. And after spending $549 for the product with discounts (or $199 for students), who wants to pay a lot more to learn how to use it all?
Fortunately there are a number of avenues to get great training and tutorials for free. The first stop is Adobe TV, which has nearly four hours and 37 chapters of 100% free tutorials for Photoshop CS5 alone. There is also a wealth of content for prior versions like Photoshop CS3 and CS4. It's a good place to get started and orient yourself with the major functions, and all of it is gratis.
For learning how to use the best new features added in Photoshop CS5, take a look at our collection of articles with tours of:
We also have a regular page here on the site with a rotating selection of tuts for all versions of Photoshop, stepping through various tips and tricks. And for a terrific set of little-known but very handy techniques, check out Adobe's Photoshop "Hidden Gems" series with Product Manager Bryan O'Neil Hughes.
Many people have been making guesses on what's happening now that Flash Player for Mobile will not be further developed. There's a lot of talk and speculation out there, as folks try to figure out what it means… So take two dozen common questions on the subject, and here are the official answers Adobe sent to us:
What is it that Adobe is announcing?
Adobe announced plans to increase its efforts on HTML5, and to focus Flash on mobile applications (packaged with AIR) and PC browsing with an emphasis on use cases not yet addressed by HTML5, including premium video and console-quality gaming. Adobe will no longer develop Flash Player for mobile web browsers. See the blog post for more details.
Does this mean that Adobe is no longer supporting content publishers focused on delivering content via a browser on a mobile device?
Adobe offers world-class tools and technologies including HTML5 tools like Adobe Edge that allow content publishers and developers to bring rich content and experiences across mobile web browsers using HTML5.
What does this mean for Flash Player support on desktops?
Adobe is fully committed to providing a great experience for use cases not yet well supported by HTML, including console-quality gaming and premium video. In fact, Flash Player 11 just introduced dozens of new features, including hardware accelerated 3D graphics for console-quality gaming and premium HD video with content protection. We are already working on Flash Player 12 and a new round of exciting features which we expect to again advance what is possible for delivering high definition entertainment experiences.