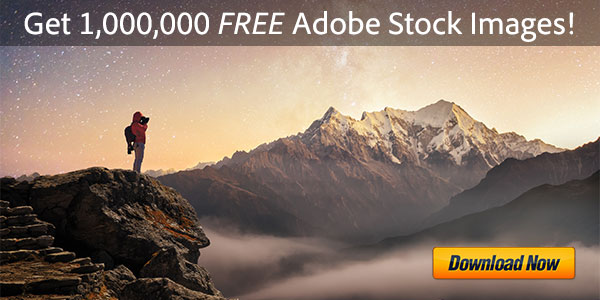 Archive for August, 2010
Adobe Lightroom 3.2 and Adobe Camera Raw 6.2 are now available as final releases, and are free for all current Lightroom 3 and Photoshop CS5 owners… These updates include bug fixes, performance and stability improvements, new camera and lens profile support, and new features for Lightroom:
» Download the Final Adobe Lightroom 3.2 for Mac (a free update to Lightroom 3.0)
» Download the Final Adobe Lightroom 3.2 for Windows
» Download the Final Adobe Camera Raw 6.2 for Mac (a free update to Photoshop CS5)
» Download the Final Adobe Camera Raw 6.2 for Windows
---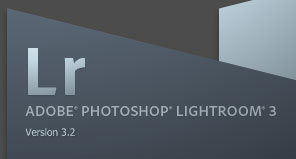 While it may seem Adobe skipped a version with no Lightroom 3.1, this was done just to align the point release number with Camera Raw (ACR 6.2), which shares the camera-related features. Since the initial "Release Candidate" for LR 3.2 was posted earlier this month, Adobe has fixed more bugs (including an issue with the new Facebook-publish feature), supported more cameras, plus added direct publishing to SmugMug.

Following a major site upgrade in June, this week Adobe's Photoshop.com expands further by rolling out new versions of their free web-based tools for photo manipulation and manage­ment. The renamed and redesigned Photoshop Express toolset is a collection of integrated online apps for editing, organizing, syncing, and sharing photos. These new and improved tools are faster and more intuitive to use for uploading and organizing images for easy access anywhere, applying quick fixes and cool effects, and sharing albums and slideshows online with family, friends, and colleagues. As before, membership is free with up to 2 GB of online storage included.
Adobe is billing Photoshop.com as the online complement to their family of Photoshop soft­ware. Millions of people so far have signed on for an account and benefited from powerful Photoshop technology for those on-the-go. In launching the site's latest features, Adobe incorporated feedback from thousands of users who wanted a central destination hub for Photoshop interests that brings better and higher performance tools, plus tutorials, inspiration, community, product information, access to trials & purchase, news, and more.
[U

PDATE

– The direct links below now all pull to Flash Player 10.3. If you need a release older than that for PowerPC or other reasons, you can find them under Archived Flash Player Versions… Looking for a newer version? See the direct download links for Flash Player 11.]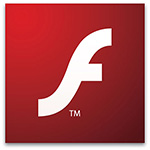 Following our tradition of providing the direct download links for major Adobe products such as Creative Cloud, CS6, Acrobat DC, Elements 15, and Lightroom 6/CC, below you'll find all the DDL for the recently-released Adobe Flash Player 10.1. This is important because the free Flash Player is the most widely-used and often-downloaded software in world, and some folks find it easier to gain access without a download manager (Akamai/Adobe DLM), or with their own DLM, and without additional products or toolbars included.
Check your current Adobe Flash Player version: What version are you running now?
Adobe Flash Player is a cross-platform browser-based application runtime that delivers uncompromised viewing of expressive applications, content, and videos across screens and browsers. Flash is the standard for engaging PC experiences – 99% of PCs worldwide have Flash Player installed and 85% of the top 100 websites use Flash. Approximately 75% of online videos are viewed and 70% of web games are delivered using Adobe Flash technology. More than 3.5 million designers and developers use the Flash Platform to deliver expressive content and applications that run consistently across the widest reach of browsers, operating systems, and devices.
Install now: Get all new Creative Cloud 2021 direct download links and free trials.
So, without further ado, here are the direct download links – just click to download and install: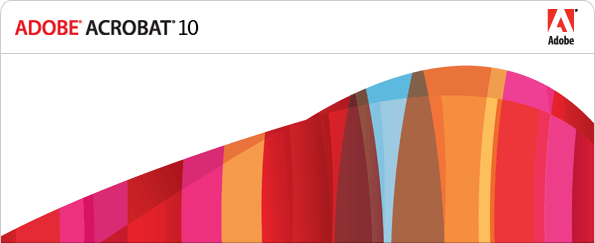 Two months ago we studied the likely release dates for Adobe Acrobat 10 and concluded, "it looks like Acrobat 10 (or Acrobat X) will be shipping sometime between mid-October and late-November this year."
At a financial conference presentation last week, Adobe's Chief Financial Officer Mark Garrett was quoted as saying, "Acrobat 10 ships later this year, the next cycle in the Acrobat product family – which will continue to drive Acrobat growth and penetration going forward."
Adobe this week launched a new initiative to bring some of their best and most favorite font faces to wide use for textual content on virtually any website. The new Adobe Web Fonts offering is designed to work seamlessly with the browser and computer of any site visitor, and thus allows website developers to move past the limitations of the narrow set of web-safe fonts we have been using since the web began. Some of the over 120 200 typefaces being made available are Myriad, Minion, Trajan, Chaparral, Text Pro, Cooper Black, News Gothic, Adobe Garamond, and Bickham Script.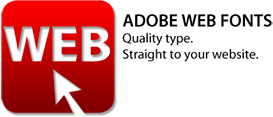 Previously, the only consistently certain way to display these font faces in portable fashion on websites was via static images. For standard textual content, website developers needed to stick to a small set of browser-safe fonts guar­anteed to be available on all platforms (both Windows and Mac systems) – like Arial, Times, and Verdana. But now you can display your website text in your choice of many fonts and have it look great while being usable, flexible, searchable, editable, and indexable. This really is going to change web design.
[UPDATE (August 31st) – The final release of Lightroom 3.2 is now out, a free update for all Lightroom 3 owners, and free 30-day trial for everyone else. For now, the initial Lightroom 3.2 'Release Candidate' described below also remains available for free use for all, if desired.]
Adobe has just made available for free download its Release Candidate for the first update to Lightroom 3, which will be called Lightroom 3.2… This new release has dozens of bug fixes, performance enhancements, and one new feature – and thus far looks like a winner and a welcomed update by the Lightroom community. But you don't even need to own any version of Lightroom to get or use it.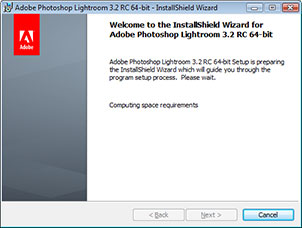 The download is in the form of a ZIP file for both Windows and Mac and is not just an update nor a trial – but a full version that will work until it expires for all users. These Release Candidates are more like betas in that Adobe is looking to see how a poten­tial new version performs in the field (and welcomes your input, feedback, and bug reports on it) – but Lightroom 3.2 shouldn't be confused with Lightroom 3 beta 2 (which was the last available beta version of Lightroom 3.0 before its final release). And although Release Candidates are fully-working free versions that don't require serial numbers, typically they have an expiration date to stop functioning within two calendar months of issue – meaning Lightroom 3.2 RC will probably expire by October 31, 2010.
[UPDATE – See all of Adobe's current deals & discounts!]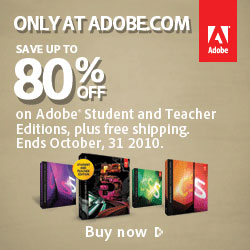 Adobe's Back-to-School promotion is live: Save up to 80% on Adobe Student and Teacher Editions, plus get free FedEx shipping… This offer is valid on all Education software products until October 31st in North America, and until November 23rd inter­nationally. Check out the details for this deal below.
Adobe's Education editions are available for almost all products (CS5, Photoshop, Lightroom, Acrobat, Elements, Captivate, etc), and are just like their standard versions, with only a few differences.
This special is available only on orders made via the Adobe Education Stores to customers in the United States, Canada, Austria, Belgium, Denmark, Finland, France, Germany, Ireland, Italy, Luxembourg, Netherlands, Norway, Portugal, Spain, Sweden, Switzerland, and the United Kingdom. OEM and volume licensing customers are not eligible for this promotion. This free shipping offer is stackable and may be used in conjunction with any other discounts.
[UPDATE – Download the newer free Acrobat XI and X books!]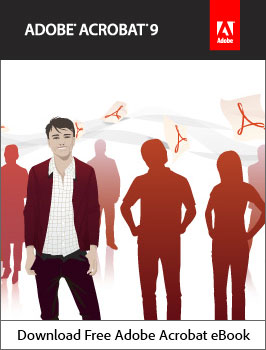 While we're waiting for the release of Adobe Acrobat 10, you can save countless hours in minutes by getting more out of Acrobat 9… Increase your productivity with a free download of 21 Key Ways to Save Time with Acrobat 9, featuring simple, step-by-step tutorials designed for both basic and advanced users. Easily get up to speed in no time with this resource guide featuring one-page, printable "cheat sheets" on creating PDF documents, assembling PDF Portfo­lios, working with forms, Acrobat collaboration, keeping files secure, and more. The easy-to-use instructions introduce you to new ways to save time and simplify complex projects.
The eBook has five categories with step-by-step instructions for performing common tasks effi­ciently. Keep a copy of this PDF portfolio on your computer as a quick resource for learning new techniques. Here's what the collection includes to help you unlock the power of Adobe Acrobat: