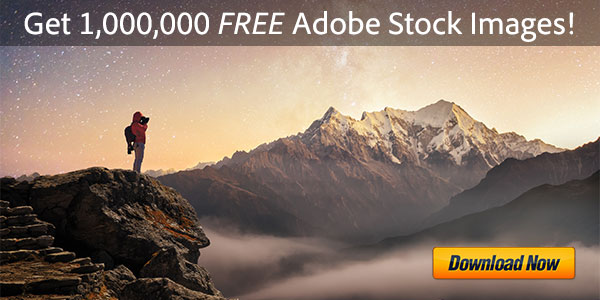 Archive for January, 2013
We've mentioned Adobe TV in the past, but it just keeps getting bigger and better… When Creative Suite 6 was released, they published a 15-hour series of new online tutorials – but have recently doubled this to over 30 hours now of free video training for all CS6 tools.
You'll learn the basics with Getting Started overviews plus What's New reviews by product experts, with 274 total chapters covering all major CS6 applications.
If you don't already have the programs installed on your computer but would like to get going today, you can easily down­load the free working trials for any CS6 product for Windows or Mac – then install, run, and start your training…
Acrobat is not listed below, but if you want to learn how to use that software then see these separate three hours for Acrobat X or two hours for Acrobat XI.
We've also linked below nearly two hours of sessions for the Creative Cloud, if decide to sign up for free membership there, or are already a member.
Install now: Get all new Creative Cloud 2021 direct download links and free trials.
Lastly, if you also like learning in print, then don't miss this nice set of free new CS6 ebooks (over 1,000 pages). But here's how the video courses break out:

We've previously featured 30 hours of free video tutorials for Adobe's Creative Suite 6, as well as four hours for Lightroom 4 – so here are some terrific (and free) learning resources for the recently released Elements 11 product line…
In the course given below, the experts share how to get started with Premiere Elements 11 for editing your videos, the essentials of the software, new features added in PRE 11, how to use important tools and functions, plus their best tips and techniques. In total, there is over 2 hours of free video training, spanning 21 separate chapters.
Most modern cameras now take both great photos and videos, so Premiere Elements is well-integrated with Photoshop Elements for your image editing – and since many people use the two tools together, you may also be interested in three hours of free tutorials for learning how to use Photoshop Elements 11.
Because Elements 11 has an all-new intuitive editing environment with a revamped Organizer plus other new features, the content here doesn't carry well to older versions of Premiere Elements. However, we do also have a page still available with several hours of free tutorials for PRE 10 & 9 and earlier.
If you need a copy of Premiere or Photoshop Elements 11 to get going right away, just download the free trials and they will work fully on your computer for one month, which should be plenty of time to get through the classes. Note at the bottom of this page, you'll also find quick demonstrations of the two programs.
There's a terrific free tool we've become quite fond of in the office here lately – a searchable online 'assistant' to all the power that is Photoshop CS6… Photoshop is obviously a very sophisticated application and this Photoshop Quick Reference Guide helps you find answers fast for where any feature is located, what it does, and its keyboard shortcuts on both Windows and Mac: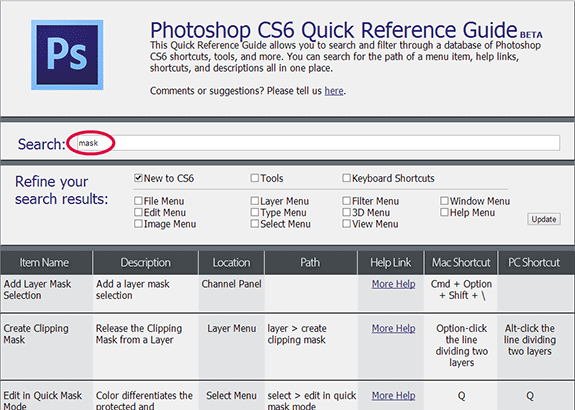 "What's the difference between the different Photoshops?"
We've seen this question sooo many times, we just had to write a complete article about it.  With four different members of the Adobe Photoshop family, it can be confusing what is what and which to get…  And now that Elements 11 is out, it's a good time to look at this.
If you ask Adobe, they'll tell you:
Q:  How do Adobe Photoshop, Photoshop Extended, Photoshop Elements, and Photoshop Lightroom software differ?

A:  Photoshop Elements 11 (US$99) is designed for people who are just getting started with digital photo editing, and delivers powerful yet easy-to-use options that help you organize, edit, create, share, and help protect your personal photos.

Photoshop CS6 (US$699) is the professional standard for creating and manipulating powerful images, and Photoshop CS6 Extended (US$999) delivers every­thing in Photoshop plus tools for creating and editing 3D images and objects. [Both of these versions have recently been replaced by Photoshop CC, which is available by sub­scription (US$10-20/month), and has additional features compared to CS6.]

Photoshop Lightroom 4 (US$149) addresses the workflow needs of professional and serious amateur photographers, enabling them to import, process, organize, and showcase large volumes of digital photographs quickly, or develop a single image. [Lightroom 4 is succeeded by Lightroom 5 – see the differences between the two.]

[UPDATE (August 2017) – The aging activation servers for Creative Suite 3 (CS3) and Acrobat 8 applications were also just retired. These programs now display an error when trying to verify a license: "Activation – No Connection" or "Internet Connection Not Detected." More info here.]
This week the web has been buzzing over a rumor of Adobe offering the eight-year-old Creative Suite 2 software for free download to all, including Photoshop CS2. "Adobe releases Creative Suite 2 for free," "Grab Photoshop and CS2 Absolutely Free," and, "Free! Download Adobe Creative Suite 2, Photoshop CS2, or other Adobe software at no cost," have read some of the headlines around the blogosphere.
The programs in question are 2005-vintage Adobe and Macromedia tools such as Photoshop CS2, Illustrator CS2, InDesign CS2, Dreamweaver MX 2004, Flash MX 2004, Acrobat 7.0, Captivate 1.0, and others. The software is pretty dated, originally written for 32-bit Windows 2000/XP and PowerPC Macs – and won't run optimally or at all on current computer systems, especially [Intel] Macs. CS2 is "EOL" (end-of-life), no longer officially supported, and not updateable nor upgrade­able. Nevertheless Adobe has put these downloads out there on an open page – full versions in 15 languages with accom­panying universal serial numbers, and seemingly freely available for what it's worth – but the company says they're not. So what's the story?
[UPDATE – Also see our all-new Creative Cloud 2021 Giveaway!]
Welcome 2013! Last year we gave away a lot of software, so to kick off the new year right, we're going to be giving away brand new boxed copies of Adobe Photoshop CS6, Illustrator CS6, and InDesign CS6 – with a collective value of US$2,000!
Creative Suite 6, Adobe's flagship product line, has been doing very well in recent months… Available standalone for instant download or direct shipping, or as the core component of their new Creative Cloud offering, there are many important differences in this release compared to Creative Suite 5, including hundreds of new features added to the individual applications, major performance improvements, and much more.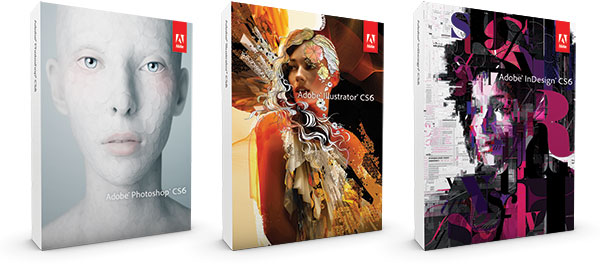 And now we're thrilled to give away brand new boxed copies of Adobe's top-of-the-line CS6 products to our terrific readers who have helped build our site to what it is today… Just check out our most popular posts over the past four years to see what you've helped create!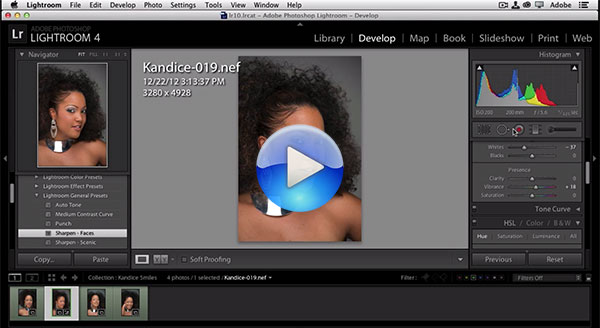 Adobe Evangelist Terry White has a terrific new training session out showing you how to get started achieving immediate and impactful results using new Lightroom 4… This 37-minute class covers all the basics and walks through how to accomplish the top 10 things that beginners always want to know how to do.
Here's the overview:
In this episode we're going to take a look at how to get started with Lightroom 4 – the ten things beginners want to know how to do. It's kind of keeping up with a primer series I've been doing: I started with Photoshop and then I did InDesign, and now it's time to do Lightroom. So let's jump right in and talk about the 10 things beginners want to know how to do right off the bat.