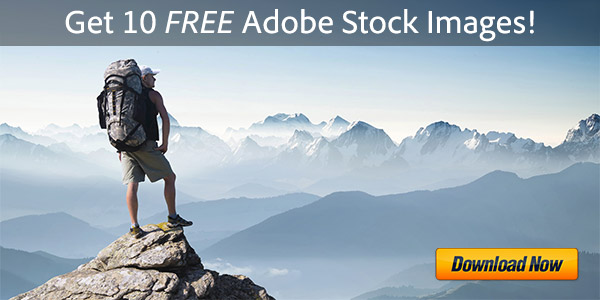 Now that the Adobe CC release has become ubiquitous with over 18 million paid customers, some folks are asking us whether the new versions of the tools in the Creative Cloud can read or save older data/document/project file formats like CS6, CS5.5, CS5, CS4 & CS3…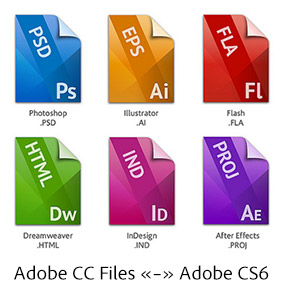 In fact, since Adobe's flagship creative toolset CC 2019 is now seven major releases past CS6 from 2012 (which they no longer sell), file version compatibility can some­times be an important decision point in moving forward.
In the past, new Adobe product versions have often brought different or expanded file formats to support significant new features – and customers want to know if their existing projects will easily carry forward with them when they upgrade, or if they will be able to save back to older formats for coworkers or clients who may still be running an earlier revision of the programs…
OK then, here's how it works. Generally, your new CC tools will be able to open and use any and all earlier CS project and data files – including CS3, CS4, CS5, CS5.5, and CS6 files – with no problem or loss of information. In other words, all Adobe software is able to read or import file formats from previous versions of the same program – and it should happen seam­lessly and automatically. The only exception to this is Premiere Pro, where it's best to open/edit projects in the same versions that created them.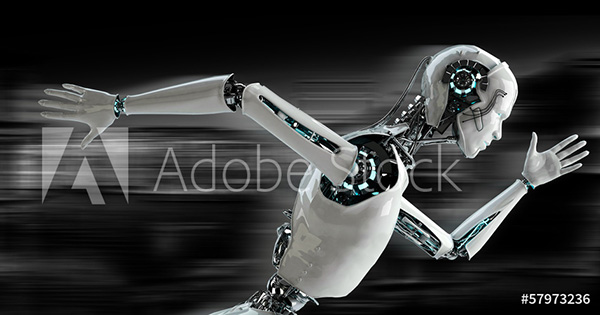 Ask any creative about the favorite part of their job, and it's unlikely someone will answer "the mundane tasks." Things like adapting a single element across hundreds (if not thousands) of assets, or going through the pains of re-working a previewed stock photo after attaining the license. And yet, those same tasks are all-too-often a habitual part of what creatives still do today – and something Adobe has worked to streamline through the capabilities in and the tight integration of Adobe Stock and Creative Cloud Libraries.

We've previously covered here how to transfer Adobe software products (like Creative Cloud, CS6, Photoshop, Lightroom, Elements, or Acrobat) between two computers, including from PC to Mac or vice versa. In this article we're going to focus on transferring the actual legal license from one person or company to another, like transferring the title to a car or home between two people.
Moving the software physically is mostly a technical task, but doesn't cover what happens if the recipient has problems, needs customer support or updates, wants to be registered with Adobe, and be recognized as the new rightful owner and user of the tools. To address those needs, you can follow the transfer process described below to "unregister" the program from the old owner and re-register for the new one.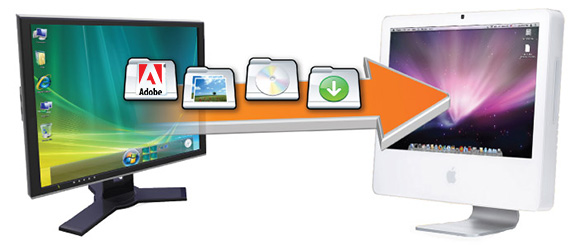 OK, so your old computer is running out of gas, you're upgrading or changing systems, adding a new machine, or switching from a PC to a Mac, or vice versa — and you want to move over your copy of CC/Creative Cloud or CS6 (or CS5 or CS4 or CS3) Adobe software — what do you do, and how do you do it? Just follow our complete guide below, which also works for other Adobe desktop products such as Acrobat, Elements, Lightroom, Captivate, and more.
As we've covered previously here, you are generally allowed to install and activate most Adobe software on up to two computers, with the restriction that the software can not used on both systems at the same time. So right off the bat, you might be good to go with installing the software on a second computer, although you may wish to double-check the licensing agreement for your product to be sure.
This is one of the most common questions we get, and the answer may pleasantly surprise you… The place to look to find the answer is the Software License Agreement, also called the terms of use or EULA. This agreement governs the use of your Adobe product, and is translated into 28 languages within each document. It also covers some basics about product activation.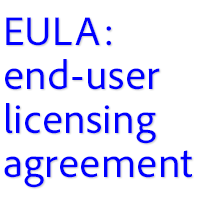 So, in general, how many systems can you install Adobe software on, including the Creative Cloud (CC) and CS6? The answer for individuals (as opposed to businesses) in most cases is two. The catch is that both computers must be used only by you and the two systems cannot be used at the same time. This policy was designed so that you could run Creative Cloud (or Creative Suite) at home on your desktop PC, as well as while traveling with your laptop or tablet PC. But the types of computers and their usage has blurred so much now that you can just pick any two you own and the product should install and properly activate on both…
For example, here is the key text from the Terms of Use for CC Software:
1.1 Use of Software: Subscription-Based License. Your subscription lets you activate the Software on up to two devices (or virtual machines) at a time, however, you may not use the Software on the two devices simultaneously.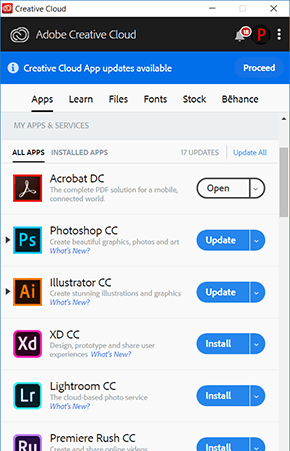 We're on the Adobe Help Forums every day and regularly see users posting queries like "Can't install Photoshop from the Creative Cloud" or "CC 2019 won't download," or "my product updates aren't working"… It could be for the free trials or for the full paid versions.
Often the issue is related to one or the other download managers (DLM) that Adobe uses to deliver its software install­ers. Over the years and for various tools, they have used the Akamai Down­load Manager, the Adobe Down­load Assistant (ADA), the Adobe Applica­tion Manager (AAM), and now the Creative Cloud's CC Desktop App.
Adobe employs these helper utilities because their downloads are usually large – multiple gigabytes – and download managers can help correct for unreliable Internet connections, and resume a download after it has been paused or unexpectedly broken.
But it turns out there can be interactions between the DLM and configurations of your computer, web browser, anti-virus software, Internet connection, or something else which causes it not to work. Read more…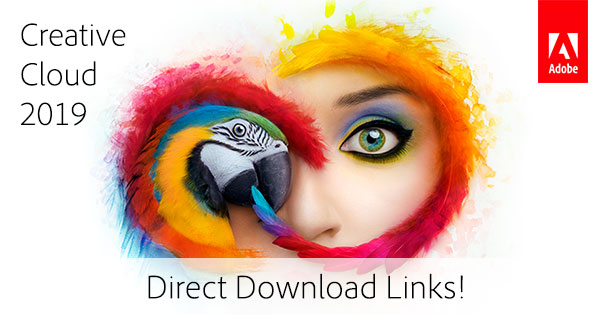 U

PDATE

(Nov. 2019) – These still work to download the original CC 2019 installers. You can also now get Adobe's new

CC 2020

Direct Download Links!
Last October, Adobe unveiled the new CC 2019 Release, which the company says is the biggest product launch since they first introduced Creative Cloud over six years ago. Pam Clark, Senior Director for Photoshop, exclaimed, "Today is by far the largest product announcement and launch experience of my career on the Photoshop team, and at Adobe. We have never delivered so much amazing new innovation to customers on the same day. I can't wait to see what you create!"
'Tis the season for holiday deals, but it can also be the season for order changes or returns… Although naturally, this can happen at any time of year.
Sometimes even despite using Adobe's free trial downloads to try out the software before buying, customers may want to exchange something and get a different Adobe product instead – say swapping Lightroom 6 for the CC Photography bundle, or returning an individual CC tool and getting the full CC 2020 suite instead (which includes 21 applications instead of one).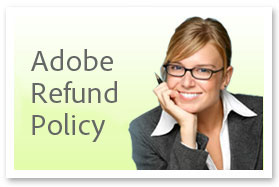 So did you know that Adobe offers a full money-back guarantee on almost all current products? This includes Creative Cloud (CC), Acrobat, Lightroom, Captivate, Photoshop Elements, and so on. This offer applies even after you've already downloaded and installed the product on your computer(s) – however, only software purchased directly from Adobe.com worldwide can take advantage of this refund policy (not resellers, retailers, or auction sites).
Yes, it's true – you can simply contact Adobe within 14 days of your order for subscription products, or 30 days of your order for non-subscription products – via live online chat is usually fast and convenient. Then, provided you follow the correct procedure, they will take it back (after being uninstalled and deactivated from your computers, if applicable) and issue you a complete refund.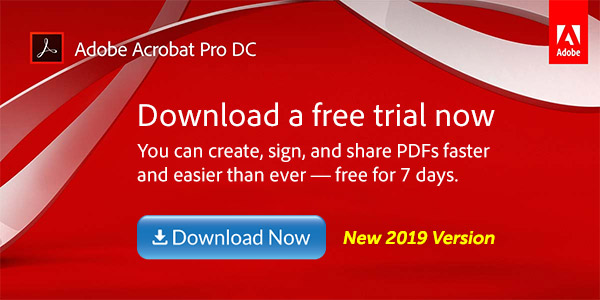 [UPDATE (May 2020) – These links still work to download the old Acrobat DC 2019 trials. We also now have the all-new Acrobat DC 2020 Direct Download Links!]
Adobe Acrobat DC 2019 is now shipping! If you hadn't heard by now, "DC" stands for Document Cloud, which is Adobe's set of integrated online services to help customers better manage critical documents. At the heart of Document Cloud is Acrobat DC – the industry standard for creating, sharing and editing PDFs – which was completely rearchitected for the initial DC 2015 milestone release several years ago. For more information, see: What Is the Document Cloud?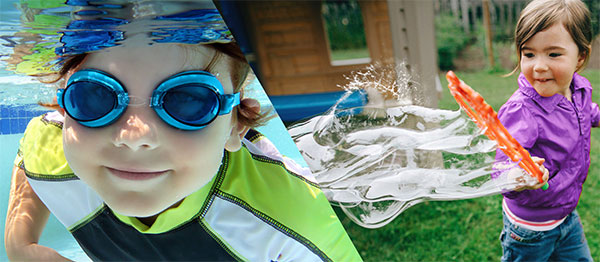 [UPDATE (October 2019) – These still work to download the old Elements 2019 trials. We also now have the new Elements 2020 Direct Download Links!]
The new version 2019 of Adobe's "Elements" line is out – and since Elements now takes on the upcoming year of its release instead of a version number, this edition would be the equivalent of version 17 in the previous numbering system.