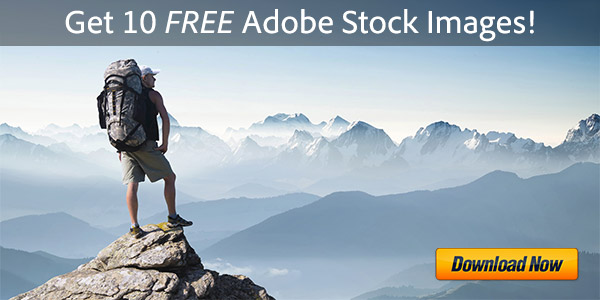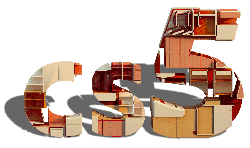 [UPDATE (April 30th) – CS5 is now shipping!]
As you may have heard, Creative Suite 5 will be launched on April 12 with a big rollout event that Adobe anticipates over 200,000 people to sign up and attend… So we'll all learn about what's coming – but we won't be able to use or download the software yet – for that we have to wait further. But when will that happen? Well, there's a lot of mis­information and stray guesses out there about when the shipping date(s) will be, so we thought it might be instructive to take a look at exactly how things happened last time for CS4, eighteen months ago…
So here is our analysis on what CS5's important dates will be, if the CS4 model is followed – although please note these are our own working estimates and not from Adobe:
Product Release Matrix
Creative Suite 4
Creative Suite 5

*

Our estimate

†

Updated 4/23 to reflect latest intelligence
Preannounce Date
September 6, 2008
March 23, 2010
Official Launch Date and Event
(with Pricing Out and Preorder Open)
September 23, 2008
April 12, 2010
First Product Shipping Date
(Full Release Date in English)
October 15, 2008
May 4 April 30

*†

Ship Date for Other Languages
(e.g., French, German, Japanese)
November 3, 2008
May 24 May 7

*†

Downloadable Free Trials Available
November 10, 2008
June 1 April 30

*†

New Student Editions Available
November 17, 2008
June 7 April 30

*†
Since our popular post Thursday with the latest "sneak peek" preview of the stunning new Content-Aware Fill (aka PatchMatch) technology in Photoshop CS5, another "insane" video has surfaced… This one comes from last week's Photoshop World in Orlando, and shows something we still find impossible to believe.
But before we get to that, first Photoshop CS5 gets unveiled by JohnnyL!
[UPDATE (June 8th) – Lightroom 3 is now shipping! Win a free upgrade.]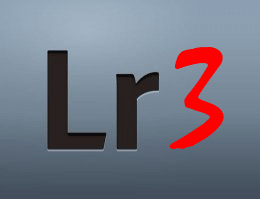 With all the activity this past week for the launch of Creative Suite 5 plus the availability of Flash/Flex Builder 4, a third development didn't get as much attention – the release of the second beta version of Lightroom 3 from Adobe Labs. Some folks were a little surprised to see a 2nd beta, thinking instead the full and final product release might be next – here are a few reasons why…
One is that the timeframe between the first two releases of Lightroom was about 18 months (see chart below). Eighteen further months would have put the GA of version 3.0 at about now. Furthermore, the first beta of LR3 came out on October 22 and expires at the end of April – another factor which would point to the final 3.0 arriving soon. So what happened? Our guess is: CS5 happened. Adobe looks pretty busy right now and likely wanted to give a bit more separation between these two major launches, rather than on top of each other.
| | Adobe Lightroom | Apple Aperture |
| --- | --- | --- |
| Release 1.x | February 19, 2007 | September 29, 2006 |
| Release 2.0 | July 29, 2008 | February 12, 2008 |
| Release 3.0 | June/July 2010? | February 9, 2010 |
"Any sufficiently advanced technology is indistinguishable from magic." [Arthur C. Clarke] — that's what comes to mind when watching this latest preview demo from the Adobe Photoshop team… There have been several videos out on this amazing new Photoshop CS5* Content-Aware Fill (aka PatchMatch) technology, but this new one is the best. Move/remove/repair entire objects with the back­ground automatically filling like the object was never there – jaw-dropping, really. Incredible how easy this makes it and what the possibilities could be – and thinking already of the hours it's going to save.
The best part is about halfway the video when he makes trees and roads disappear and then creates desert and mountains and clouds and sky from seemingly out of nowhere, all with single clicks of the mouse. And just like when watching magic on TV, we found ourselves wondering if there was something going on "behind the scenes" to make it work… But let's hope not – what do you think?
By the way, the breakthrough new technology shown here is a joint development effort between the Adobe Photoshop team and the Graphics Group at Princeton University.
* Creative Suite 5 inclusion is subject to the same disclaimers confirmed! as for our earlier previews on Photoshop CS5 and Dreamweaver CS5.
The wait is over, the date is set! Moments ago, Adobe confirmed they will be officially launching Creative Suite 5 on Monday, April 12, 2010… This lines up well with our earlier forecasts of a CS5 release date in "mid-April" and "just around the corner." The event will be webcast worldwide at 11am ET / 8am PT and 3pm GMT on the thriving Adobe TV, and is open to all who sign up here.
Naturally there are a lot of details left to unfold but here are some of the earliest: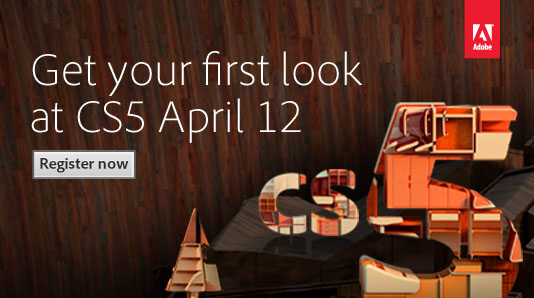 And the pithy invitation:
Yesterday in a remote corner of Adobe's website emerged a surprise article written by the lead designer for their Desktop Brand team, which confirms our earlier story that Adobe CS5 is coming soon (shipping estimates) and even revealed some of its visual design and icons:
Reinventing the System: The New Adobe Desktop Brand

A New Season

Winter is fading, Spring is just around the corner, and we are rapidly approaching that magical time that comes but once every eighteen months: Adobe is releasing a new suite of products, which means Adobe's Desktop Brand team has been hard at work for the last year creating a new branding system.
The author, Shawn Cheris, then goes into more of what his team does and its long branding history with products like Illustrator, with the style eventually culminating in the two-letter mnemonic system that came with the merger of Adobe and Macromedia… Then, a closer look at what's coming next:
When we began thinking about what we wanted to do for CS5, the one thing we all agreed on was that we wanted to bring back a sense of joy to the brand work. Our goal was to move beyond the monolithic expression of of the CS3 and CS4 systems and create a more dynamic language. We wanted to bring back inspirational and aspirational artistic qualities to the identity system while leveraging the successful patterns we've established with CS3 and CS4. Everyone missed the more whimsical imagery that was such a big part of Adobe's heritage and wanted to surprise and inspire our users and give them something new.
[UPDATE (May 21st) – More details on the new support in Dreamweaver CS5 for HTML5 here.]
Over the past three days Adobe has quietly released several "preview" videos of future technology in Dreamweaver… Now just as with the sneak-peek Photoshop videos posted last week, there are no assurances on exactly which version of Dreamweaver or when – but considering that CS5 could be coming out fairly soon, we could be seeing some of these new technologies in CS5. But even if not, they are rather impressive…
The first video below covers a very cool new "Smart Paste" command that makes it a snap to bring vector designs (such as artwork from Illustrator) directly into HTML – as simple as copy and paste.
The second one delves into support for multiscreen authoring with HTML5 and CSS3, and so might be considered more in the "emerging" department… This one is a big challenge for designers especially as varied mobile devices become increasingly more prevalent on the web.
The last video comes from the new "CSbuzz" hub site that launched last week, and is a little tease on significant improvements when working in Dreamweaver with dynamic material such as PHP, which historically hasn't been as handy.
For best viewing, click the expand icon after pressing play on each thumbnail for full-screen HD:
In recent days and weeks Adobe has been slipping out little preview videos of some of the features that could be coming in Photoshop CS5 (well OK not necessarily "CS5" but rather "a future version of Photoshop," is the official word… ;)
They cover new technologies for painting, coloring, selection, alignment, edge detection and masking, among others, to help save time and effort.
Here we've put together the entire collection thus far, in case you've missed any or haven't seen them yet… Each one is bite-sized at about two minutes apiece, and for best viewing, click the expand icon after pressing play on each thumbnail for full-screen HD:
Following up to our popular post Tuesday on CS5 release timing, an alert reader discovered a new site launched yesterday morning called the Adobe Creative Suite Buzz Hub… It's a 'Twitteresque' destination where you can follow and see official tweets for the products or evangelists you're interested in. Facebook connections are there too, as well as an initial set of videos.
Thus far there are presentations on getting started with the design tool Flash Catalyst, which is new for CS5, plus Introducing BrowserLab, which allows you to easily preview and test your web pages on multiple browsers and operating systems on demand, and new script development app Adobe Story, both of which are in limited free preview. There's also a humorous performance from Photoshop guru Russell Brown.
Adobe expects the buzz site will be a focal point for Creative Suite updates and videos going forward…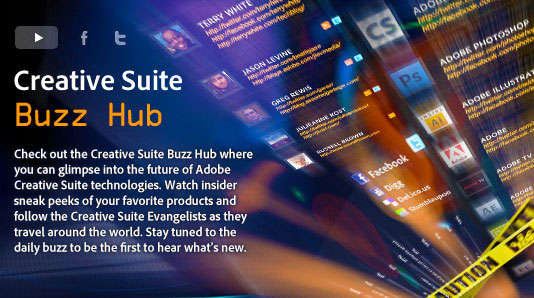 [UPDATE (April 29th) – Creative Suite 5 is now shipping!]
[UPDATE (April 16th) – We've put together new estimates on likely CS5 shipping timeframes, plus information on Adobe's "free upgrade" grace period for CS4.]
When will Adobe Creative Suite 5 be released? That seems to be a big question of the season… Now that it's March, let's take another look. If you search the Adobe site for CS5, you'll find some good tidbits, particularly about Flash Pro CS5 and Photoshop CS5, but little that's concrete on timing.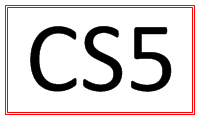 But if you look to coverage of a financial conference the CEO spoke at last week, the Wall Street Journal writes: "CS5 is slated for release in April, though Narayen wouldn't comment on a release time frame at the conference. Narayen said Adobe will ship its new version of Flash around the same time as CS5, in the first half of this year. 'Data points and reviews point to a really solid release' of CS5, he said."
So it sounds like at this point there is still no official date from the company, but the financial community (whose jobs depend on researching this type of info) is expecting it to be available in the mid-spring. And if it were to come three years after the CS3 release, and eighteen months after CS4, then it would be in the second half of April – so with any luck, not too much longer to wait…