[UPDATE (June 8th) – Lightroom 3 is now shipping! Win a free upgrade.]
With May wrapping up it's time to take another look at a question we first wrote about two months ago, "when is Lightroom 3 coming out?" Back then we concluded, "with luck we expect to see general availability of Adobe Lightroom 3.0 in June, 2010." Since then, the evidence has grown that we could see the final LR3 quite soon, perhaps only a matter of weeks…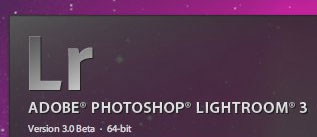 First, the current Lightroom 3 beta ver­sion will expire at the end of June, and remains free to download and use until then. But come June 30th this beta will stop working, and it seems unlikely that Adobe would ask its hungry Lightroom userbase to hold on for a third beta or a further extension before our beta work­flows are switched to the final release – even moreso considering it's been nearly two years since Lightroom 2 first came out.
Second, this week there's been a big publicity push surrounding the launch of Scott Kelby's new Lightroom 3 book, which is now on preorder… The consensus around the web is this means the final product must be getting close.
Lastly, and perhaps most interestingly, is the upcoming expiration date of a longstanding Adobe special offer whereby you can save 30% on Lightroom 2 by buying it together with Photoshop… This popular deal has been in place since Lightroom 2 launched on July 29, 2008, and it's now ending on June 7th. So after almost two years, perhaps one can speculate – why would such offer terms now be wrapping up? Could it be because Lightroom 2 may soon no longer be available for purchase, possibly, and replaced with something else? Nobody outside of Adobe can say for sure of course, but we'll soon find out how meaningful this might be – and if the LR2 offer could be followed by a similar one for a future version.
So put it all together and we could be looking at only a question of weeks now until the final release and delivery of Adobe Lightroom 3… One can hope anyway, and with a bit of luck the upgrade price will stay at $99.
[UPDATE (June 6th) – A new user report in the forums could be confirming: "Lightroom 3 is going to be annouced this monday or tuesday (7th or 8th of June). heard it from the adobe spokesman from pma australia 2010. he confirmed it when demonstrating Lightroom 3 Public Beta 2."]