[UPDATE (April 30th) – As forecast below, all CS5 products are now shipping today!]
Adobe's Creative Suite 5 could be released as soon as next week. What's more, the free trial downloads and Student and Teacher Editions will be available on the same day. That's the latest word from Terry White, Worldwide Design Evangelist for Adobe Systems, at an online Q&A session yesterday afternoon…
Here's the dialogue:
Question: When will CS5 hit the shelves? When I called Adobe, they said the release date would be April 30th. Terry, can you confirm this?
Terry White: I can't confirm or deny it, but if that's what they told you…
Terry White: The official answer is mid-May. In any event, April 30th – if it's April 30th – would be the time it would leave the doors of Adobe, not arrive.

Question: How about the official date for CS5 trial versions?
Terry White: Previously the release of the trials has lagged. However I'm pleased to announce that whatever the official release date is, the free trial downloads will be available the same day.

Question: And the Student (Education) Editions? Will they lag again as they did in CS4 or be out at the same time? Thank you.
Terry White: Everything should be available at the same time.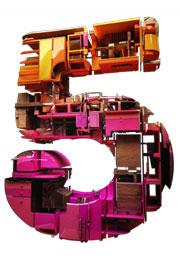 So this represents a much improved release calendar over CS4, which as we've previously noted wasn't available until about four weeks after its announce­ment date, with the free trials and Education versions following a month after that… For CS5, the April 30th date above is con­firmed anecdotally by other reports here and here, and would mean everything potentially being available within eighteen days of the April 12th launch.
A ship date of next Friday also means there's only one week left to buy/download CS4 from Adobe and get a free upgrade to CS5, as well as only one week left in our free Photoshop CS5 giveaway!
The "Ask a CS Pro" session above lasted for over an hour and there was plenty of other great information shared which we'll be covering in a new post next week.