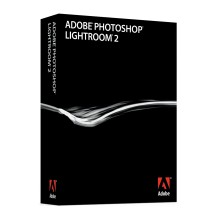 [UPDATE (June 8th) – Lightroom 3 is out! Win a free upgrade.]
We think we know when Lightroom 3 is going to ship, but while we're waiting Adobe yesterday released a new update to Lightroom 2, bringing the popular photo management package now up to version 2.7… Adobe has added support for new and additional cameras, plus some enhance­ments and corrections for issues in previous releases. There were also changes to improve compatibility with settings in Lightroom 3 beta 2, and lastly the Camera Raw cache limit was increased to 200GB. New camera models added include the Canon EOS 550D, Sony A450, and Panasonic G2 and G10 (see full list of Lightroom-supported cameras).
If you already own Lightroom 2, then the update to 2.7 is free and can be downloaded here for Windows or here for Macintosh (in English, French, and German). If you still have Lightroom 1 those same links can get you to version 1.4, though a full upgrade to version 2.7 is only $99. Or you can try it out first for free.
As is customary, Adobe has released new versions of Camera Raw and DNG Converter at the same time, versions 5.7 for both Windows and Mac.