[UPDATE – See all of Adobe's current deals & discounts!]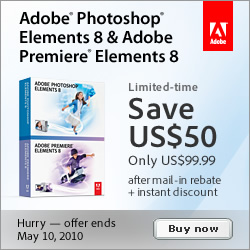 Photoshop and Premiere Elements 8 are the top consumer photo- and video-editing products on the planet*, and this is one of the best deals we've ever seen on the bundle package, which has received great reviews. You get $50 off for the pair, with a combination of instant savings ($20) plus mail-in rebate ($30) – yielding a one-third price cut and a net cost of just $99.99, plus you can download them instantly.
If you want Photoshop Elements by itself, the total savings is $30 instead. The offers are valid until May 10, 2010 for purchases made through the Adobe Store, and the only bad news is these discounts are available in U.S. and Canada only.
See our earlier quick take on Elements 8. Or if you like you can try them out for free first.
(* Source: The NPD Group/Retail Tracking Service based on units sold, 2002 to 2010.)