[UPDATE – See all of Adobe's current deals & discounts!]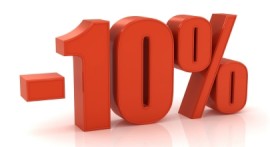 Adobe has a new voucher code: Use adobe10 to save 10% on all products in the Commercial Store in Europe, from now until March 17th 10th… (Update – Adobe has just notified us this offer was so overly successful that they had to expire it early – our apologies!) The code should be entered at time of checkout to receive the discount in the United Kingdom, Germany, France, and elsewhere in the EU.
Another new offer, valid worldwide, is save $20 (£13/€17) instantly when you purchase Photoshop Elements with Acrobat. This discount is in addition to the existing $20 Mail-in Rebate for Photoshop Elements products. See our quick take on Elements 8 here.

Lastly, Adobe has extended the deal for purchasing multiple copies of Adobe Acrobat – buy four, get one free – until April 23, 2010. So that translates into savings of up to US$449 when you sign up for the easy new online Volume Licensing Program with Adobe Acrobat software. Note that Adobe has just rechristened their volume licensing store to be called the Adobe Business Store, and this offer also works in both North America and Europe.