[UPDATE (Oct. 2022) – Watch over 200 new courses & tutorials from MAX 2022 – free!]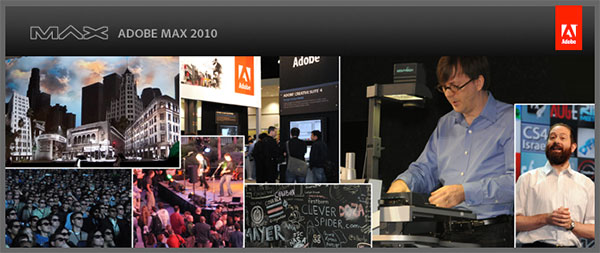 Adobe MAX 2010
October 23–27, 2010
Los Angeles Convention Center and
Nokia Theatre L.A. LIVE
Los Angeles, California
At Adobe MAX 2010, you'll discover the next wave of opportunities fueled by the explosion of rich content and applications across multiple screens (from smart phones to tablets to PCs to TVs), the merging of digital content and commerce, and workflows that bring design and development together. MAX is an experience unlike any other – for five unforgettable days, MAX 2010 will bring together thousands of designers, developers, and decision-makers to set the course for the next generation of digital experiences.
Join the leading innovators of the greater Adobe community with more than 100 hands-on labs and 200 sessions and explore the latest trends, techniques, and technologies in the Adobe Flash® Platform and get extensive training on Creative Suite® 5, Flash Professional CS5, Flex®, Acrobat®, ColdFusion®, AIR®, and LiveCycle®.
MAX 2010 will be hosted at the Los Angeles Convention Center and Nokia Theatre, part of L.A. LIVE, an exciting entertainment campus offering world-class restaurants and venues.
---
Should be amazing with all the new products rolling out this year… Learn more and register now or get on the mailing list.
[UPDATE (July 1st) – Save $400 off a full conference pass with the new promotion here. Or if you are a full-time college student aged 18 years or older, you can save even more and get it for the greatly-discounted price of $199. See details at the MAX site.]