[UPDATE (March 2012) – Adobe's grace period for free upgrades to CS6 is here!]
This seems to be the question of the week. Adobe's policy for major product releases has been that you may qualify for a free upgrade if you buy the old version after the new version has been announced, but before it ships… The advantages are threefold: (1) you get software available for immediate download, (2) you get a more mature release if you prefer and can move up later at your leisure, and (3) you win a lower upgrade cost (e.g., from CS, CS2, CS3), because you're buying fewer steps to go up (to CS4 rather than to CS5).
The question now is, does this apply now for CS5? Creative Suite 5 was officially announced on Monday, April 12, and CS5 is now in preorder. However, you can still buy and download CS4 on Adobe's site. So, we are in that relevant eligibility period right now… But will it work – could you get the best of both worlds and buy or upgrade to CS4 now, and then later get a free upgrade to CS5 when you—and it—are ready?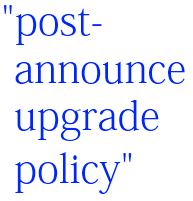 Well the official page on the matter at Adobe is called the "post-announce upgrade policy" (for retail and educational versions) – and it has not changed since CS5 was launched. If there were any change in policy, it would already be reflected there. So Adobe's historic policy remains in effect. Arguably this free policy and its name could be a bit clearer, but it is what it is – and probably Adobe doesn't want to broadcast it too much.
Supporting the case is anecdotal evidence. Folks who have recently contacted Adobe have reported, "Adobe Sales con­firmed free upgrade when CS5 ships" (also here) and "you can install and run CS4 and CS5 on the same computer."
However, the free upgrade is not automatic. It does depend on the software version and time of purchase. For example, your upgrade must be for the same platform, language, and edition as your previous version. So the short answer is that it may be possible – but you might wish to check with Adobe Customer Service (email, chat, or phone) in your particular case to verify that you qualify and request the materials to file an upgrade request, as the offer is only avail­able through Adobe directly.
In any event, rumor has it that CS5 could be shipping on April 30th and delivered by May 7th – so if you're thinking about doing it then that could be the remaining window!