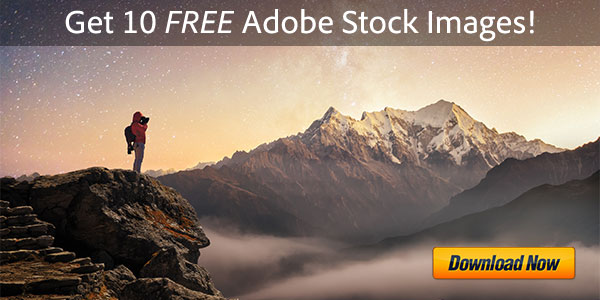 [UPDATE (May 6th) – The next release is announced! Learn more about new Adobe CC.]
Normally in the weeks before a new version of Creative Suite comes out, we don't have a very concrete idea of what will be in it…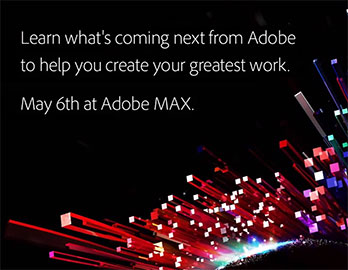 However this year – thanks to the early upgrades already out for Creative Cloud members, some telling blog posts, several "first look" videos, and a "major reveal" at the recent NAB show – we have already a pretty good picture of some of the major new features that CS7 (let's call it) will include. Adobe says all of the new products will be included in the Creative Cloud as soon as they're out.
Here below we've compiled some of the key information on what's new and expected in the upcoming release, and will keep this list up to date as we move forward…
Adobe promises much more will be revealed in the presentation on May 6th – so stay tuned!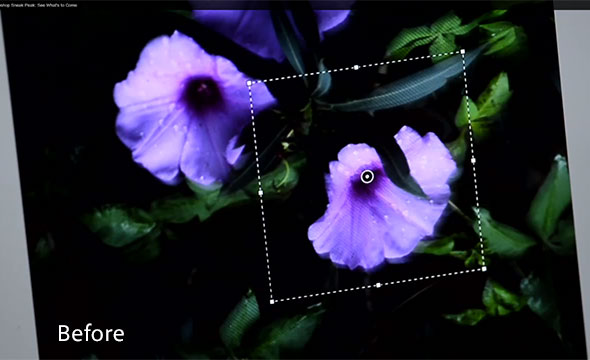 [UPDATE (May 6th) – Major news out: Adobe Unveils New "CC" Release (CS7)…]
At their last MAX conference in October 2011, Adobe showed a sneak peak of some exciting work in progress: the prototype of a new Photoshop Image Deblurring feature that takes shaky photos and brings them into focus. The demonstration was impressive and the tech­nology received huge press at the time, but ultimately was said to be too early stage to make it into the final release of Photoshop CS6 last year. Since that time, our readers have been asking about the status of the unblurring function – and when, where, and how we might see it finally released and available to the public…
Well now, we may finally have the answer.
[UPDATE (June 10th) – The Lightroom 5 final release is now shipping!]
Adobe has just announced a free public beta release of the eagerly-anticipated Photoshop Lightroom 5, with new tools and advancements to develop, enhance and share your digital photographs… Lightroom 5 provides photographers with an elegant and efficient way to work with their growing digital image collections, bring out the best in their images, and make an impact from raw capture to creative output, all while maintaining the highest possible quality each step of the way.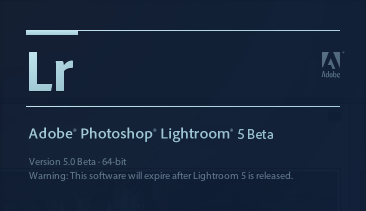 "The Lightroom team is proud to introduce the fifth major version of the product designed for and by photographers. We've been hard at work improving an application that's intended to be as easy to use as it is powerful. This release builds on the image quality improvements in Lightroom 4 to provide a truly complete workflow and imaging solution. We encour­age you to try the beta release and provide your feedback to the product team."
Available as a free public download for Windows and Mac, the Lightroom 5 beta is a limited-time preview of new features and capabilities that will be offered in the final release of LR5, expected in mid-2013 and available separately as well as part of the Creative Cloud.
[UPDATE (May 6th) – Major news out: Adobe Unveils New "CC" Release (CS7)…]
Based on recent indications from Adobe, we expect a new release of Creative Suite and/or Creative Cloud to be unveiled at their big annual MAX Conference on May 6th, just a few weeks away…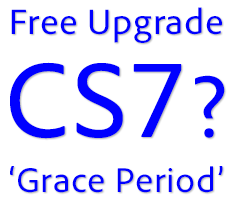 Historically during times like these, the company has set a "grace period" or grandfather offer to provide free upgrades to the next versions for customers buying the older software around the time of new releases – and in fact, such an "Upgrade Assurance promotion" deal was announced for CS6 in March of last year.
However, no such announcement has been forth­coming this year, perhaps due to the advent of Creative Cloud – where all paid members already receive all product updates and upgrades at no additional charge as soon as they are available.
But no matter – you can actually create your own grace period now, whether one officially exists or not.
The key is in awareness of Adobe's longstanding Software Return/Exchange Policy – whereby you can return your purchase to them within 30 days and they will grant you a full refund, no questions asked. This is possible even if you've already opened, installed, activated, and started using your product – and can be done quickly over live online chat with their customer service team.
[UPDATE – See all of Adobe's current deals & discounts!]
Looking at Creative Cloud, with its 5-star customer reviews? Adobe has announced new and unprecedented special offer that we have to share with you…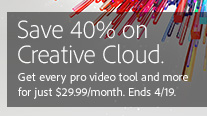 Using a limited-time promotion code, you can now join the Creative Cloud for $29.99 a month for the first year, which is 40% off the regular $49.99 price of an annual membership.
No previous ownership of any Adobe product is necessary, but the price reduction is only available during this very brief window.
This deal comes via the big annual NAB show and is aimed at video professionals — though it's apparent that anyone interested can use it… It's valid through April 19, 2013 in North America, and available one-to-a-customer direct from the Adobe Store only:
With a new version of Creative Suite expected soon, one of the key benefits of Creative Cloud is that all members automatically get access to the latest upgrades and new CS features as soon as they are released for no additional cost.
Powerful new features are coming to Adobe's industry-leading video and audio tools. You'll soon be able to work even more creatively, seamlessly, and profitably — from script to screen. Here's an early look at what to expect in the upcoming releases …
[UPDATE (May 6th) – The next release is announced! Learn more about new Adobe CC.]
Recent indications from Adobe hint that they will announce a new version of Creative Suite on the morning of Monday, May 6th.
May 6th is the first day – and main keynote address – of the big annual MAX conference in Los Angeles, California.
These release tipoffs have come in the form of new sneak peek videos of what's going to be in the next generation of CS tools – see the preview for Photoshop, and new InDesign, as well as for Dreamweaver & Flash Pro.
Adobe is ending all these "first look" videos with a teaser page: "Learn what's coming next from Adobe to help you create your greatest work. May 6th at MAX."
And in one of the official blog posts accompanying these videos, the product manager says, "Over the past 12 months we have been hard at work on the next version of Dreamweaver and today we're excited to give you a first look… Make sure you check out Adobe MAX, where you can learn more about what's coming next for Dreamweaver and for the rest of Adobe's creative tools."
[UPDATE (May 6th) – The next release is announced! Learn more about new Adobe CC.]
In recent days Adobe has been slipping out little sneak peeks of new product versions (perhaps CS7?) entitled, "Early Views Into the Next Generations Of Dreamweaver and Flash Professional." These brief first looks show improvements centered on re-architecting the tools for performance, usability, and stability – as well as adding some new features and keeping on top of technological trends.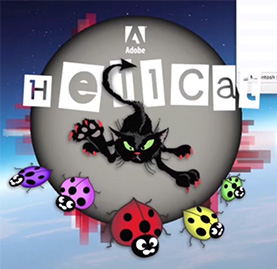 For the next release of Flash Pro (code-named "Hellcat"), there's a blazing new 64-bit archi­tecture, written in native cocoa – making the program modularized, much faster, and more reliable so you can be more efficient. For example, start time has been cut to just 2 seconds, 10X faster than CS6… There's also a new user interface with light and dark themes, plus support for HiDPI displays (e.g. MacBook Pro Retina) – read more details here.
For the upcoming version of Dreamweaver, you'll be getting a modernized, retooled and streamlined user interface with some old features deprecated, and new ones like the CSS Designer added for responsive web design. The CSS Designer is a visual interface to quickly and intuitively work with CSS properties like gradients, box shadows, and media queries to support web content presented in different-sized media. Adobe says this feature will be available later this year and you can find more information in this blog post.
Founder Cites Mayan Calendar, Vintage Cars, and Memorable Birthday Party in Decision
SAN JOSE, Calif.—April 1, 2013—Following a recent software trend for high version numbers, Adobe Systems announced today that it would be foregoing a Creative Suite version 7 and moving straight to Creative Suite 17.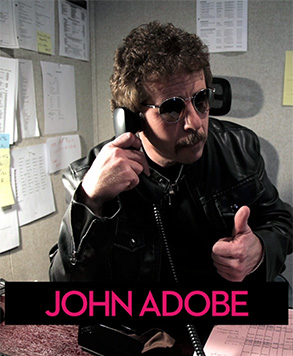 Commenting on the move, Founder John Adobe explained that with the recent availability of Firefox 19, Chrome 25, and AutoCAD 19, it made no sense to stay on low version numbers any longer.
"Single digits are so last-century… People like big release numbers. This is America, and we like things big," said Mr. Adobe. "We normally put a lot into each major release we do, but imagine moving 10 versions! CS17 is going to to knock your socks off, as well as a tens digit," he added.
Why 17?
"I remember my 17th birthday, it was a great time," recalled Adobe. "I got my permit that year and it was the first time I could drive on my own. Well, using CS17 is going to be like operating a fine automobile… Or like drinking a fine wine, which gets better with age of course. After all, would you rather have a wine that was 7 years old, or 17?"
[UPDATE (May 6th) – The next release is announced! Learn more about new Adobe CC.]
One could say that Adobe After Effects is the Photoshop of the video editing world, creating graphics and visual effects for moving pictures… And rotoscoping is effectively cutting an object out from a video so that it can be manipulated separately or placed somewhere else. Creating a perfect mask (or matte) that accurately defines the in-motion object has been particularly challenging over the years, an often painstaking and time-consuming task…
But now enter the next release of After Effects (perhaps CS7?) – which promises a new "Refine Edge" feature to make this work (look like) child's play… Here's the history of rotoscoping technology over the years and what After Effects will be able to do for you in the future – and it's impressive to watch even if you have never before used After Effects: