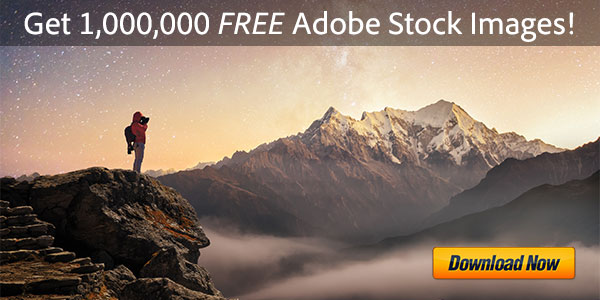 Last week Adobe unveiled Creative Suite 5.5 and held an expert session to address common questions and answers about the new release. We covered part of this session in our earlier piece on the free-upgrade grace period for CS 5.5…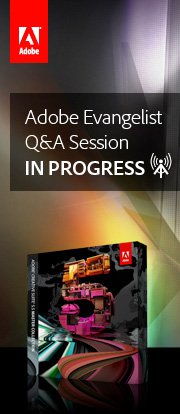 And here, without further ado, is the rest of the shared knowledge from those Adobe Evangelists.
If you have any questions at all about the release that are not answered here or by our CS5.5 launch overview, or comparison to CS5, or new product feature articles, just leave them in the comments below and we'll get answers!
Topics
[UPDATE (March 2012) – Lightroom 4 is out! Get free tutorials for the new version.]
Adobe Lightroom 3 is only days old, yet it's quickly getting rave reviews across the net… Expert Reviews gave it five stars, writing: "The best just got better. Whether you're a profes­sional photographer or enthusiast, Adobe Lightroom has quickly become the must-have managing and pre-processing software. With version 3 just released, there's even more reason to rush out and buy it. The powerful lens correction profiles and amazing noise reduction, combined with excellent management make this a tool that all photographers should have."
And there is already a wealth of free learning resources available… Here are some good ones: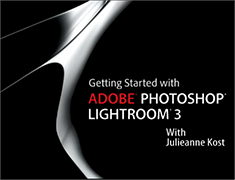 Also out is an excellent in-depth series of free online Lightroom 3 video tutorials, approaching three hours in running time and produced by Adobe Lightroom expert Julieanne Kost. There are ten chapters with a range of topics and techniques covered:
Adobe has just put out a couple of very helpful resources if you're running into any issues downloading or installing CS5 products… If you've hit a snag, these are some of the first places you might look (after confirming your system meets the minimum Creative Suite 5 requirements for Windows or Mac):
Fix download issues with the Download Manager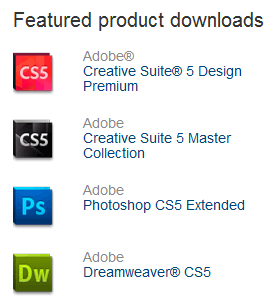 CS5 software packages are quite large (the full Master Collection suite is ~5 GB), so Adobe uses the Akamai Download Manager to facilitate their download. If you're having any trouble installing or running the Download Manager, see the FAQ for this topic. If nothing happens when you click the product's trial download link, or a blank win­dow or coffee cup icon appears, or a "File not found," "server not found," "Windows cannot open this file," or "add-on disabled" message appears, then see this page to solve your problem. There's also more general download help.
[UPDATE (5/3/2011) – If you need to, you can bypass the Akamai Download Manager and Adobe Download Assistant entirely by downloading it using the new CS5.5 Direct Download Links.]
If it's easier or if you prefer, you can order a trial DVD set for any of the CS5 suite editions: Design Premium, Web Premium, Production Premium, or Master Collection, and it will be delivered to your home or business… A DVD set can serve as your backup media if you choose to purchase at the end of 30 days, or you can have a full product box delivered to you when you purchase and simply use that serial number to convert the trial you already installed.
Fix installation issues with Creative Suite products
There are several good resources for solutions. The Adobe Support Advisor (ASA) can analyze your install logs and identify errors generated during unsuccessful Adobe Creative Suite 5, Creative Suite 4, or Creative Suite 3 product installations. The ASA provides information about documentation for these installation known issues, and it expedites the troubleshooting process by generating files that you can upload, if necessary, to an Adobe technical support agent.
[UPDATE (April 2012) – The same two applications mentioned below remain 64-bit only for CS6.]
[UPDATE (April 2011) – See also the top questions answered for CS5.5!]
Last week there was an online Q&A session called "Ask a CS Pro," where we got news on when CS5 would be released. The session with Adobe Evangelists Terry White, Greg Rewis, and Jason Levine lasted over an hour and there were a lot of other great questions address­ed. Here are some:
Q:
Is Creative Suite 5 64-bit-only? Or will it run on 32-bit systems?
A:
Only two CS5 applications are exclusively 64-bit,
Premiere Pro
and
After Effects
. The rest, including Photoshop, will run in either 32-bit
or
64-bit environments, including Windows XP. But CS5 users running on 64-bit native should realize noticeably greater gains in performance, in some cases as much as ten times the previous speed.
Q:
How can I tell if my system can run the 64-bit applications?
Q:
What if I buy CS5 but don't have a 64-bit computer yet?