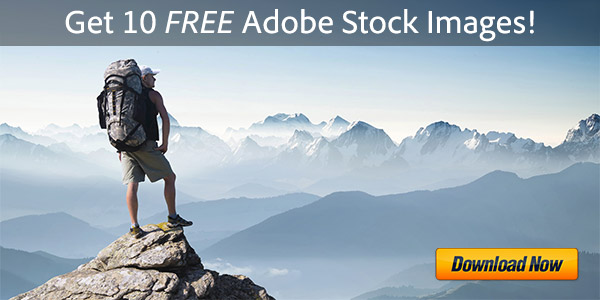 [UPDATE – Some of these still work to download the old CS3 & CS4 trials from years ago, but Adobe has recently taken down many links… However, you can also now get the all-new Creative Cloud 2020 Direct Download Links!]
Even though Creative Suite 6 is out and is a phenomenal release, some folks still need the earlier versions for various reasons: 32-bit vs 64-bit (e.g., After Effects and Premiere Pro), compatibility with other software or systems owned, the rest of your class or company is still on CS4, you need to reinstall but no longer have your original disks or download file, etc… But this older software is now hard to find – Adobe doesn't publicize or provide a web interface for it. So if you've been searching high and low all over the Internet to find the official Adobe trial downloads for CS4 or CS3, well your search is over!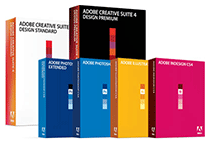 Below are two tables for CS4 trial downloads in major languages. These links go to the auth­entic and original CS4 files residing on Adobe's servers, are guaranteed genuine and will not change. For Windows, each program consists of two files, an .exe and a 7-Zip file (.7z). The .exe file will only work once the .7z package is fully down­loaded and resides in the same location. For the Mac, it's just a single .dmg file for each program.
There are also optional "extra content" (or functional content) downloads included here for most tools that consist of one or two additional files, which you can install separately after the main product is installed. It typically includes fonts, templates, documentation, etc.
[UPDATE – Download over 20 Adobe books free now!]
Our last giveaway went so well that we're launching a new one for the month of May – we're giving away ten copies of some of the best CS5 books coming, Adobe's popular "Classroom in a Book" series! The books will be published in early June, just after the contest ends… They sell for up to $59.99 and include companion DVDs for Windows or Mac with bonus content including lesson files and video tutorials. Our winners can choose a book for whichever product you'd like: Photoshop CS5, Dreamweaver CS5, Illustrator CS5, InDesign CS5, Flash Pro CS5, Flash Catalyst CS5, Premiere Pro CS5, After Effects CS5, Fireworks CS5, or CS5 Design Premium.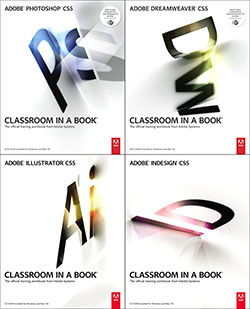 To enter, all you have to do is add a comment below describing what you like about CS5 and how you'll be using it, in up to four sentences – that's it! The contest runs until 11:59pm EDT on Monday, May 31st, 2010, when we'll choose the ten entries we like the best. One entry per person please, and if two submissions are similar, the first one will count. The contest is open to residents of the USA, Canada, U.K. and Ireland, and the winners will be chosen and books shipped out next month. Be sure to give an accurate email address as we'll be contacting ten commenters via email to get shipping information, and then follow up back here announcing first names and home­towns.
---
Speaking of giveaways, we're also pleased to announce the winner of our big Photoshop CS5 Giveaway last month… The lucky fellow who won the drawing is Dayne from North Lincoln­shire, England, and he will be receiving a shiny new shrinkwrap­ped box of Photoshop CS5 for free!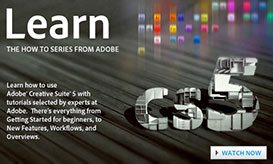 [UPDATE (January 2013) – See also: 30 new hours of free tutorials for CS6!]
We've covered AdobeTV before, but it just keeps getting bigger and better… They've just issued a large series of free new video tutorials for every CS5 point product. You can learn the basics with Getting Started overviews and New Features re­views by product experts, over 17 hours in all. And if you want to get started today, you can go ahead and down­load a 30-day free trial for any CS5 product and begin getting trained…
Here's how it breaks out:
[UPDATE (June 2013) – These links still work! If not, then use instead the direct download links for the original CS5 trials, the CS5.5 trials, the CS6 trials, or the brand new Adobe CC trials…]
Click to immediately download whichever you like, from Photoshop CS5 to Master Collection!
All CS5 trials are fully functional for thirty days and can run side-by-side on your system with older versions, without interference. The Windows or Mac downloads can be installed on multiple computers if desired – and if and when you are ready to buy, you can easily convert your trial to permanent unrestricted use without reinstalling the software in most cases: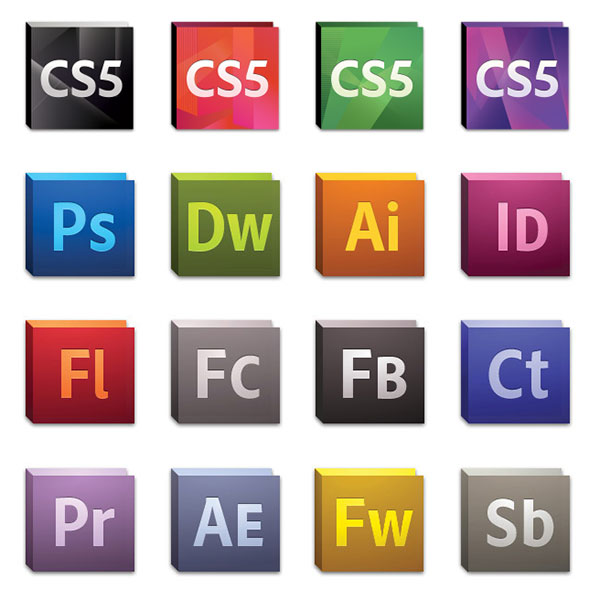 [UPDATE (March 2012) – Adobe's grace period for free upgrades to CS6 is here!]
This seems to be the question of the week. Adobe's policy for major product releases has been that you may qualify for a free upgrade if you buy the old version after the new version has been announced, but before it ships… The advantages are threefold: (1) you get software available for immediate download, (2) you get a more mature release if you prefer and can move up later at your leisure, and (3) you win a lower upgrade cost (e.g., from CS, CS2, CS3), because you're buying fewer steps to go up (to CS4 rather than to CS5).
The question now is, does this apply now for CS5? Creative Suite 5 was officially announced on Monday, April 12, and CS5 is now in preorder. However, you can still buy and download CS4 on Adobe's site. So, we are in that relevant eligibility period right now… But will it work – could you get the best of both worlds and buy or upgrade to CS4 now, and then later get a free upgrade to CS5 when you—and it—are ready?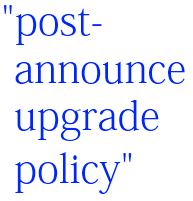 Well the official page on the matter at Adobe is called the "post-announce upgrade policy" (for retail and educational versions) – and it has not changed since CS5 was launched. If there were any change in policy, it would already be reflected there. So Adobe's historic policy remains in effect. Arguably this free policy and its name could be a bit clearer, but it is what it is – and probably Adobe doesn't want to broadcast it too much.
Supporting the case is anecdotal evidence. Folks who have recently contacted Adobe have reported, "Adobe Sales con­firmed free upgrade when CS5 ships" (also here) and "you can install and run CS4 and CS5 on the same computer."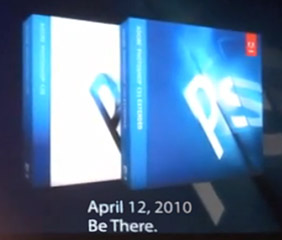 [UPDATE – Also see our Winter Creative Cloud 2020 Giveaway!]
Less than a week to go now until the big Global Online Launch of Creative Suite 5, if you haven't signed up yet … We've talked a lot here about Photoshop CS5, so here's your chance to win it for free! All you have to do is enter your email address in the "Adobe Special Offers" box in the sidebar to the right for our free occasional e-newsletter. That's it.
It's open worldwide with one subscription per person and submissions end at 11:59pm EDT on Friday, April 30th, 2010. Then on May 1st (right before we think CS5 is released) we'll choose one new subscriber at random, and if it's you we'll ship you a shiny new shrinkwrap­ped box of Photoshop CS5 for free! (up to $699 value) We'll contact you via email just to get your address for shipping, and then follow up back here announcing your first name and home­town. It's that simple, no kidding!
If you like, you can find out more about the newsletter you'll be receiving – it typically contains select Adobe-related news items plus the latest discounts and great coupon codes. And of course you can easily unsubscribe from the bottom of any issue. Naturally we'll never spam you or share your email address with anyone else, ever. So enter your email today and tell your friends – someone has to win the giveaway and there's nothing to lose!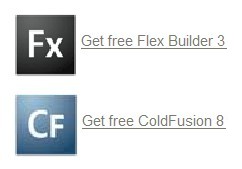 Adobe has just started a new program of giving away full versions of some of its premium development tools ($699 – $1,299 value) absolutely free if you qualify…
If you are an educational customer or an unemployed developer, Adobe would like to lend a hend. Simply certify you are a student, faculty or staff of an eligible education institution, or currently out of work – and the software is yours to download for non-commercial use.
Get your free products here.
UPDATE (August 28, 2012) – With the two new version releases out recently, the products now available for free at this site are ColdFusion 10, ColdFusion Builder 2, and Flash Builder (formerly Flex Builder) 4.6.
[UPDATE – See all of Adobe's current deals & discounts!]
Right now a rare occurrence for Adobe – numerous simultaneous specials going on for a lot of products – and the best part is they are stackable, meaning you can load up more than one at one time… Here are a few:
Suite Deal: Save $100 when you upgrade from an earlier version of Adobe Creative Suite, Production Studio, or Macromedia Studio to CS4. (Ends August 31, 2009.)
Free Flex Builder 3: Buy a full or upgrade version of Design Premium or Web Premium and use the coupon code 'freeflex' to receive a FREE full version of Flex Builder Standard. (Valid for the Adobe North America Store only.)
Adobe MAX 2009 Offer: Save $400 off the regular price of an Adobe MAX 2009 full conference pass when you purchase a qualifying product at the Adobe.com North America Store. (Runs until October 2, 2009.)
For example, it's normally $599 to upgrade to CS4 Design Premium. If you take advantage of all three offers you get $100 + $400 + $249 = $749 of value, meaning the product is more than free!
[UPDATE (May 3, 2011) – All Creative Suite 5.5 trials are out!]
Not all are aware, but Adobe is now offering free trials of virtually any product that works without restriction for up to thirty days… The best part is you can immediately download the software for most products and have it up and running on your computer within minutes!
For the larger packages such as the suites, Adobe will send you software DVDs for a nominal charge of $10-15 (UPDATE, February 2010 – new policy – you can now directly download any of the suites too if you desire, for free, including the top-of-the-line Master Collection). In any event, all products and all suites remain fully functional for up to a month (no "demo mode"), and the trials can be installed on multiple or successive systems if desired.
In all cases you can test drive whatever you like, or get the work you need to get done for the duration of the period. And if and when you are ready to buy, you can easily convert your product trial for permanent unrestricted use without reinstalling the software in most cases.
Lastly, you can download as many individual CS4 CS5 apps as you want, including Photoshop, Acrobat, Dreamweaver, Lightroom, Illustrator, InDesign, Flash, Contribute, Elements, etc.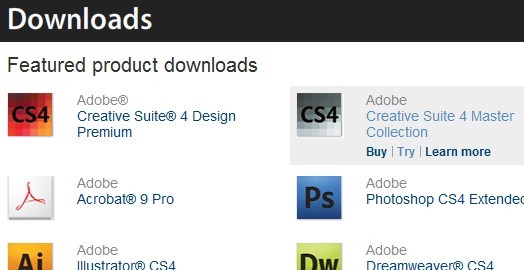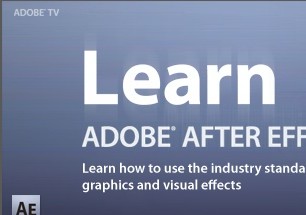 Here's a great one. How would you like a huge menu of absolutely free video training, tips, and tricks for most all of Adobe's major products?
A large selection of helpful segments from the experts you can run and view at any time from the comfort of your home or office, covering everything from "getting started" tutorials for beginners to advanced "how-to" guides for thirty different products…
Well, it's here – check it out and learn all you want at the new "Adobe TV."