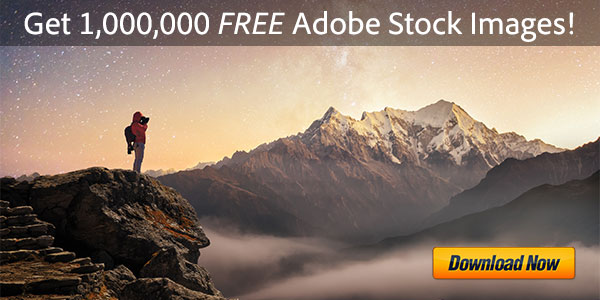 Missed the big event? No problem! You can watch a full replay… It's about an hour in length, but we promise you there's so much tightly packed into that hour that it could easily be five times as long! And even if you caught it the first time, we found it to be worth a review to catch what flew by before – plus the production values (as you might expect from Adobe) are pretty sweet…
(click at the bottom right for full-screen HD)
You can find dozens more great videos on what's new in Creative Suite 5 here:
www.cs5.tv
Just out: a very cool Adobe Photoshop CS5* preview demo on a new feature called Puppet Warp that lets you distort and warp images with extreme accuracy… Just set a few control points and then it becomes a breeze to precisely reposition or warp any image element – like swing a raised arm to a person's side in a photo, wrap a rope any way you want, manipulate a puppet, stretch or wind text to create new effects, or structurally realign images with a click or drag of the mouse… What else can you think of?
Incredible convergence happening with these tools and what they can do.
* Creative Suite 5 inclusion is subject to the same disclaimers confirmed! as for our earlier previews on Photoshop CS5 and Dreamweaver CS5.
Since our popular post Thursday with the latest "sneak peek" preview of the stunning new Content-Aware Fill (aka PatchMatch) technology in Photoshop CS5, another "insane" video has surfaced… This one comes from last week's Photoshop World in Orlando, and shows something we still find impossible to believe.
But before we get to that, first Photoshop CS5 gets unveiled by JohnnyL!
"Any sufficiently advanced technology is indistinguishable from magic." [Arthur C. Clarke] — that's what comes to mind when watching this latest preview demo from the Adobe Photoshop team… There have been several videos out on this amazing new Photoshop CS5* Content-Aware Fill (aka PatchMatch) technology, but this new one is the best. Move/remove/repair entire objects with the back­ground automatically filling like the object was never there – jaw-dropping, really. Incredible how easy this makes it and what the possibilities could be – and thinking already of the hours it's going to save.
The best part is about halfway the video when he makes trees and roads disappear and then creates desert and mountains and clouds and sky from seemingly out of nowhere, all with single clicks of the mouse. And just like when watching magic on TV, we found ourselves wondering if there was something going on "behind the scenes" to make it work… But let's hope not – what do you think?
By the way, the breakthrough new technology shown here is a joint development effort between the Adobe Photoshop team and the Graphics Group at Princeton University.
* Creative Suite 5 inclusion is subject to the same disclaimers confirmed! as for our earlier previews on Photoshop CS5 and Dreamweaver CS5.
[UPDATE (May 21st) – More details on the new support in Dreamweaver CS5 for HTML5 here.]
Over the past three days Adobe has quietly released several "preview" videos of future technology in Dreamweaver… Now just as with the sneak-peek Photoshop videos posted last week, there are no assurances on exactly which version of Dreamweaver or when – but considering that CS5 could be coming out fairly soon, we could be seeing some of these new technologies in CS5. But even if not, they are rather impressive…
The first video below covers a very cool new "Smart Paste" command that makes it a snap to bring vector designs (such as artwork from Illustrator) directly into HTML – as simple as copy and paste.
The second one delves into support for multiscreen authoring with HTML5 and CSS3, and so might be considered more in the "emerging" department… This one is a big challenge for designers especially as varied mobile devices become increasingly more prevalent on the web.
The last video comes from the new "CSbuzz" hub site that launched last week, and is a little tease on significant improvements when working in Dreamweaver with dynamic material such as PHP, which historically hasn't been as handy.
For best viewing, click the expand icon after pressing play on each thumbnail for full-screen HD:
In recent days and weeks Adobe has been slipping out little preview videos of some of the features that could be coming in Photoshop CS5 (well OK not necessarily "CS5" but rather "a future version of Photoshop," is the official word… ;)
They cover new technologies for painting, coloring, selection, alignment, edge detection and masking, among others, to help save time and effort.
Here we've put together the entire collection thus far, in case you've missed any or haven't seen them yet… Each one is bite-sized at about two minutes apiece, and for best viewing, click the expand icon after pressing play on each thumbnail for full-screen HD:
Following up to our popular post Tuesday on CS5 release timing, an alert reader discovered a new site launched yesterday morning called the Adobe Creative Suite Buzz Hub… It's a 'Twitteresque' destination where you can follow and see official tweets for the products or evangelists you're interested in. Facebook connections are there too, as well as an initial set of videos.
Thus far there are presentations on getting started with the design tool Flash Catalyst, which is new for CS5, plus Introducing BrowserLab, which allows you to easily preview and test your web pages on multiple browsers and operating systems on demand, and new script development app Adobe Story, both of which are in limited free preview. There's also a humorous performance from Photoshop guru Russell Brown.
Adobe expects the buzz site will be a focal point for Creative Suite updates and videos going forward…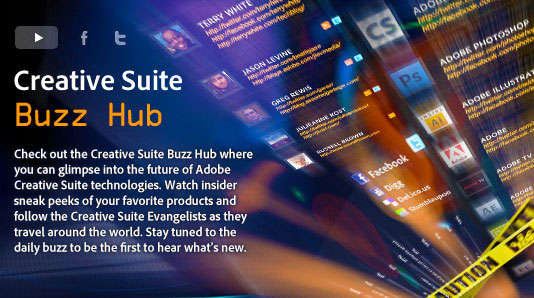 Just a quick post because I thought you might be interested in this, on the making of Avatar:
– Watch a full-screen video from the movie's producer on how Adobe software was used throughout.
– Download the free interactive Avatar app.
(The first link comes from the new AdobeTV site where you can check out dozens of free online training videos for all of Adobe's products, covering everything from "getting started" tutorials to advanced "how-to" guides with tips and tricks, etc.)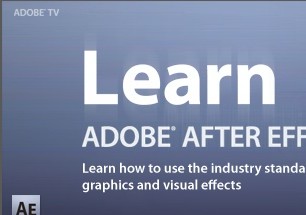 Here's a great one. How would you like a huge menu of absolutely free video training, tips, and tricks for most all of Adobe's major products?
A large selection of helpful segments from the experts you can run and view at any time from the comfort of your home or office, covering everything from "getting started" tutorials for beginners to advanced "how-to" guides for thirty different products…
Well, it's here – check it out and learn all you want at the new "Adobe TV."