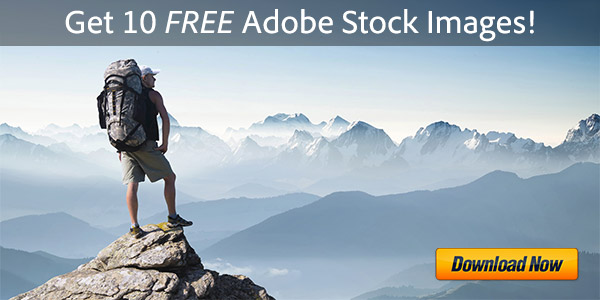 As reported earlier here and here, and contrary to what some rabble-rousers might want you to believe, Adobe very much wants to be a big part of the future of HTML5… As the leading provider of web development tools, Adobe needs to be the leading provider of whatever the future of web development tools is, else they lose their relevancy. And they just took a big first step with the official announcement of the free HTML5 Pack for Dreamweaver CS5, which was tipped at an Adobe Evangelist Q&A session last month…

While HTML5 and CSS3 won't be finalized for some time, this extension provides initial support in Dreamweaver CS5 for a set of currently-implemented functions, helping you easily create HTML5 pages and CSS3 styles. It introduces great features like multiscreen preview (which lets you see what your web page will look like on phones, tablets, and desktop computers simultaneously within Dreamweaver), HTML5 and CSS3 code hinting, video and audio tag support in Live View, and even a few HTML5-compliant starter layouts to get you up and running with HTML5 layouts quickly.
If you've been tuned into the technology news lately, you'll know these sorts of improvements mark a great advance for Dreamweaver users working in this fast-changing world of smart­phones and other portable devices. Although their specifications are still being finalized, HTML5 and CSS3 can be used with any browser that currently supports them. The most recent ver­sions of the leading browsers (Safari, Firefox, Opera, Internet Explorer, Chrome) support at least some (a few support many) HTML5 and CSS3 features.
Here's a complete list of available resources for these new capabilities, available immediately:
There are hundreds of new features and functions in Adobe's Creative Suite 5, but perhaps the most talked-about is Photoshop's Content-Aware Fill – which allows you to move or delete content and Photoshop will automatically and intelligently fill in the space left behind. We've written about it before here with the quote, "Any sufficiently advanced technology is indistinguishable from magic." [Arthur C. Clarke]
But does the real feature live up to its advance billing?
While it's not perfect and doesn't always do what you hope or imagine (after all, it's still just a computer), generally in practice it still does amazingly well – and often unbelievably so. And we have a handful of new videos here to illustrate, thanks to Terry White and Russell Brown. The tips and techniques shared below will help you get the most out of this capability.
The first video covers the best new features in Photoshop CS5 generally, including three great examples of Content-Aware Fill in action… The second, to the right, introduces the concept of Content-Aware Rotation – magically filling in the missing parts to the background of a rotated image with Content-Aware Fill. The third one develops the technique of Wire Removal with Content-Aware Healing – easily removing unwanted lines and wires from your images. And the last video shows how to create Content-Aware Patterns – discovering creative ways to accurately control, and create, patterns with Content-Aware Fill.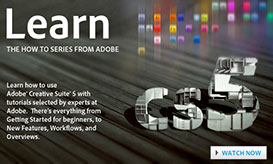 [UPDATE (January 2013) – See also: 30 new hours of free tutorials for CS6!]
We've covered AdobeTV before, but it just keeps getting bigger and better… They've just issued a large series of free new video tutorials for every CS5 point product. You can learn the basics with Getting Started overviews and New Features re­views by product experts, over 17 hours in all. And if you want to get started today, you can go ahead and down­load a 30-day free trial for any CS5 product and begin getting trained…
Here's how it breaks out:
As you may have heard, Creative Suite 5 was released on Friday, and the stories are starting to roll in… Here's one – it's amazing what one committed fan would do to be first in line when it hit the stores! The devotion, the dedication… plus Bryan O'Neil Hughes of Content-Aware Fill fame even shows up:
Good thing for the rest of us we have instant download!

Yes, CS5 is out! It looks like a phenomenal release, and we have full coverage – including new products, pricing, configurations, system reqs, videos, "what's new" feature lists, and more:
ALL CS5 products are immediately available for purchase and instant download, with free shipping on all Adobe orders over €500/£350 in Europe and the U.K. (no coupon or promo code is required)…
On Adobe's site: If you're considering upgrading from your current software, here's a helpful upgrade guide. Also new is an excellent FAQ covering purchasing policies and key product changes… The online documentation for all CS5 products also just went up.
Lastly and importantly, the CS5 free trial downloads and Student and Teacher Editions
(up to 80% off) are also now available!
[UPDATE (May 13th) – Adobe CS5 is now shipping and downloadable in 16 languages: English, French, German, Japanese, Spanish, Portuguese, Italian, Dutch, Danish, Swedish, Norwegian, Finnish, Czech, Polish, Russian, and Korean.]
Categories:
Tools
Adobe, after effects, CS5, dreamweaver, flash, illustrator, indesign, photoshop, premiere, suites, upgrade, videos
While we're waiting for Creative Suite 5 to ship (any day now so take advantage of the grace period if you can), here's a pithy interview with Adobe CEO Shantanu Narayen talking about the product line on the day of its launch. Entitled "Suite" News from Adobe, Narayen discusses CS5 upgrades, content creation, Flash, mobile devices, Apple, Steve Jobs, Android, Omniture, cloud computing, and new online services:
Also wanted to mention there's just one day left in our Free Photoshop CS5 Giveaway…
Missed the big event? No problem! You can watch a full replay… It's about an hour in length, but we promise you there's so much tightly packed into that hour that it could easily be five times as long! And even if you caught it the first time, we found it to be worth a review to catch what flew by before – plus the production values (as you might expect from Adobe) are pretty sweet…
(click at the bottom right for full-screen HD)
You can find dozens more great videos on what's new in Creative Suite 5 here:
www.cs5.tv
Just out: a very cool Adobe Photoshop CS5* preview demo on a new feature called Puppet Warp that lets you distort and warp images with extreme accuracy… Just set a few control points and then it becomes a breeze to precisely reposition or warp any image element – like swing a raised arm to a person's side in a photo, wrap a rope any way you want, manipulate a puppet, stretch or wind text to create new effects, or structurally realign images with a click or drag of the mouse… What else can you think of?
Incredible convergence happening with these tools and what they can do.
* Creative Suite 5 inclusion is subject to the same disclaimers confirmed! as for our earlier previews on Photoshop CS5 and Dreamweaver CS5.
Since our popular post Thursday with the latest "sneak peek" preview of the stunning new Content-Aware Fill (aka PatchMatch) technology in Photoshop CS5, another "insane" video has surfaced… This one comes from last week's Photoshop World in Orlando, and shows something we still find impossible to believe.
But before we get to that, first Photoshop CS5 gets unveiled by JohnnyL!
---
"Any sufficiently advanced technology is indistinguishable from magic." [Arthur C. Clarke] — that's what comes to mind when watching this latest preview demo from the Adobe Photoshop team… There have been several videos out on this amazing new Photoshop CS5* Content-Aware Fill (aka PatchMatch) technology, but this new one is the best. Move/remove/repair entire objects with the back­ground automatically filling like the object was never there – jaw-dropping, really. Incredible how easy this makes it and what the possibilities could be – and thinking already of the hours it's going to save.
The best part is about halfway the video when he makes trees and roads disappear and then creates desert and mountains and clouds and sky from seemingly out of nowhere, all with single clicks of the mouse. And just like when watching magic on TV, we found ourselves wondering if there was something going on "behind the scenes" to make it work… But let's hope not – what do you think?
By the way, the breakthrough new technology shown here is a joint development effort between the Adobe Photoshop team and the Graphics Group at Princeton University.
* Creative Suite 5 inclusion is subject to the same disclaimers confirmed! as for our earlier previews on Photoshop CS5 and Dreamweaver CS5.