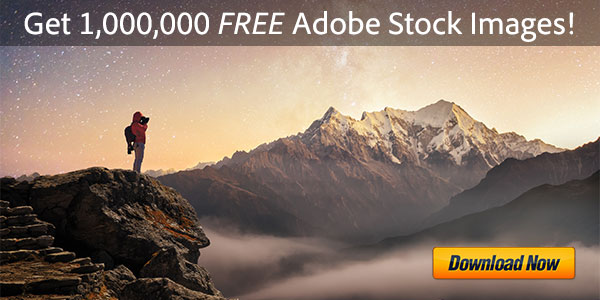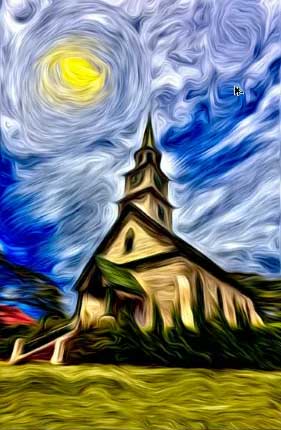 If you missed your calling as a 19th-century post-Impressionist painter, here's your second chance… Adobe recently released the fast and free Pixel Bender Plug-in for Photo­shop CS5, which adds new image processing algorithms (filters or effects) in a hardware-independent manner. There are dozens of free filters available, including one for an oil paint effect. In addition to Photoshop, Pixel Bender also runs cross-platform in After Effects and Flash, so all filters and their behaviors are portable among various Adobe products.
Installation of the Pixel Bender Plug-in is easy, provided you already have Photoshop CS5 installed. If you don't yet have Photoshop CS5, you can just download the full 30-day free trial. The Pixel Bender Gallery is initially populated with 13 filters that come with with the plugin. The one we'll focus on today is the OilPaint filter, with two video tutorials below demonstrating detailed examples of its use. The tips and techniques shared will help you use the tools to turn an ordinary photo into something special – "makes a great gift!"
[UPDATE (March 2012) – Lightroom 4 is out! Get free tutorials for the new version.]
Adobe Lightroom 3 is only days old, yet it's quickly getting rave reviews across the net… Expert Reviews gave it five stars, writing: "The best just got better. Whether you're a profes­sional photographer or enthusiast, Adobe Lightroom has quickly become the must-have managing and pre-processing software. With version 3 just released, there's even more reason to rush out and buy it. The powerful lens correction profiles and amazing noise reduction, combined with excellent management make this a tool that all photographers should have."
And there is already a wealth of free learning resources available… Here are some good ones: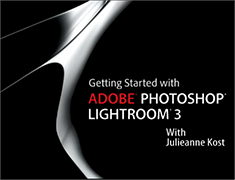 Also out is an excellent in-depth series of free online Lightroom 3 video tutorials, approaching three hours in running time and produced by Adobe Lightroom expert Julieanne Kost. There are ten chapters with a range of topics and techniques covered: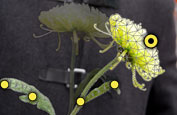 Puppet Warp is one of the coolest new features in Creative Suite 5. Think about taking an element of your image, setting some control points, and then "physically" manipulating it in any way that you want. Obviously this works well with figures – you could swing a raised arm to a person's side in a photo, or make a family shot a little bit tighter on the grouping… But how about other applications, like stretching or winding text or handwriting or a plant or a musical score to create new effects? Or maybe just something simpler like easily adjusting the relative alignment of the different elements in your composition. It could be any­thing really – a lot of new possibilities out there with this feature for superior manipulation of still images.
To get your ideas flowing, we've got two new video tutorials below with fundamental and advanced techniques for Photoshop's Puppet Warp, courtesy of Adobe's Russell Brown. In the second video, Content-Aware Fill even makes an appearance, working in synergy with Puppet Warp to combine their power. The tips shared below will help you get the most out of these new capabilities, and if you like you can get started with a free trial download today.
How are you going to be using Puppet Warp? Share your creativity in the comments below…
See reviews of Puppet Warp and other aspects of Photoshop CS5… Or for more great videos on what's new in Creative Suite 5, check out www.cs5.tv
As reported earlier here and here, and contrary to what some rabble-rousers might want you to believe, Adobe very much wants to be a big part of the future of HTML5… As the leading provider of web development tools, Adobe needs to be the leading provider of whatever the future of web development tools is, else they lose their relevancy. And they just took a big first step with the official announcement of the free HTML5 Pack for Dreamweaver CS5, which was tipped at an Adobe Evangelist Q&A session last month…

While HTML5 and CSS3 won't be finalized for some time, this extension provides initial support in Dreamweaver CS5 for a set of currently-implemented functions, helping you easily create HTML5 pages and CSS3 styles. It introduces great features like multiscreen preview (which lets you see what your web page will look like on phones, tablets, and desktop computers simultaneously within Dreamweaver), HTML5 and CSS3 code hinting, video and audio tag support in Live View, and even a few HTML5-compliant starter layouts to get you up and running with HTML5 layouts quickly.
If you've been tuned into the technology news lately, you'll know these sorts of improvements mark a great advance for Dreamweaver users working in this fast-changing world of smart­phones and other portable devices. Although their specifications are still being finalized, HTML5 and CSS3 can be used with any browser that currently supports them. The most recent ver­sions of the leading browsers (Safari, Firefox, Opera, Internet Explorer, Chrome) support at least some (a few support many) HTML5 and CSS3 features.
Here's a complete list of available resources for these new capabilities, available immediately:
There are hundreds of new features and functions in Adobe's Creative Suite 5, but perhaps the most talked-about is Photoshop's Content-Aware Fill – which allows you to move or delete content and Photoshop will automatically and intelligently fill in the space left behind. We've written about it before here with the quote, "Any sufficiently advanced technology is indistinguishable from magic." [Arthur C. Clarke]
But does the real feature live up to its advance billing?
While it's not perfect and doesn't always do what you hope or imagine (after all, it's still just a computer), generally in practice it still does amazingly well – and often unbelievably so. And we have a handful of new videos here to illustrate, thanks to Terry White and Russell Brown. The tips and techniques shared below will help you get the most out of this capability.
The first video covers the best new features in Photoshop CS5 generally, including three great examples of Content-Aware Fill in action… The second, to the right, introduces the concept of Content-Aware Rotation – magically filling in the missing parts to the background of a rotated image with Content-Aware Fill. The third one develops the technique of Wire Removal with Content-Aware Healing – easily removing unwanted lines and wires from your images. And the last video shows how to create Content-Aware Patterns – discovering creative ways to accurately control, and create, patterns with Content-Aware Fill.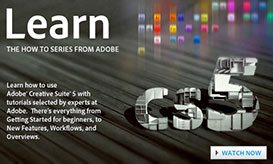 [UPDATE (January 2013) – See also: 30 new hours of free tutorials for CS6!]
We've covered AdobeTV before, but it just keeps getting bigger and better… They've just issued a large series of free new video tutorials for every CS5 point product. You can learn the basics with Getting Started overviews and New Features re­views by product experts, over 17 hours in all. And if you want to get started today, you can go ahead and down­load a 30-day free trial for any CS5 product and begin getting trained…
Here's how it breaks out:
As you may have heard, Creative Suite 5 was released on Friday, and the stories are starting to roll in… Here's one – it's amazing what one committed fan would do to be first in line when it hit the stores! The devotion, the dedication… plus Bryan O'Neil Hughes of Content-Aware Fill fame even shows up:
Good thing for the rest of us we have instant download!

Yes, CS5 is out! It looks like a phenomenal release, and we have full coverage – including new products, pricing, configurations, system reqs, videos, "what's new" feature lists, and more:
ALL CS5 products are immediately available for purchase and instant download, with free shipping on all Adobe orders over €500/£350 in Europe and the U.K. (no coupon or promo code is required)…
On Adobe's site: If you're considering upgrading from your current software, here's a helpful upgrade guide. Also new is an excellent FAQ covering purchasing policies and key product changes… The online documentation for all CS5 products also just went up.
Lastly and importantly, the CS5 free trial downloads and Student and Teacher Editions
(up to 80% off) are also now available!
[UPDATE (May 13th) – Adobe CS5 is now shipping and downloadable in 16 languages: English, French, German, Japanese, Spanish, Portuguese, Italian, Dutch, Danish, Swedish, Norwegian, Finnish, Czech, Polish, Russian, and Korean.]
Categories:
Tools
Adobe, after effects, CS5, dreamweaver, flash, illustrator, indesign, photoshop, premiere, suites, upgrade, videos
While we're waiting for Creative Suite 5 to ship (any day now so take advantage of the grace period if you can), here's a pithy interview with Adobe CEO Shantanu Narayen talking about the product line on the day of its launch. Entitled "Suite" News from Adobe, Narayen discusses CS5 upgrades, content creation, Flash, mobile devices, Apple, Steve Jobs, Android, Omniture, cloud computing, and new online services:
"Suite" News from Adobe
4:15 PM ET Mon, 12 April 2010

Discussing Adobe's new Creative Suite 5, with Shantanu Narayen, Adobe Systems CEO & President

= Sorry, this video is no longer available. =
Also wanted to mention there's just one day left in our Free Photoshop CS5 Giveaway…