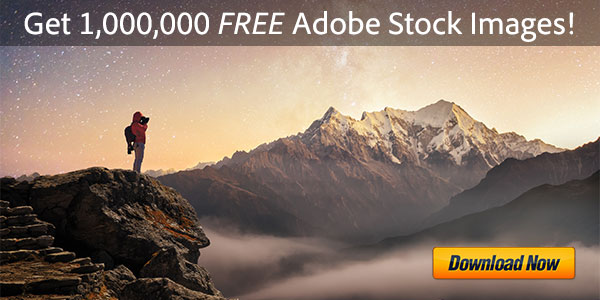 If you're interested in learning about the best web and interaction design techniques, there's a free new 2½-hour course you'll find worthwhile…
It's the third installment in the excellent Classroom series, which features free expert training in well-designed sessions with high-quality production values. Previous classes have been an in-depth Dreamweaver CS5 tutorial and a terrific After Effects CS5 tutorial.
This latest presentation details how to design your interfaces in the most effective way with the behavior of the user in mind. Some of the topics include crafting effective navigational systems, creating a liquid layout, how to best deliver images and media, designing forms and dialogs to smoothly guide users through a positive user experience, and more. The best practices covered here will help you make better design decisions in your work going forward.
[UPDATE – For a quick tutorial with CS6, see Ten Steps to Building a Website with Adobe Dreamweaver CS6 — or download the free new ebook, Dreamweaver CS6 Basics.]
For some months now, Adobe has had a great set of videos out (17+ hours) covering the highlights and new features of all products in Creative Suite 5… Now comes a terrific new course specifically on getting started from the ground up with Dreamweaver CS5. This 15-chapter step-by-step tutorial really covers all the basics and key topics – not just for Dreamweaver, but for developing websites in general.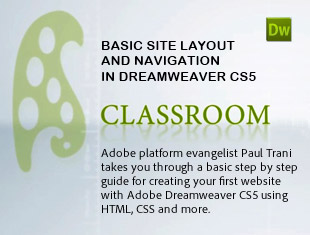 So, it's a helpful and complete background and introduction for getting started with HTML, CSS, Spry, JavaScript, XML, and rich media content such as Flash, video, and online maps. Some of the many fundamen­tal topics covered include images, fonts, layout, hyperlinking, navigation, menus, panels, templates, animation, testing, and uploading. But note that this class is not just for beginners – even experienced Dreamweaver users are learning some­thing new here… (see reviews below)
Basically, if you're looking to get going with website design and development, this is a nice way to get your feet wet (or expand your existing knowledge) with the industry-standard product in just three hours for free – regardless of whether you keep using it. If you want or need a free copy of Dreamweaver CS5 to walk through during the training, you can just download the fully-functional 30-day free trial.

We've previously featured over 17 hours of free video tutorials for Creative Suite 5, plus three hours for Lightroom 3 – so here's a brand new set for the recently-released Adobe Acrobat X Pro & Standard… In the free courses below, product experts share how to get started, the basics of the software, overviews of major new features, how to use key tools and functions, plus their favorite tips and most useful techniques. In total, there are three courses with 3½ hours of free content, spanning over 57 separate chapters.
If you need a copy of Acrobat X Pro to get going, you can just download a free 30-day trial.

[UPDATE (February 2013) – The commercial version of Project ROME will remain free for public download! (Windows and Mac OS)]
In all the excitement last week with the hundreds of free online sessions from the Adobe MAX conference, there was a brand new product debut that should get just as much press. Adobe launched a free preview of their new Project ROME content creation and publishing applica­tion for print, photo, presentations, animation, and web. And this is a pretty cool tool if you haven't checked it out yet. The streamlined interface with plenty of templates helps you get started quickly, and the "all-in-one" nature allows you to easily borrow and repurpose content across projects or from the cloud.
The best way to get a sense of it is a quick one-minute demo:
Adobe's big annual user conference MAX has been going on this week and you can watch all the keynotes and hundreds of sessions free, online, and on-demand – but one of the best bits was the assortment of parody commercials that highlighted yesterday's keynote, User Experience: The Next Generation.
Some of these were truly hilarious and we've put together a reel of the best ones below. Perhaps the funniest of the 10-minute collection is the first one about new Adobe Acrobat X, but we'll let you decide… Here's the playlist:
AcrobatWOW!
Go Away Spray
Save the Users
Geico Upgrade
Catalyst Perfume
ColdFusion Lawyer
"I Code in Flex"
Johnny Encore
Which one was your favorite? Share your vote and thoughts below…
Yesterday at the big MAX conference, Adobe finally announced their Digital Publishing Suite – a new publishing solution that allows authors to deliver innovative digital reading experiences that attract readers and advertisers. This set of end-to-end, turnkey hosted services plus viewer technology build on the foundation of Creative Suite (including InDesign CS5) and allows publishers to use existing staff, skills, and workflows to design and deliver engaging, digital content direct to consumers, through content retailers or leading mobile marketplaces. You may have seen this already being used very successfully by magazines such as WIRED and The New Yorker.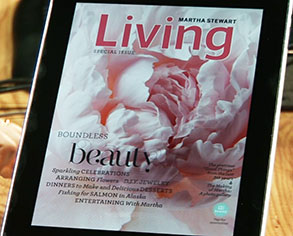 The Digital Publishing Suite will be released in the second quarter of 2011, likely in conjunction with a CS5.5 point release update. In the meantime, Adobe Labs has made some tools available now for writers to get started and create, preview and share their content in the new format. The tools include the Digital Content Bundler and Interactive Overlay Creator, plus the Digital Publishing Plug-in for InDesign, which allows InDesign to interface with and transfer information to the Digital Content Bundler.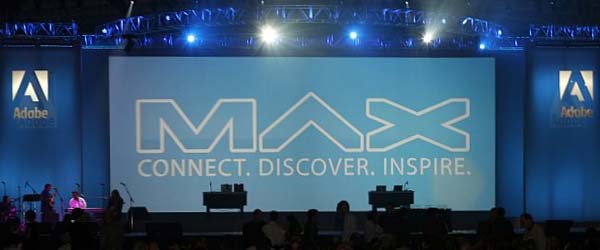 [UPDATE (Oct. 2020) – Watch over 350 new courses & tutorials from MAX 2020 – free!]
Adobe MAX 2010 – the worldwide user conference – runs this week and if you aren't in Los Angeles, the two major keynotes will be broadcast live plus all of the conference sessions will be available on demand for free… A full attendance pass with these informative technical sessions normally goes for $1,500, so this is a great deal (see a full listing of the hundreds of programs offered below).
Adobe InDesign tweets, "don't be the last to know… if you can't be at Adobe MAX, you can still watch the keynotes LIVE for some exciting announcements!"
One of these announcements is sure to be the arrival of the long-awaited preview release of the new Digital Publishing Suite on Adobe Labs, just out… Read all about it in the press release here.

There's a fantastic new resource available for After Effects users – a free three-hour in-depth tutorial on After Effects CS5. This introductory course covers a broad range of topics: learning the basics of compositing and animation, how to use keyframes as well as spatial and temporal interpolation, using parenting to group animated elements together, how to use masks and layers, introduction to effects, importing Photoshop documents into AE, syncing transitions to music, creating a master composition, how to render out your finished video to a standalone file, and more. The program is hands-on and includes downloadable sample files to follow along with for creating a motion graphic title sequence.
Nicely complementing the new HTML5 and CSS3 capabilities recently added to Dreamweaver CS5, Adobe today announced the availability of the Illustrator CS5 HTML5 Pack. This free add-on provides initial support for HTML5 and CSS3, extends Scalable Vector Graphics (SVG) capability in Illustrator CS5, and helps you easily design web and device content to take advantage of the latest advancements in these technologies.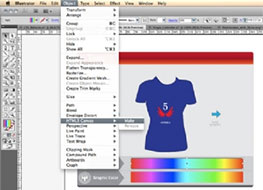 Back about six months ago (before CS5 was released), there was a lot of buzz surrounding sneak-peek videos about multiscreen authoring with HTML5 and CSS3, plus a new "Smart Paste" capability between Illustrator and Dreamweaver. These features are now becoming realized with some pretty cool tools to create and place inter­active vector-based content in live web pages across multiple devices and screen sizes, without the use of Flash or Silverlight. All that's needed is HTML5 canvas support along with JavaScript.

[UPDATE – Elements 11 is out! Get free tutorials for the new version.]
We've previously covered 17 hours of free video tutorials for Creative Suite 5, plus three hours for Lightroom 3 – so here's a chance for Photoshop Elements and Premiere Elements… Below the experts share how to get started, the basics of the programs, new features, plus their favorite tips and techniques. Most of the lessons will work for either version 8 or 7. All together there is five hours of free content, spanning over 50 chapters.
The majority of the videos were produced by Lynda.com, which is another excellent source of online tutorials (some free, some paid), and just released a new app for software training on the iPhone.
If you need a copy of either Elements product for your work, just download a free trial.