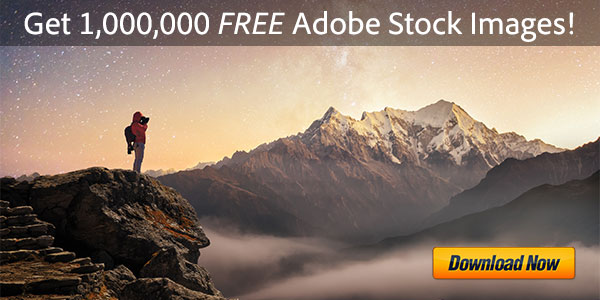 Archive for October, 2011

It's been about a year since Acrobat X (10) was released, and given Adobe's typical two-year cycle with this product line, it will probably be another year before we see Acrobat 11 coming out… So in the meantime, we've put together a list of helpful questions and answers that have accumulated here and during sessions with Adobe.
Hopefully sharing this information below can help answer frequently-asked questions that you may also have about the product:
---
A:
No – though it works on 64-bit operating systems.
Q:
Is Acrobat X Pro fully compatible with Microsoft Windows 7 64-bit?
A:
Yes – and Acrobat X version 10.1 now supports Office 2010 64-bit.
Q:
Will there be a 64-bit version in the future?
A:
I'm sure – we're getting a lot of demand – no timetable though.
Q:
can Acrobat 9 be installed together with Acrobat X on one PC? If so, that's great news.
Q:
Can version 9 and X coexist on a Mac running OS 10.6?
A:
Yes. we're doing that at the moment!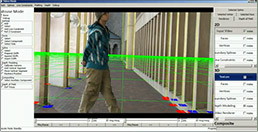 Last week Adobe revealed 11 sneak peek videos of technology they are working on but haven't released yet, and while Photoshop Image Deblurring and InDesign Liquid Layout got much of the attention, there were still some amazing developments in the video realm as well – and all three of those are covered below.
Naturally, Adobe says there are never any guarantees for what may or may not appear in a production release, or when… (maybe CS6?) But nevertheless, major new product features very often appear in these previews before they make the real tools (case in point, Content-Aware Fill).
[UPDATE (April 2013) – Confirmed: Image Deblurring is coming soon in Photoshop!]
Here is the latest news on Photoshop Image Deblurring: In response to some of your questions here at ProDesignTools, we contacted Adobe and requested they help "bring into focus" the new Deblur feature that could be in a future Photoshop. We got in touch with Dr. Jue Wang, Adobe senior research scientist, and as a direct result his team has provided more examples of the technology using notable photographs. Most of these are well-known from history or come from independent sources, and thus began with natural camera blur.
For those just joining us on the story, here's a quick review: Earlier this month we ran a feature article on this "sneak peek" of an amazing new capability revealed at Adobe MAX. Several blurry photographs were processed through a new Photoshop plug-in to give before-and-after results that wowed the crowd, even more than the other popular sneak demos at the show. [See the full video in HD]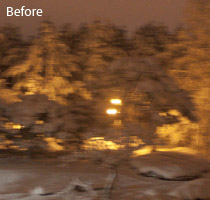 Why did controversy later arise? For the last brief image of his demonstration, intending to be entertaining and relevant to the audience, Dr. Wang used a photo of Adobe CTO Kevin Lynch that had been synthetically blurred. Creation of synthetic inputs is common practice across the research in this field, but out of simplicity, Dr. Wang did not go into those origins at the time.
The original sharp version was found online, and even though the other images came from real-world blur due to camera shake, this opened the door for some to raise questions about the efficacy of the developing technology. After we contacted them, Adobe added an update to their Photoshop.com blog post explaining why synthetic blurring was used for that example, but some skepticism remained.
This very cool InDesign "sneak" comes fresh from the big Adobe MAX conference earlier this month… What's a sneak?
We've gone through the company and found the 11 coolest demos of technology that are at work within Adobe. These are things that are on the cutting edge of the technology. They may show up in a product, they may not. The demo may work, it may not. But this is your chance to get closer and really understand where we're going and what we're doing.
OK fair enough. Here's the set up: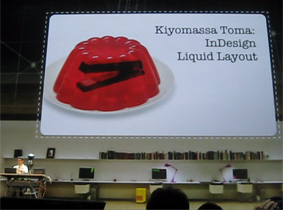 "I want to show you some things we're thinking about on the InDesign Team. As you know, it's actually been about a year since we launched Digital Publishing Suite, and we've had fantastic traction in terms of getting great-looking content on tablet devices. So I have an iPad here and as you see I can turn it over and tilt it, let the accelerometer do its trick. We're actually seeing two different layouts here – two different layouts – which creates two different files. So designers actually have to create two separate InDesign files for this one device.
[UPDATE (April 2013) – Confirmed: Image Deblurring is coming soon in Photoshop!]
Can you imagine a new feature in Photoshop that could automatically deblur photographs to restore the originally-intended subject material to clarity and focus? Adobe can…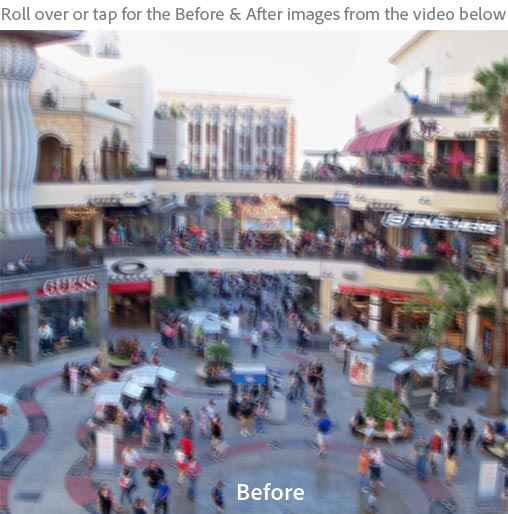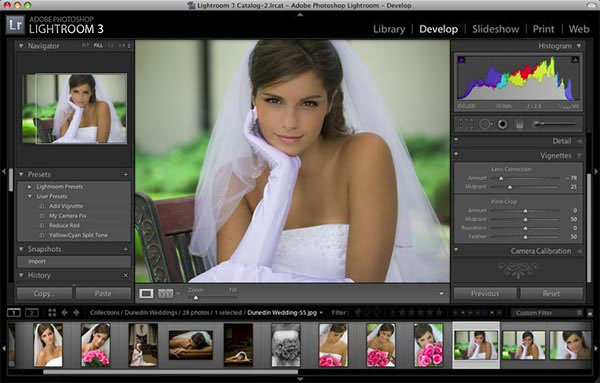 [UPDATE – See all of Adobe's current deals & discounts!]
Adobe is continuing its "Deal of the Day" program and the next big deal is a healthy $150 (or 50%!) off one of their best selling products, Lightroom 3… Version 3.5 was just released on September 28th, and this brief special means you can now get it for just $149 instead of the regular price of $299.

[UPDATE (Oct. 2020) – Watch over 350 new courses & tutorials from MAX 2020 – free!]
Just back from Adobe MAX 2011 and it was sensational… The keynote presentations were larger than life and filled with news and demos of new Adobe software and initiatives. The hundreds of diverse product sessions were incredibly educational. The show floor was a buzzing activity of experts, partners, and vendors… And the renowned "MAX Bash" party did not disappoint.
But perhaps the best part for those who weren't there is the majority of the sessions were captured on video and are now offered online for free… In other words, pick your favorite Adobe product(s) and you can learn the latest tips, tricks, and techniques from the top instructors in the field from the comfort of your desktop. There are three major tracks below (Design, Develop, and Envision) with scores of different topics; most sessions are about an hour long and the collection runs to over 160 hours of video in total.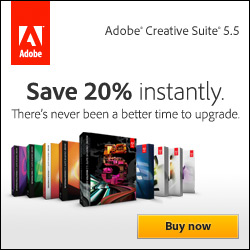 [UPDATE – See all of Adobe's current deals & discounts!]
Are you thinking about moving up to to Creative Suite 5? Well then here's a special new offer – a nice bonus – that will help…
Right now you can save a further 20% off the normally-discounted upgrade price when you upgrade to CS5.5 (to either a suite or an individual product) from any earlier qualifying Adobe tool listed below.
This new offer is now available worldwide, with no coupon or promotion code necessary. It's valid for upgrading to all the latest CS5.5 versions, but also includes Photoshop CS5.1 and Illustrator CS5 as well.
North American Store: Offer period is October 3, 2011 – December 31, 2011 March 15, 2012.
European Stores: Offer period is 3 October, 2011 – 31 December, 2011 15 March 2012.
Australia/NZ + Asia: Offer period is 9 November, 2011 – 31 December, 2011 15 March 2012.
So if you currently have one of these Adobe products with a valid license (either commercial or for education/student), then you qualify: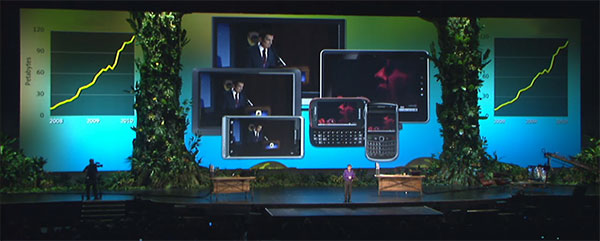 [UPDATE (Oct. 2020) – Watch over 350 new courses & tutorials from MAX 2020 – free!]
Adobe MAX 2011 – the worldwide user conference – runs this week and if you aren't in Los Angeles, the two major keynotes will be broadcast free, with both live and on-demand streaming… The company is promising lots of big news and announcements, so if you can't join us there in person, you can see it all unfold online.
What's more, over 160 free hours of the best training and tutorial sessions from this year's show will also be available.
Adobe Dreamweaver tweets, "To hear BIG Adobe MAX announcements, register now to listen LIVE to the keynote presentations Monday & Tuesday morning…"
Adobe Creative Suite posts, "The countdown has officially begun for Adobe MAX! Even if you can't make it to the live event, you can still join in on the fun! To hear the BIG announcements we have planned, register now to listen LIVE to the MAX keynotes Monday & Tuesday morning."