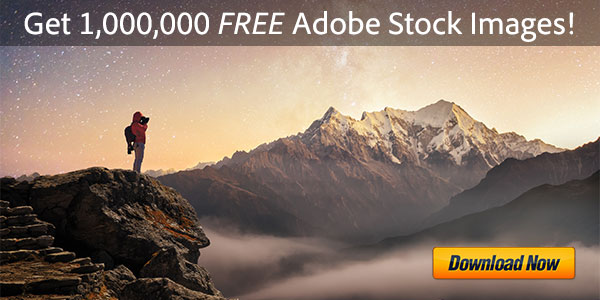 Archive for October, 2012
[UPDATE (April 2013) – Confirmed: Image Deblurring is coming soon in Photoshop!]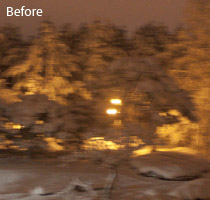 One year ago at their annual MAX conference, Adobe showed a sneak peak of some exciting work in progress: the prototype of a new Photoshop Image Deblurring feature that takes shaky photos and brings them into focus. The demonstration was impressive and the tech­nology received huge press at the time, but ultimately was said to be too early stage to make it into the final release of Photoshop CS6 this past spring. Since that time, our readers have been asking about the status of the unblurring function – and when, where, and how we might see it finally released and available to the public.
Well now, we may finally have an answer.
Earlier this week as part of the Wall Street Journal's Viewpoints West series, Adobe CEO Shantanu Narayen gave a one-hour interview over a wide range of subjects including the changing media landscape, Steve Jobs, the U.S in the global economy, and much relating Adobe itself. Near the end of the sit-down session (at the 56:27 mark), he dropped a huge hint about what's happening with Photoshop Image Deblurring:
[UPDATE – Also see our all-new Creative Cloud 2021 Giveaway!]
Creative Suite 6, Adobe's flagship product line, has been doing very well in recent months… Available standalone for instant download or direct shipping, or as the central focus of their new Creative Cloud offering, there are many important differences in this release compared to Creative Suite 5, including hundreds of new features added to the individual applications.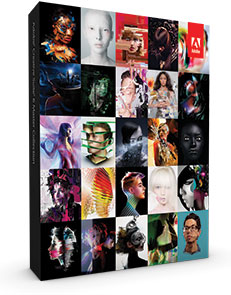 And now we'd like to give away a brand new boxed copy of Adobe's top-of-the-line CS6 suite to our incredible readers who have helped build our site to what it is today… It's the CS6 Master Collection – the biggest of the best Adobe premium suites, containing nearly every amazing application that Adobe makes! It includes Photoshop Extended, Dreamweaver, Acrobat Pro, Illus­trator, InDesign, After Effects, Premiere Pro, and many more – see all the applications it contains.
We've given away a lot of software through the years, but this prize is our largest one ever… And it's not an upgrade or an education version – this is the shrink­wrapped, full commercial English release of CS6. Master Collection currently sells for $2,599 / €2,707 / £2,223 – and collectively the 14+ major programs within are worth US$7,988 if purchased separately.
[UPDATE (January 2013) – Existing CS4 and CS3 users can still upgrade to the Creative Cloud and receive a 40%-off discount off the regular price.]
Earlier this year, Adobe made a significant change to their Creative Suite upgrade policy that had been in place since CS3 came out in April 2007…
In a nutshell, they said that the older Creative Suite versions CS4 and CS3 will only be able to get upgrade discounts to CS6 until the end of this year… Starting soon in 2013, only one major version back (i.e., CS5 and CS5.5) will be eligible for upgrade pricing to CS6. This goes for suite editions as well as standalone products like Photoshop.
Here it is, found on their site:
Special upgrade offer for CS3 and CS4 customers

Take advantage of our special introductory upgrade pricing on Creative Suite 6 for customers who own CS3 and CS4 individual products and suite editions. This temporary upgrade offer is valid through December 31, 2012. After that date, only customers who own CS5 or CS5.5 products will qualify for upgrade pricing to CS6.

Read the details about our Creative Suite upgrade policy »
In other words, Adobe's longtime "three versions back" upgrade policy will last only until the end of this year… Starting in January 2013, owners of any product older than CS5 would have to pay full price, or switch to the Creative Cloud instead.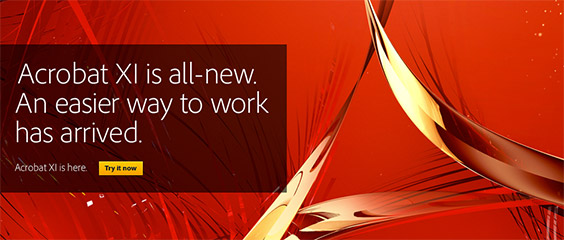 [UPDATE (April 2015) – The next major release of Adobe Acrobat – the new Acrobat DC – is now shipping… Download a free trial!]
Two weeks after its official introduction, this morning Adobe released the Acrobat XI family – the 11th generation of the world's most popular PDF creation and reading software.
The Adobe Reader XI is out as a free download in 27 different languages, while Acrobat XI Pro and Standard are now available for purchase or (if you'd like to try the product out first on your own system) free trial download.
Celebrating its 20th birthday next year, you may wonder what new could Adobe add to this industry-standard product line to make it work better and more effectively, and enable you get your work done faster, saving time and money? The answer is, surprisingly, a lot…
[UPDATE (May 2020) – These links still work to download the old Acrobat XI trials. We also now have the all-new Acrobat DC 2020 Direct Download Links!]
Adobe Acrobat XI (Acrobat 11) is now shipping! Adobe has really listened to users with this release and incorporated many new features and improvements that will make customers happy. And continuing in our custom of providing the direct download links for major Adobe products such as Creative Cloud, CS6, Captivate 11, and Elements 2020, below you'll find the direct links for the brand new Acrobat XI…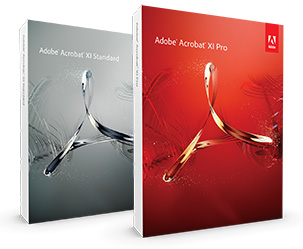 The links given below go to the authentic and secure files residing on Adobe's servers, are guaranteed genuine, safe, legal, and will not change. They are especially useful when you are unable to download these products via other means – perhaps due to issues with the Adobe Download Assistant or the Akamai Download Manager. Here the access is open and you can just use your browser, or anoth­er download manager (DLM) of your choice.
And there's big news – after many years and customer requests, Adobe is officially making a free trial of Acrobat Pro available for Mac OS! For Windows, the Acrobat XI download below is in the form of a single .exe file, and for Mac OS it's a single .dmg file. Read more…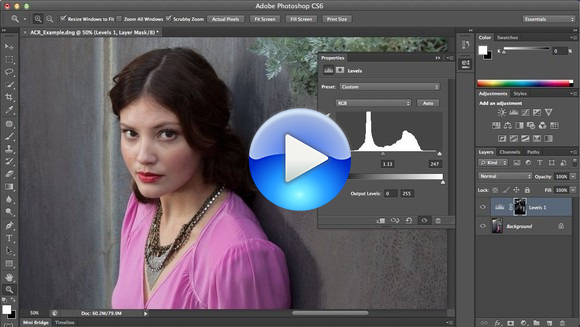 Adobe Evangelist Terry White has a great new training session out to show you how to get started achieving immediate and powerful results using new Photoshop CS6… The 40-minute class covers the basics and steps through how to accomplish the top 10 things that beginners always want to know how to do.
But even seasoned Photoshop users are saying they learned new techniques from the tutorial video below… Here's the overview, plus some user reviews:

One of the most popular articles on our site is How Many Systems Can I Run Adobe CS6 On? That covers Adobe's single user rules for their standard off-the-shelf retail software purchased for home or home office use. But how about for the rest of the world – for groups, teams, businesses, studios, companies, schools, and other organizations? What if you need an open license to run Creative Suite 6 (or other products) concurrently with multi-users on a number of computers on your network?
Fortunately Adobe has an answer for this that makes sense – that's easy and saves time with reduced maintenance via simple license management across your site… Why shuffle and keep track of individual serial numbers between different machines? Why worry about whether your software needs to run on a PC or a Mac?
New Adobe Photoshop Elements 11 is here, and one of the recurring upgrade questions we see is what's new, what's different, and what's improved compared to Elements 10? Or more essentially, what are the key new features in PSE 11, versus PSE 10, 9, 8, or even version 7? We published a quick list here of what's changed since the last release, but how about a version-by-version, feature-by-feature table? You'll find this down below (or shortcut here), but first let's take a closer look at some of the major additions.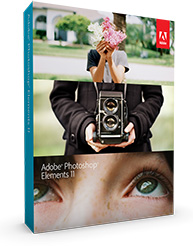 The biggest news with Elements 11 is the user interface has received a welcome upgrade, as its big brother Photoshop CS6 did earlier this year. Responding to years of feedback, Adobe has reengineered the PSE Organizer and Editor to make them faster and more efficient while being easier to use at the same time. The redesigned interface is fresh and clean with three editing modes you can smoothly switch between: Quick, Guided, and Expert (full). Providing these different levels allows the program to work according to your abilities and vice versa, making it easier to learn, use, and improve your skills. Reviewers generally are saying positive things about the crisp new user-friendly editing environment and the improved performance.
Some other significant new features in Photoshop Elements 11 are Mapping (geo-tagging of photos), a new Actions Panel, a very handy Refine Edge Detection capability for complex selections (including hair and fur), new Guided Edits (Tilt-shift, Vignettes, and High- and Low-key effects), new Filters (Lens Blur, Comic, Graphic Novel and Pen & Ink), plus an updated Adobe Camera Raw engine with new algorithms and controls.
[UPDATE (April 2015) – The next major release of Adobe Acrobat – the new Acrobat DC – is now shipping! Download a free trial instantly or check out what's new in Acrobat DC vs. XI.]
One of the most frequent upgrade questions we're seeing asked is what's new, what's different, or what's changed between the new Adobe Acrobat XI (Acrobat 11) and previous versions? Or more simply put, what are the major new features in Acrobat X (Pro or Standard), versus Acrobat X or 9? Adobe calls it, "a powerful new PDF solution that rises to today's complex document challenges," so these kinds of answers can help decide about upgrading…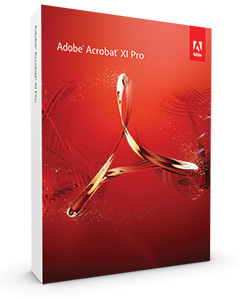 There aren't any complete, formal reviews out yet, but here's what some early test users are saying: "Being able to do complex things on the fly, like signing a document electron­ically or commenting on a document on an iPad, is very attractive," and "makes it even easier and faster to create PDF forms and to auto­matically distribute and collect information with new online forms services," plus "offers advanced document protection capabilities that are easier than ever for our staff to uniformly secure our documents."
[ What's the difference between the editions? See: Acrobat XI Pro vs. Standard vs. Reader ]
Adobe had four overarching goals for this release: (1) increase end-user productivity, (2) streamline collab­oration, (3) lock down information security, and (4) support working with documents on mobile devices.

[UPDATE (April 2015) – The next major release of Adobe Acrobat – the new Acrobat DC – is now shipping… Download a free trial!]
Yes – Adobe Acrobat XI has just been announced with all the details… A bit ahead of the timeframe we forecast, you can learn more about and order the new product line, as well as download the free trials. For this 11th generation of the industry standard for PDF creation tools, Adobe returns to offering two versions – Standard and Pro – plus two services that now tightly integrate with the new release: EchoSign for easily enabling legally-binding electronic signatures in your documents and FormsCentral for complete end-to-end manage­ment of online forms and surveys.
The very first version of Acrobat came out in 1993 and there have been 41 million total Acrobat units sold since then, Adobe's biggest product ever… Acrobat and PDF continue to grow, and the statistics are impressive. Today there are more than 733 million PDF files on the public Internet and this is just a small slice of PDF usage overall, since there are many more PDF files that exist inside of companies. Over 1 billion copies of the free Adobe Reader have been distrib­uted worldwide, and over 80 million copies of Reader for Mobile devices have been downloaded, remaining the top Business App in the Apple and Android Stores.