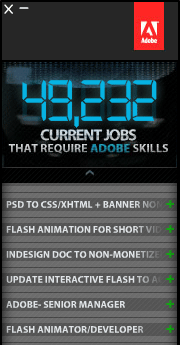 Though the economic recession officially ended over two years ago, the job market remains pretty challenging. In the U.S. officially no new jobs were created last month, continuing a slowing trend from the spring – and this situation is currently a major focus of Washington. However, Adobe is one company that continues hiring new staff at a healthy pace, and more broadly, Adobe product skills remain in strong demand by employers worldwide.
Adobe Systems (the company itself) presently has 358 job openings around the globe – adding another 4% to their workforce – but if you know Adobe software generally, then the opportunity is even larger. Right now there are nearly 50,000 employment openings across North America that require Adobe skills, and you can see these and browse for yourself with the free downloadable Adobe Job Feed app.
All major tools are represented here: Flash, Dreamweaver, Photoshop, InDesign, Illustrator, Acrobat, Premiere, After Effects, and so on. You can drill down to sort by city/state or ZIP code for jobs in your area, and then view the complete descriptions and even apply for positions directly from within your web browser.
Here's the app description:
Search for the latest jobs that require Adobe skills at all kinds of different companies with Adobe's new job feed. Powered by SimplyHired, this helpful new tool allows you to search for all sorts of job openings throughout North America, so you can find a job that lets you show off your Adobe skills to the real world.
All you need to run this application is Adobe AIR, which works on Windows, Mac OS, Linux, and mobile devices like Android. If you don't already have it, AIR will automatically install itself when the Adobe Jobs Feed app is loaded.

If you need a copy of any Adobe product to refresh yourself or expand your skills, just download a free working trial. And to brush up with hours of free online tutorials, check out Adobe TV.
Or, if you happen to be out of work entirely at the moment, grab yourself a full copy of Adobe Flash Builder 4.6 absolutely free while you can.
Best of luck in your search and your career!
[UPDATE (Dec. 20th) – The job search app no longer appears to be available; however the results were powered by SimplyHired and you can get somewhat similar jobs by using their website.]
Find out more about what life is like when working for Adobe.