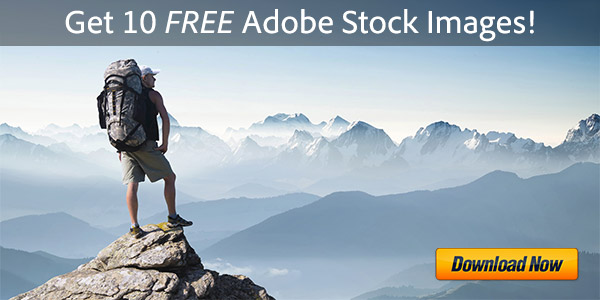 [UPDATE – See all of Adobe's current deals & discounts!]
After a couple of nice rounds of specials for the holidays, we thought Adobe's big sales might be over for while, but we were wrong… Adobe is slated to announce a surprise new set of global Valentine's and winter specials for the month of February and beyond.
The deals include saving up to 50% on Photoshop/Premiere Elements 11 purchases, a 30% discount on Lightroom 4, plus a big worldwide 60%-76% off Creative Cloud Education offer for students and teachers. Most of these promotions run in February and some into mid-March, and we have exclusive coupon codes linked below so you can get the lower prices. And stay tuned to this page for updates on new winter offers as they arrive.
Note that if you buy either Photoshop or any CS6 suite together with Adobe Lightroom, then you can actually get a larger 30% off Lightroom 4… (valid in all countries) In addition, all purchasers of Photoshop Elements 11 will also automatically receive a complimentary $20 Shutterfly gift card.
[UPDATE (Nov. 2018) – Check out Adobe's new 2018 Black Friday & Cyber Monday Deals!]
If you missed the deals Adobe had running for Black Friday, not to worry as there are more great holiday specials lined up for December through Christmas, Boxing Day, and on to New Year's and beyond – and here's your complete guide…

Adobe has over a dozen major offers in multiple countries covering popular products – including saving 15% on the full version of Lightroom 4, 33% on new Photoshop & Premiere Elements 11, 40% off some Creative Cloud memberships, free shipping or instant download, and more. Some of these specials are actually already live and available now, and the rest kick off on Sunday, December 16th, with most running through Sunday, January 6th, 2013 in North America and UK/Europe. Note that you do need to use individual coupon codes (linked below) for most of them.
[UPDATE (Nov. 2018) – Check out Adobe's new 2018 Black Friday & Cyber Monday Deals!]
Adobe is having a worldwide sale with money-saving deals lined up for Black Friday 2012 and Cyber Monday this year, and we've got the complete sneak preview guide… There are some terrific offers on tap for major products in this "season of savings" – with discounts as large as 60% off the regular price!
With these holiday promotions you can save 20% on the full version of Lightroom 4, 15% on upgrades to new Acrobat XI Pro or Standard, 30% off the full CS6 Production Premium suite, 40% on new Photoshop & Premiere Elements 11, 60% off some Creative Cloud memberships, free shipping or instant download, and more. Some of these specials are actually already live and available now, and the rest kick off on Thanksgiving Day – Thursday, November 22nd, with most running through Wednesday, November 28th.
All Elements 11 orders in North America will also receive a free $20 gift card from Shutterfly.
Install now: Get all new Adobe CC 2019 direct download links and free trials.
All the different deals and some of their graphics are detailed below, and are available for direct purchases only… Most of them require a special promotion code to be activated to receive the lower price. So if you've been waiting for a great sale to make a move – especially with the upcoming change to the Creative Suite upgrade policy – now could be your time with the deep discounts in Adobe's Black Friday Savings Spree…
[UPDATE – See all of Adobe's current deals & discounts!]
A year ago Adobe featured probably their biggest promotion ever, the extremely popular "Switcher" offer for 50% off Premiere Pro and the Production Premium suite…
Now that CS6 is out, they've just relaunched the deal in a smaller but still very attractive form – they're now offering 30% off the price of the Full CS6 Production Premium suite with coupon code SWITCH, or 40% off membership to the new Creative Cloud, which includes all CS6 tools and more.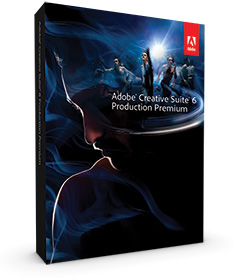 The offer is geared for owners of competitive software as well as owners of older Adobe suites who can now buy the latest CS6 release (Windows or Mac) at a terrific savings, and these discounts are available all over the world…
The promotion is officially targeted at video users and creators, but because the suite contains top products like Photoshop Extended, Illustrator, Flash Professional, and Audition in addition to Premiere Pro, After Effects, Prelude, and SpeedGrade (see the complete list of applications included), many customers can take advantage of this sale. For example, the normal price of Photoshop CS6 Extended is US$999, but with this special you get that plus an entire suite of 8 other top products for US$1329 total.
[ First Look: Adobe CS6 Production Premium Suite — What's New? ]
[UPDATE – See all of Adobe's current deals & discounts!]
Just out for the end of summer season, quite a rare occurrence – a new promotion code to save 10% storewide on Adobe products (full or upgrade) when your total purchase is US$375 and up. However, this new coupon isn't just for the USA – it's for all of North America plus most any­where in Europe as well, including the many countries listed below… The savings also extend to all orders for the recently released new Creative Suite 6.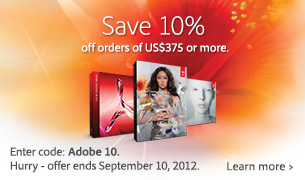 This Labor Day and Back-to-School Sale runs through Monday, September 10th in North America, and until Friday, August 31st everywhere else. It can be used for any products in the Commercial or Educa­tion Adobe Stores (Commercial-only intern­ationally), although it's not valid for sub­scription or volume licensing purchases. It's limited to one discount per customer and you must use the offer code linked here: Adobe10.
Here are the minimum purchase amounts (order size to qualify) by country:
[UPDATE – See all of Adobe's current deals & discounts!]
If you've been thinking of buying or upgrading to the latest version of Adobe Photoshop Lightroom, we have an exclusive coupon code that will save you 15% off the already low price of this industry award-winning product…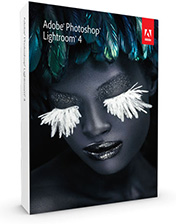 Lightroom used to sell for US$299 as recently as last winter, and then with the release of version 4 in March, Adobe dropped the price by 50% to US$149…
Now, using our new coupon code, you can get an additional 15% off that price, bringing the full version to just $127 – and the upgrade version (from LR 1, 2 or 3) to only $67! These are the lowest Adobe prices ever available for this software.
Grab this unique promotion now before it expires at the end of the month. If you're a student or teacher, you can get an even better deal with $20 off the education version of Lightroom.
Here are the details for this special clickable coupon – and note there is a different coupon code internationally: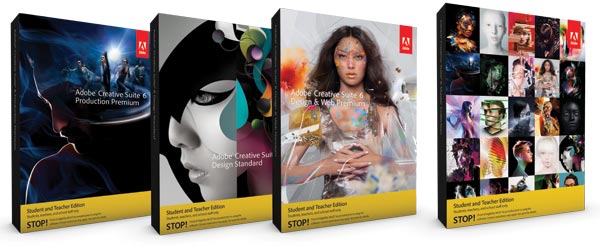 [UPDATE – See all of Adobe's current deals & discounts!]
Back to school, already? Wow, either time flies or the summers are getting shorter…
Anyway, it's that time again – at least for the sales to start. Adobe is now offering up to $100 off the already-discounted prices of the new Creative Suite 6 Student and Teacher Editions with our special promotion code below in the North America Education Store. Meanwhile, customers in UK/Europe can save €75/£65 on CS6 Premium suites plus get free shipping!
This extra bonus means that the savings for most of these products approaches 80% off the regular prices… To get the discount applied to your online order, you just need to use our exclusive promotion code "BTS12PRODESIGN" at checkout. Internationally, no offer code is needed to get the savings – just visit the online Adobe Education Store in your region.

[UPDATE – See all of Adobe's current deals & discounts!]
New discount offer! Save up to $50 on award-winning Photoshop Elements 10 and Premiere Elements 10 in the Adobe North America Store with coupon code. Elements has been the #1 selling consumer photo- and video-editing software for many years, and these latest Elements 10 tools make it even easier to edit, enhance, and share photos and video clips… And here with this sale you've got a great package for capturing the fun of summer vacation, trips, and get-togethers.
When using the new promotion code SummerElements, you'll save $50 on the full version of the Photoshop Elements 10 & Premiere Elements 10 software bundle (becoming $99) – or save $30 on the full version of Photoshop Elements 10 or Premiere Elements 10 standalone, if you want only one of them individually. This offer is available when purchasing directly from the Adobe North America Store only, and you must enter with the coupon link above to receive the instant savings. The promotion code is valid for the download or boxed versions in the U.S., Canada (excluding Quebec), and Mexico from July 24th through August 6th, 2012, with one instant discount per customer.
[UPDATE – See all of Adobe's current deals & discounts!]
Adobe recognizes that many people use both Lightroom and Photoshop in their workflows, and so is offering a special deal where you can save 30% off the full version of Lightroom 4 if you purchase it together with the new Photoshop CS6 in any form. This means if you buy Photoshop CS6, Photoshop CS6 Extended, or any CS6 suite edition (which all contain PS), you'll get 30% off Lightroom when you buy them at the same time.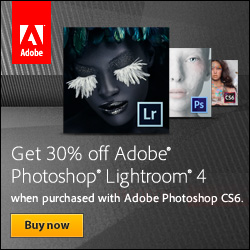 And it works for either buying the full version or upgrading from an older version of Photoshop or the CS suite… So if you are buying Lightroom for the first time, you'll get 30% off the price of the full version (normally $149/€109/£87) – and in the U.S. they round this down to just $99. No promotion code is required to activate the discount, which will be reflected in your shopping cart just prior to checkout. This offer is valid worldwide until Decem­ber 31st, 2012, but pricing is available only through the online Adobe Commercial Store (in other words, Volume and Education customers are not eligible, perhaps because the LR4 student edition is already US$79).
[UPDATE – See all of Adobe's current deals & discounts!]
Adobe is continuing its special "Deal of the Day" program and the next big deal is a huge 50% off their bestselling consumer product, Photoshop/Premiere Elements 10 with coupon code – just in time to use your 2011 tax refund and save today…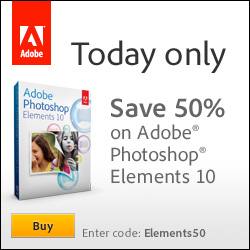 This means – for one day only – for either product Photoshop Elements 10 or Premiere Elements 10 you can pay just $50 instead of $99… and for the complete bundle containing both Elements products you can pay just $25 more: $75 instead of $149!
[ See: What's new in PSE 10? Check the reviews. ]
This isn't an upgrade – it's the full retail version, available for instant download on either Windows or Mac OS, in any available language (the boxed ship­ment is not offered at this low price).
But note, to take advantage of this deep discount you must activate the deal with this promotion code linked: ELEMENTS50.
The 50% off is available in North America – but in Europe and the UK, the offer is still nice: Save up to 30% on the Elements family of products, with free delivery included.