[UPDATE (Nov. 2022) – Check out Adobe's new 2022 Black Friday & Cyber Monday Deals!]
Adobe is having a worldwide sale with money-saving deals lined up through Black Friday and Cyber Monday 2017 (and beyond), and we've got the complete guide below… Although there are fewer offers than previous years, the new specials still match the same level of discount off the regular prices as past Black Fridays.
The company is running two major promo­tions for the all-new Creative Cloud (CC) 2018. Both are the lowest prices ever offered on these popular products. The holiday deals begin today and will run continuously until Friday, Dec­ember 1st (extended!) at 11:59pm Pacific Time. So don't delay, as these only come once per year!
The two available offers are:
— Creative Cloud 20% Off: Normally $49.99/month for new customers signing up for an annual plan – now the complete Adobe CC member­ship will be available at a special discounted rate of $39.99/month (or £39.95/€47.99/A$58.29 including VAT) for one year. No previous software owner­ship or other qualifications are necessary to receive this price reduction.
— CC All Apps + Adobe Stock 13% Off: To go one better, you can save $10/month on the best package available, Creative Cloud 'All Apps' together with Adobe Stock. Normally $79.98/month, this complete package will now be available at a special discounted rate of $69.98 a month (or £63.94/€83.98/A$97.88 including VAT) for one year.
The two discounted CC offers are available for direct purchases only in over 90 countries. Percent off may vary slightly between countries. But these one-time deals will give you the entire Creative Cloud – all of Adobe's best desktop tools and services that are included in the just-launched CC 2018 release, plus ongoing upgrades:
Here's a quick overview of what the complete CC bundles ('All Apps') contain:
The latest desktop releases of Photoshop, Illustrator, InDesign, Acrobat, Premiere, and more
Brand new desktop tools like Adobe XD, Dimension, and Character Animator
Literally thousands of new features and advancements added since CS6 in 2012
Access to tens of thousands of dollars of Typekit desktop and web fonts
Full access and use of the new Adobe Portfolio website builder.
Free use of thousands of high-quality creative assets in Creative Cloud Market
Ongoing upgrades and updates for all included applications and services
Full integrated use of Adobe's new family of mobile apps (over a dozen strong!)
100 GB of online cloud storage for syncing, sharing and collaboration
Access to hundreds of exclusive online video tutorials in Creative Cloud Learn
Download and use of prior releases (CC 2017, CC 2015, CC 2014, CC 2013, CS6) if desired
Install all desktop applications on up to two of your computers
Easily move the products between different systems you own
No previous purchase necessary, and no prior software required
Special: Legally download dozens of free Adobe books for a limited time!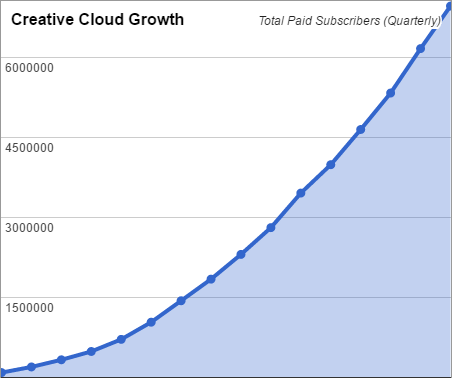 There is no additional discount offered for education customers, but students, teachers, and staff can still receive a price reduction of 60-70% off the regular CC prices at all levels of school: primary, middle, secondary, college and university… See our detailed guide on how to qualify.
We know this question will be asked, so here it is: If you recently purchased CC from Adobe – within the past 14 days – then you may still be able to take advantage of these one-year promo­tions. That's because Adobe has an easy Return / Exchange Policy for direct purchases, which allows customers to swap out whatever they bought for a different choice for up to one month after purchase. Recent buyers can just submit online for a full refund and then sign up to get one of the new offers above instead.
Other Adobe deals available for the holiday season can be found on our Coupons page, including the opportunity to instantly download 10 free images or assets from Adobe Stock's large professional collection. And one of the nice things about Adobe software is you can always try it out before you buy… So if you want, you can instantly download any application(s) you like for a fully-functional free trial – then just be sure to purchase & activate the software within the savings period to benefit from the discount.
Free Stock! Download 1,000,000+ premium assets from the new Adobe Stock Free Collection
A new study forecasts that total online holiday sales will surpass $100 billion this year, an increase of 14% over last year – and that Cyber Monday 2017 is expected to become the largest online shopping day in history. This makes sense given the efficiency and conven­ience of buying online – you can still get the best prices while saving on gas and time, plus avoid the holiday crowds. With these offers you can shop in peace (and your pajamas if you want to), and not miss a great deal on software. For Black Friday Deals on anything else, well there's always Amazon BFDW…!
Happy Thanksgiving!
Please spread the word to share Adobe's one-time offers with others who might benefit… And to receive notifi­cation on future discounts and promotions, subscribe to our RSS feed or like us on Facebook or Twitter… Or just enter your email and have new articles sent directly to your Inbox. We are reader-supported; when you buy through links on our site, we may earn an affiliate commission.
See Also