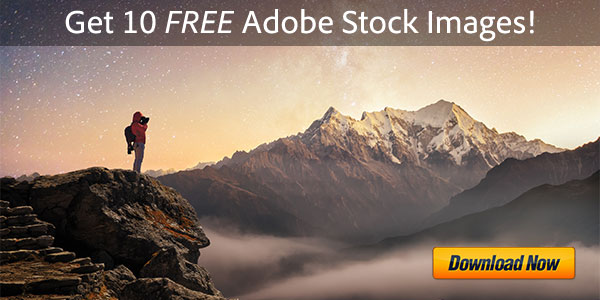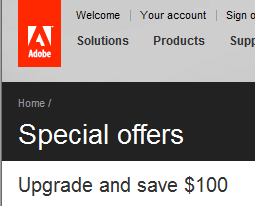 Were you aware there's a place you can go anytime 24×7 that will always show you (most of) the latest and up-to-date specials running for Adobe products?
There is. Here is the current special offers page for North America and here it is for the United Kingdom. There's also pages for Germany and France. More may be coming in the future.
Typical deals are like 10-20-30% off, or anywhere from a $25-$200 discount, or maybe a free book with purchase, depending on what's running… In recent months there have been coupon savings on the different suite editions, Photoshop, Acrobat, Dreamweaver, Lightroom, Illustrator, InDesign, Flash Pro, and Elements. The promos are always changing, so feel free to check back for updates.
Welcome.  This isn't an official Adobe blog – but as an Authorized Adobe Affiliate for many years, we hear about a lot of good stuff coming out of San Jose… 

A healthy amount on new product features and news, but even more so on offers, coupons, freebies and other helpful goodies. Much of this remains hidden or 'underknown' unless you follow the company closely… But on this blog and in coming content, we hope to share a few of these great things and help them see more of the light of day.

For example, that Adobe is almost always offering some good specials and promos, and you can always find them here: http://www.AdobeSpecials.com
Or that you can instantly download a 100% fully-functional 30-day free trial of almost any Adobe product here: http://www.AdobeTrials.com
Or that there's a huge online library of free training and tutorial videos for all of Adobe's software at: http://www.CS6.tv
Or yet another, that you can download over 20 free books for the Creative Suite and other Adobe design tools: https://prodesigntools.com/freebooks
So stay tuned, we'll get started right away with finding and digging in more to some of these scoops.