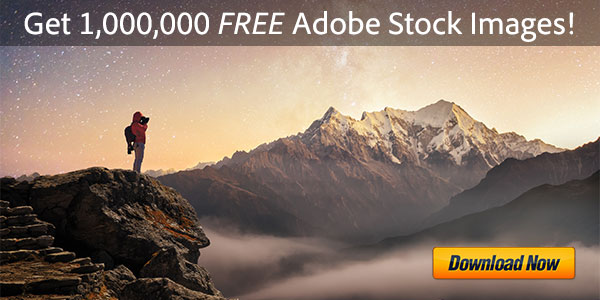 [UPDATE – See all of Adobe's current deals & discounts!]
Limited-time offer: Receive a savings of 10% on your Adobe Store order of a full or upgrade version of Creative Suite 4 suites, or individual CS4 point products – with coupon code 10offAdobe101.
New creative features. Enhanced workflows. Incredible results. You've seen what Adobe Creative Suite 4 can do. Now see what you can do with the industry-standard software used by top creative professionals worldwide.
With 10% off on Adobe Creative Suite 4 suite and individual CS4 product purchases (either full or upgrade versions), this is the time to make the move. Don't wait too long, though — this special offer ends Friday, February 26, 2010.
Note: In order to redeem the 10% savings, you must enter promotion code 10offAdobe101 (or 10offAdobe102) when checking out your shopping cart at the online store, and have a shipping address in the U.S. or Canada.
Just a quick post because I thought you might be interested in this, on the making of Avatar:
– Watch a full-screen video from the movie's producer on how Adobe software was used throughout.
– Download the free interactive Avatar app.
(The first link comes from the new AdobeTV site where you can check out dozens of free online training videos for all of Adobe's products, covering everything from "getting started" tutorials to advanced "how-to" guides with tips and tricks, etc.)

[UPDATE – See all of Adobe's current deals & discounts!]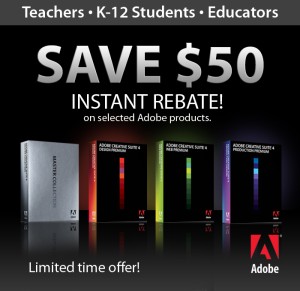 Adobe is offering free Fedex shipping on all Education products at select Adobe Education Stores. Offer valid until February 22, 2010. Plus, students, teachers, and faculty can still save up to 80% off regular prices at the Adobe Education Store.
Offer good for the following Adobe Education Stores:
North America
United Kingdom
France
Germany
Other European Countries (Austria, Belgium, Denmark, Finland, Ireland, Italy, Luxembourg, Netherlands, Norway, Portugal, Spain, Sweden and Switzerland)
Also there's another promotion where if you're a teacher or K-12 student in North America, you can save $50 instantly on the already-reduced price of a "Premium" version of CS4… This one is valid through February 28, 2010.
[UPDATE (5/7/2012) – CS6 is now available in the Business (Volume) Store!]
Adobe has just launched a new Volume Licensing Store in the UK and Europe, to go along with the one it opened online last year for North American customers. These sites can save you money, time, and provide benefits not found elsewhere – and make it easy for organizations of all sizes large or small to gain the advantages of volume ordering.

If you use multiple copies at your location (or may in the future), volume licensing is a good idea to consider – in addition to getting a discount on your software, you also simplify maintenance and upgrades enormously, as there is only one license key to deal with for all your systems… Administration becomes a snap and almost all Adobe products are eligible – and discounts can begin with as little as one copy.
It's simple because it's all online, and there are no membership requirements or signature "contracts" to sign. Plus you can conveniently charge your order instantly to a major credit card or PayPal, and download your software right away. Then once you're registered it's easy to add users via the flexible online management tool.
Further there is an option called Upgrade Plan where you are assured of automatic access to all Adobe upgrades for your covered products during the life of your plan – at your convenience and all at a single cost per licensed product.
If you like, there's a new tool to get an Instant Quote for the products you're interested in. And right now there's also an offer going on where you can get 5 copies for the price of 4 – check it out at the Adobe Specials page.
Learn more with our full coverage page on Adobe's Volume Licensing program.
[UPDATE – See all of Adobe's current deals & discounts!]

It's that time of year again, and as has been the case in recent Decembers past, Adobe is offering free FedEx ground shipping to its commercial and education store customers for the holidays, pretty much worldwide… Just choose the store you want here and take it from there.
The offer runs through Monday, December 21st, and you should be able to see the details on each page of your store. If not, you can find the complete terms for North America in English here, and for the UK and Europe here: in English, French, or German.
[UPDATE (Nov. 2020) – Check out Adobe's new 2020 Black Friday & Cyber Monday Deals!]
Adobe has just put out some great new deals for the big shopping week… Please note these offers are only for orders direct from Adobe.com (see links below) and most require a coupon code…
All the promos and their codes are listed here for easy reference:
These specials are good for seven days only, until Cyber Monday, November 30th.
And if you prefer to try before buying, you can immediately download any Adobe application you like as a fully-functional 30-day free trial, then later activate it within the period for the discount.
For Black Friday Deals on anything else, well there's always Amazon!
Most people know that "CS4" is both a version number for major Adobe applications (thirteen of them), as well as the given name for a number of suites or collections of those applications. But with six differing suite choices out there, what is less well known is what's actually in each of them – and which one is right for what you want to do?
The CS4 collections come in several flavors – two for Web (Standard/Premium), two also for Design (Standard/Premium), Production Premium (which adds audio and video), and Master Collection (which includes every single CS4 app together in one big integrated bundle).
Now, as for exactly which applications are in each of these, the complete descriptions, and how much they cost, happily the answers are right here, all on a single page: www.CS6selector.com
Of note: The larger suite you buy, the more money saved. For example, with the Web Standard edition, you save 37% off the price of each of its products sold separately. But in going all the way up to Master Collection, you save over 60% off the individual components.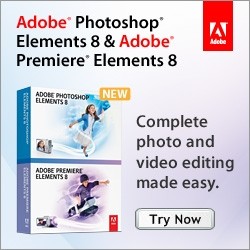 "SAN JOSE, Calif.–Adobe Systems today announced Adobe® Photoshop® Elements 8 and Adobe Premiere® Elements 8, the highly anticipated new versions of the No. 1 selling consumer photo- and video-editing software. Available as standalone products or as a single retail package, the bundle offers the most complete photo and video solution by seamlessly integrating two powerful, yet easy-to-use, products. With this landmark release, Adobe has … [continues]"
OK, we've had a look inside these new products and there are a lot of cool new features, much inherited from their big brothers Photoshop and Premiere Pro CS4. In addition to many new automated options and smart editing tools for saving time and effort on your photos and videos, there is also much improved media management, tagging, and integration. Yet the Elements versions remain significantly easier to learn and use (not to mention less expensive) than their CS4 brethren…
So what exactly is in there, and what exactly is new? Fortunately Adobe has put together a great feature comparison page giving all the details.
Other points of note: In contrast to version 7, Adobe is issuing a brand new and fully-featured version for the Mac with Photoshop Elements 8. And PC World magazine just published a product review where they gave Elements 8 a Superior rating with a score of 94 out of 100.
Best of all: Both versions are available immediately for full download with 30-day free trials… And right now there's a $30 rebate.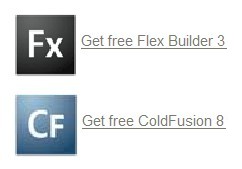 Adobe has just started a new program of giving away full versions of some of its premium development tools ($699 – $1,299 value) absolutely free if you qualify…
If you are an educational customer or an unemployed developer, Adobe would like to lend a hend. Simply certify you are a student, faculty or staff of an eligible education institution, or currently out of work – and the software is yours to download for non-commercial use.
Get your free products here.
UPDATE (August 28, 2012) – With the two new version releases out recently, the products now available for free at this site are ColdFusion 10, ColdFusion Builder 2, and Flash Builder (formerly Flex Builder) 4.6.
[UPDATE – See all of Adobe's current deals & discounts!]
Right now a rare occurrence for Adobe – numerous simultaneous specials going on for a lot of products – and the best part is they are stackable, meaning you can load up more than one at one time… Here are a few:
Suite Deal: Save $100 when you upgrade from an earlier version of Adobe Creative Suite, Production Studio, or Macromedia Studio to CS4. (Ends August 31, 2009.)
Free Flex Builder 3: Buy a full or upgrade version of Design Premium or Web Premium and use the coupon code 'freeflex' to receive a FREE full version of Flex Builder Standard. (Valid for the Adobe North America Store only.)
Adobe MAX 2009 Offer: Save $400 off the regular price of an Adobe MAX 2009 full conference pass when you purchase a qualifying product at the Adobe.com North America Store. (Runs until October 2, 2009.)
For example, it's normally $599 to upgrade to CS4 Design Premium. If you take advantage of all three offers you get $100 + $400 + $249 = $749 of value, meaning the product is more than free!