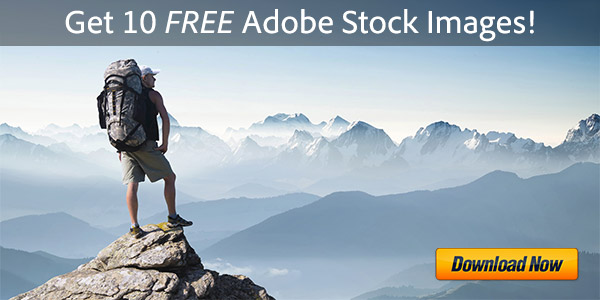 Adobe's first-ever 'Creative Week' kicked off today in the UK, with 18 hours of free program­ming available either live or on-demand anytime…
The latest trends, the hottest issues, the coolest technology! Join us for lively interactive debates, informative presentations, creative challenges, and exclusive demonstrations broadcast live online over 5 days from our London studio. We'll be covering every aspect of the creative industry with the help of creative luminaries, industry experts, Adobe evangelists and many members of the creative community.
[UPDATE (Oct. 2018) – Watch 132 hours of new training & tutorials from MAX 2018!]
The big annual MAX conference for all-things-Adobe is traditionally held each fall. The company has just revealed the major story of the MAX 2012 show – and to our surprise it's… see you next year!
MAX was originally scheduled to be held from October 20-24 in Los Angeles, California. The venue will remain the same, but the date has now changed to May 2013:
The next Adobe MAX is May 4–8, 2013

A lot of exciting changes have happened at Adobe since last year's MAX. And one of the best places to learn about innovations in the industry and within Adobe will be at Adobe MAX 2013! The conference originally scheduled for October is now moving to May.

Be among the first to know about our plans for this must-attend conference for designers, developers, and business decision-makers:




[UPDATE (Oct. 2018) – Watch 132 hours of new training & tutorials from MAX 2018!]
Just back from Adobe MAX 2011 and it was sensational… The keynote presentations were larger than life and filled with news and demos of new Adobe software and initiatives. The hundreds of diverse product sessions were incredibly educational. The show floor was a buzzing activity of experts, partners, and vendors… And the renowned "MAX Bash" party did not disappoint.
But perhaps the best part for those who weren't there is the majority of the sessions were captured on video and are now offered online for free… In other words, pick your favorite Adobe product(s) and you can learn the latest tips, tricks, and techniques from the top instructors in the field from the comfort of your desktop. There are three major tracks below (Design, Develop, and Envision) with scores of different topics; most sessions are about an hour long and the collection runs to over 160 hours of video in total.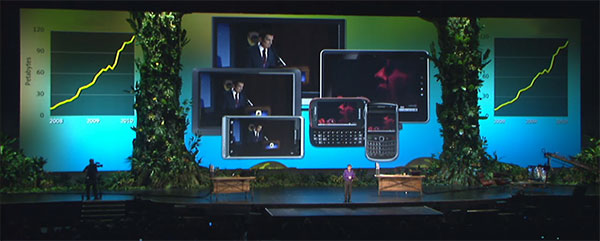 [UPDATE (Oct. 2018) – Watch 132 hours of new training & tutorials from MAX 2018!]
Adobe MAX 2011 – the worldwide user conference – runs this week and if you aren't in Los Angeles, the two major keynotes will be broadcast free, with both live and on-demand streaming… The company is promising lots of big news and announcements, so if you can't join us there in person, you can see it all unfold online.
What's more, over 160 free hours of the best training and tutorial sessions from this year's show will also be available.
Adobe Dreamweaver tweets, "To hear BIG Adobe MAX announcements, register now to listen LIVE to the keynote presentations Monday & Tuesday morning…"
Adobe Creative Suite posts, "The countdown has officially begun for Adobe MAX! Even if you can't make it to the live event, you can still join in on the fun! To hear the BIG announcements we have planned, register now to listen LIVE to the MAX keynotes Monday & Tuesday morning."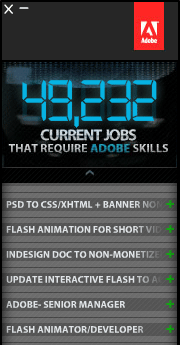 Though the economic recession officially ended over two years ago, the job market remains pretty challenging. In the U.S. officially no new jobs were created last month, continuing a slowing trend from the spring – and this situation is currently a major focus of Washington. However, Adobe is one company that continues hiring new staff at a healthy pace, and more broadly, Adobe product skills remain in strong demand by employers worldwide.
Adobe Systems (the company itself) presently has 358 job openings around the globe (adding another 4% to their workforce) – but if you know Adobe software generally, then the opportunity is even larger. Right now there are nearly 50,000 employment openings across North America that require Adobe skills, and you can see these and browse for yourself with the free downloadable Adobe Job Feed app.
All major tools are represented here: Flash, Dreamweaver, Photoshop, InDesign, Illustrator, Acrobat, Premiere, After Effects, and so on. You can drill down to sort by city/state or ZIP code for jobs in your area, and then view the complete descriptions and even apply for positions directly from within your web browser.

You know all the usual reasons software makers give to register your software – to receive tech support, news, updates, offers, bug fixes, and so on.  It also protects your investment because it gives you permanent access to your registered serial number in case something ever happens to your computer or software.
Adobe adds another reason – to get free gifts. They're called "complimentary benefits," and they're offered worldwide…
For example, if you register your Creative Suite product, depending on what you own you could choose from one of these bonuses:
a free copy of onOne Software's PhotoTools 2.5 Standard plug-in for Photoshop,
a complimentary copy of Red Giant Software's Magic Bullet Quick Looks plug-in for video,
30 days of free training at Lynda.com with more than 1,500 hours of Adobe training,
a free download of the new and versatile text typeface font family Adobe Text, or
a 30-day trial of the Creative Edge online library with thousands of books and videos.
Doing the same for Adobe Acrobat X gets you some similar choices – or a 10% discount coupon for anything at the Adobe Store, or four special edition Acrobat X PDF Portfolio themes, or discounts plus free access to Safari Books Online, Total Training, or Peachpit. Registering Acrobat also enables you to use services at Acrobat.com.

[UPDATE – Preregister at no cost to get a $500 discount savings on the next MAX conference, plus see how you can fly there for free!]
"Adobe MAX is an experience unlike any other — an opportunity to learn from the experts and connect with thousands of the most influential designers, developers, and decision-makers in our industry."
If you'd like to go to Adobe MAX this year in L.A. (October 1-5) and save $400 in the process, just purchase (full or upgrade) any one of the products listed below from the Adobe online store and you'll receive a special promo code that will discount your regular full confer­ence pass price by US$400…
But since the upgrade price for many of these products is less than $400, basically you're getting the software for more than free!

[UPDATE (Oct. 2018) – Watch 132 hours of new training & tutorials from MAX 2018!]
MAX is the big annual conference for all-things-Adobe. One of the best aspects of MAX last year was the key presentations and announcements were webcast live, and most of the rest of the talks and lectures were offered later on-demand. These sessions are still available for viewing and are a fantastic free resource (see the list) for learning about Adobe software. There are more than 200 recorded videos on topics ranging from Photoshop Tips, Techniques & Power Shortcuts to "Deep Dives" for Dreamweaver and Flash.
This year, MAX will happen from October 1-5 at the Los Angeles, CA Convention Center. It's a great time to tune in online or to attend in person for the news, excitement, training, gather­ings, and giveaways (last year all attendees received free Motorola Droid 2 smartphones and Google TVs) – plus the chance to meet the experts and ask your own questions.
(…not to mention, enjoy all the hilarious fake commercials for Adobe products!)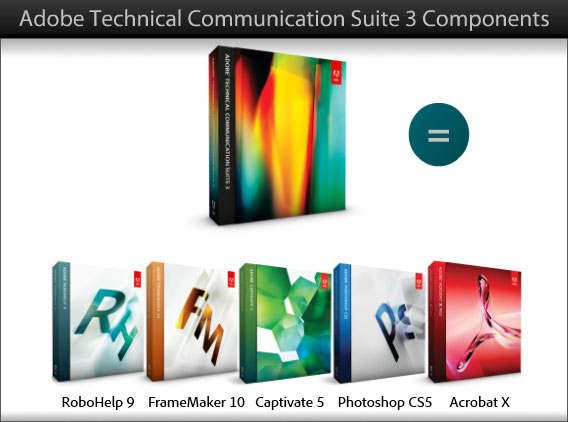 Following up last summer's new version of Captivate, this morning Adobe is releasing three new products for technical communicators, instructional designers, documentation creators, help system authors, and eLearning professionals – and they are RoboHelp 9, FrameMaker 10, and Technical Communication Suite 3. The last of these, TCS 3, is a fully-integrated suite that comprises five major Adobe applications – with the other three components being Captivate 5, Photoshop CS5 and the recent Acrobat X Pro.

This year, as in years past, Adobe is sharing a holiday greetings card online that's attracting thousands of visitors… And their card this year is all about finding inspiration.
Only this year, the tradition is even better – because for each viewer, Adobe will make a $1 donation to Mercy Corps to help children around the world. Mercy Corps is a global aid agency dedicated to helping people in the world's toughest places through crises of natural disaster, poverty, and conflict.
So please take a moment to view Adobe's Holiday Card 2010 (and be inspired), and you'll also be helping Adobe and Mercy Corps help millions of young people around the globe.