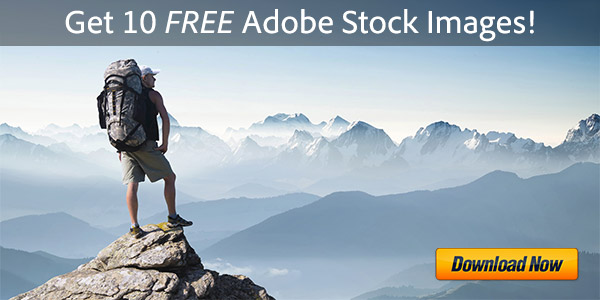 Adobe's big annual user conference MAX has been going on this week and you can watch all the keynotes and hundreds of sessions free, online, and on-demand – but one of the best bits was the assortment of parody commercials that highlighted yesterday's keynote, User Experience: The Next Generation.
Some of these were truly hilarious and we've put together a reel of the best ones below. Perhaps the funniest of the 10-minute collection is the first one about new Adobe Acrobat X, but we'll let you decide… Here's the playlist:
AcrobatWOW!
Go Away Spray
Save the Users
Geico Upgrade
Catalyst Perfume
ColdFusion Lawyer
"I Code in Flex"
Johnny Encore
Which one was your favorite? Share your vote and thoughts below…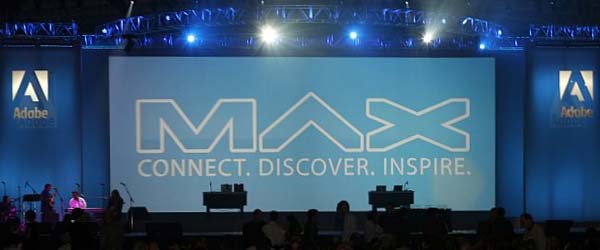 [UPDATE (Oct. 2018) – Watch 132 hours of new training & tutorials from MAX 2018!]
Adobe MAX 2010 – the worldwide user conference – runs this week and if you aren't in Los Angeles, the two major keynotes will be broadcast live plus all of the conference sessions will be available on demand for free… A full attendance pass with these informative technical sessions normally goes for $1,500, so this is a great deal (see a full listing of the hundreds of programs offered below).
Adobe InDesign tweets, "don't be the last to know… if you can't be at Adobe MAX, you can still watch the keynotes LIVE for some exciting announcements!"
One of these announcements is sure to be the arrival of the long-awaited preview release of the new Digital Publishing Suite on Adobe Labs, just out… Read all about it in the press release here.

There's a cool new art museum that's just opened, and it's available to anyone, anytime, anywhere, at no cost… It's the Adobe Museum of Digital Media, a first-of-its-kind, all-digital venue created to showcase all forms of digital art and media. As digital media is Adobe's business, we've been looking forward to this space opening its doors…
And the setting does not disappoint. You get the idea like you're at a museum of the future, with a stunning cityscape intro to the unique building and its exhibit hall. The striking structure was designed and modeled by an architect even though it exists only in cyberspace. Holo­graphic videos from the curator and a cyborg jellyfish (with a euro-diva voice) are your primary guides, and you have the feeling like you've snuck into your very own "night at the museum" with a cavernous, futuristic, even cinematic atmosphere.

We've previously written about how you can save $400 on Adobe MAX 2010, the big annual conference for all things Adobe, that's happening this year from October 23-27 in Los Angeles, California… Now, there's a short time left to save $200 with another promotion code EBX100:

Did you know that people spend over $7 billion each year printing, faxing, and overnighting documents just because a signature is needed? Adobe has just introduced a free solution aiming to crush those expenses… It's called Adobe eSignatures™ and it's live now, a new online service allowing you to electronically sign contracts, NDAs – any Acrobat PDF document that requires a signature.
If you already have an Adobe.com ID or login, you're good to go – just sign in and start signing (electronically)! If you don't yet have an Adobe ID, just take a minute to create one; it's easy and free. Then it's a very simple guided process that allows you to upload your document, enter the email address(es) for all parties, and click to sign. You don't need any special tokens or smartcards. Once signed, the final eSignatures document is certified by Adobe to ensure that no one has modified it, providing an authentic copy that is protected against alterations. And it's entirely legal, valid, and lawfully accepted, being used to sign everything from real estate and sales contracts to judicial orders.
Adobe actually has a lot of experience in this area, with a big, well-established business pro­viding a highly-secure digital signature capability into large banks, the military and a number of governments. In fact, the first digitally-signed judicial order was executed using Adobe technology, and the FY 2011 U.S. Federal Budget was electronically certified using the same technology that underlies eSignatures. They've been a market leader in digital signatures for over a decade, and are now extending this service out to the rest of the world for everyday documents… (Read how it works.)
Did we mention it's free?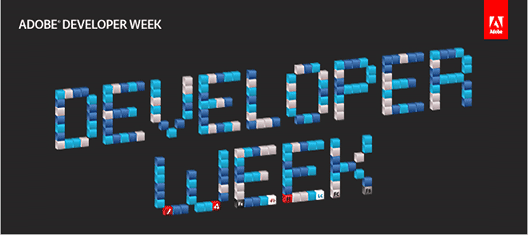 [UPDATE (May 17th) – All sessions were recorded & are now available for on-demand viewing.]
Adobe Developer Week 2010 begins today worldwide and will showcase Adobe end-to-end web devel­opment tool suites and solutions. This is your opportunity to learn about the Adobe Flash Platform, including Flash Professional CS5, Flex, Flash Builder, Flash Catalyst CS5, AIR, and other Adobe technologies for free, directly from Adobe evangelists and product managers. Speakers include Ben Forta, Ryan Stewart, and many others.
These technology experts will present live, online webinars and demos, with the oppor­tunity to ask questions during interactive Q&A sessions. There are twenty hour-long present­ations throughout the week and you can sign up for as many as you like, and you may be eligible to win cool prizes such as Flash Builder 4 and CS5 Web Premium.
Here's a preview of some of the topics to be covered this week:
Introduction to the Adobe Flash Platform
What's New in Adobe Flash Builder 4
Building Multi-Screen Applications with the Adobe Flash Platform
Adobe Flash Catalyst CS5 for Developers
New Features in Adobe Flash Player 10.1
Building Mobile Applications with Flash Pro CS5: Create a Game
Adobe ColdFusion 9 and Adobe Flash Catalyst CS5
Creating Sexy Applications with Flash: Designer-Developer Workflow
Flash Builder 4 for Dreamweaver CS5 Users
Building Desktop Applications with Adobe AIR 2.0
Advanced Features in Adobe Flex
Visit the Adobe Developer Week site for more details and to enroll for free.

Yes, CS5 is out! It looks like a phenomenal release, and we have full coverage – including new products, pricing, configurations, system reqs, videos, "what's new" feature lists, and more:
ALL CS5 products are immediately available for purchase and instant download, with free shipping on all Adobe orders over €500/£350 in Europe and the U.K. (no coupon or promo code is required)…
On Adobe's site: If you're considering upgrading from your current software, here's a helpful upgrade guide. Also new is an excellent FAQ covering purchasing policies and key product changes… The online documentation for all CS5 products also just went up.
Lastly and importantly, the CS5 free trial downloads and Student and Teacher Editions
(up to 80% off) are also now available!
[UPDATE (May 13th) – Adobe CS5 is now shipping and downloadable in 16 languages: English, French, German, Japanese, Spanish, Portuguese, Italian, Dutch, Danish, Swedish, Norwegian, Finnish, Czech, Polish, Russian, and Korean.]
Categories:
Tools
Adobe, after effects, CS5, dreamweaver, flash, illustrator, indesign, photoshop, premiere, suites, upgrade, videos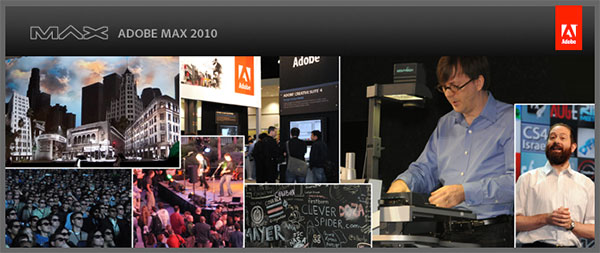 Adobe MAX 2010
October 23–27, 2010
Los Angeles Convention Center and
Nokia Theatre L.A. LIVE
Los Angeles, California
At Adobe MAX 2010, you'll discover the next wave of opportunities fueled by the explosion of rich content and applications across multiple screens (from smart phones to tablets to PCs to TVs), the merging of digital content and commerce, and workflows that bring design and development together. MAX is an experience unlike any other – for five unforgettable days, MAX 2010 will bring together thousands of designers, developers, and decision-makers to set the course for the next generation of digital experiences.
[UPDATE (May 3, 2011) – All Creative Suite 5.5 trials are out!]
Not all are aware, but Adobe is now offering free trials of virtually any product that works without restriction for up to thirty days… The best part is you can immediately download the software for most products and have it up and running on your computer within minutes!
For the larger packages such as the suites, Adobe will send you software DVDs for a nominal charge of $10-15 (UPDATE, February 2010 – new policy – you can now directly download any of the suites too if you desire, for free, including the top-of-the-line Master Collection). In any event, all products and all suites remain fully functional for up to a month (no "demo mode"), and the trials can be installed on multiple or successive systems if desired.
In all cases you can test drive whatever you like, or get the work you need to get done for the duration of the period. And if and when you are ready to buy, you can easily convert your product trial for permanent unrestricted use without reinstalling the software in most cases.
Lastly, you can download as many individual CS4 CS5 apps as you want, including Photoshop, Acrobat, Dreamweaver, Lightroom, Illustrator, InDesign, Flash, Contribute, Elements, etc.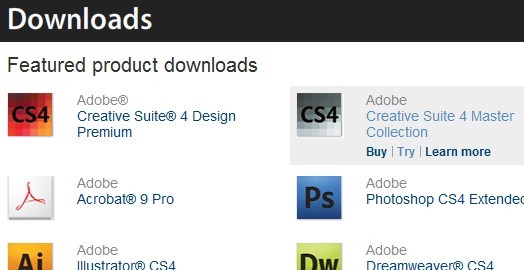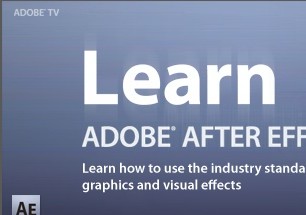 Here's a great one. How would you like a huge menu of absolutely free video training, tips, and tricks for most all of Adobe's major products?
A large selection of helpful segments from the experts you can run and view at any time from the comfort of your home or office, covering everything from "getting started" tutorials for beginners to advanced "how-to" guides for thirty different products…
Well, it's here – check it out and learn all you want at the new "Adobe TV."