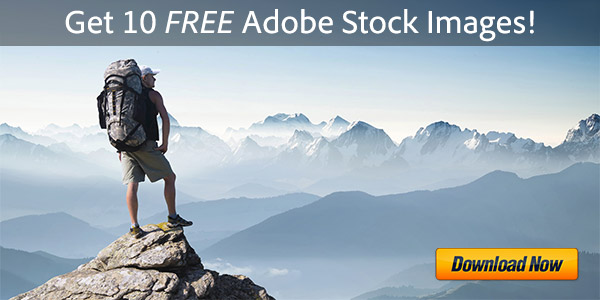 If you'd like to learn how to use Adobe's Creative Suite tools to easily and portably create websites and apps for tablets, smartphones, and mobile devices there's a new 2¼-hour course you'll be interested in…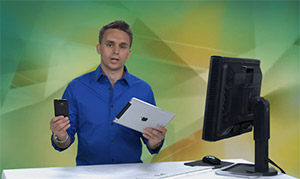 Guru Paul Trani teaches an extensive free class with 18 video chapters that will take you step-by-step on how to create portable content that will run on both Apple iOS and Google Android devices with a wide variety of screen sizes using a single code base. Basic usage of HTML5 and CSS3 is covered, as well as how to bring in Adobe's recent additions PhoneGap (for building fast, cross-platform mobile applica­tions) and Typekit (for delivering custom web fonts).
The first half of the video series employs Adobe Dreamweaver CS5.5 to develop both websites and apps, with steps on how to convert a website into a portable mobile app. The tutorials then move on to using Flash-based tools (with Adobe AIR) to build multi-platform mobile apps. We already know that Flash Professional CS5 can be used to build apps for the iPad and iPhone, but this takes it a step further. The videos guide you all the way through to how to publish your app to your device and to the Android Market (which shows immediately) or to the Apple App Store.
[UPDATE (May 2013) – CS4 and CS3 users no longer receive upgrade discounts to CS6, but to the new Adobe CC release instead.]
Two months ago Adobe made a major change in the Creative Suite upgrade policy that had been in place since CS3 came out in April 2007…
Had you heard about it? If not, here's what they said on the new upgrade policy for CS6…
In a nutshell, Adobe said only customers running Creative Suite 5 products would be eligible for discounted upgrade pricing to the new CS6 when it comes out.
Customers spoke up and reaction to the change was pretty unfavorable across the web… Results from our own poll here showed a striking 85% against the move including the company's related business model changes to the Creative Cloud.
---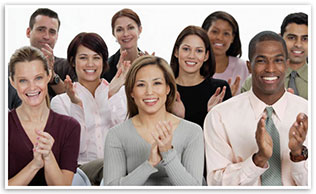 And now, in a stunning turnabout, Adobe says they have been listening and are backing off the new policy, in response to customer feedback…
Yes, it's true – and just as we were one of the first to break the original story, we're back now with the good news that the older Creative Suite versions like CS3 and CS4 will indeed be able to get upgrade discounts to CS6 in the future.
Here it is from our Adobe Partner Update:
[UPDATE (June 2014) – See this comment below for an important update on this article.]
[UPDATE (Jan. 2017) – Adobe just stopped selling CS6 entirely – here's why.]
Adobe's Creative Suite 5.5 has been out since May, and has generally been well-reviewed and even lauded as a must-have release… Nevertheless, some folks are still looking for or require older versions of the software, like CS5.0 or CS4. Why?
Two common reasons are the higher system requirements – 64-bit for some components of CS5 like After Effects & Premiere Pro, as well as cases where the rest of a customer's site is still running an older version and would like to add a new setup with the same compatibility. And occasionally some folks say they prefer the earlier, simpler versions over newer ones with more features.
The challenge is, once a new release comes out, Adobe no longer officially sells the older version (with one exception). So if you need a prior release, what do you do?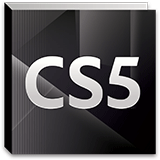 If you want the trial version to use for 30 days, that's easy – Adobe actually keeps most older original trials still available for download on their servers – including all of CS4 and CS5, plus earlier releases of Acrobat, Lightroom, Elements, etc… You can find those trials all linked for download here:
But how about when you want to actually buy CS4 or CS5?
If you ask Adobe, they'll usually tell you to check their official list of authorized resellers & retailers to see if someone still has the version you want in stock. The problem is it's inconvenient to search as often those stocks are thin or sold out, and no longer available.
[UPDATE – Also see our new Holiday CC 2018 Giveaway!]
Welcome 2012! Last year we gave away a lot of software, so to kick off the new year right, we're going to be giving away a brand new boxed copy of the Adobe Creative Suite 5.5 Web Premium suite. This is one of the top-selling CS editions and the second largest prize we've ever done…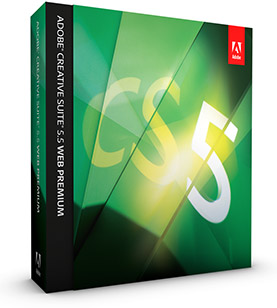 Creative Suite 5.5 was officially released in May, and contains a large number of new product features and improvements over CS5. But this giveaway is not an upgrade or an education version – it is the shrinkwrapped, full commercial English version of CS 5.5.
CS5.5 Web Premium sells for $1,799 / €1,999 / £1,429 and includes the popular applications Photoshop Extended, Dreamweaver, Illustrator, Acrobat X Pro, Flash Pro/Catalyst, Fireworks, among others… (see the complete list of products it contains) If you want to try it out first and install it on your computer, that's easy as the free trial is available for download for both Windows and Mac OS.
Owning Creative Suite 5.5 would also make you eligible to upgrade to CS6 when that product line eventually releases.

[UPDATE – See all of Adobe's current deals & discounts!]
Adobe has just extended their popular current offer for all customers to save an additional 20% off the regularly-discounted upgrade price when you move up to CS5.5 (to either a suite or an individual product) from any earlier qualifying Adobe tool listed below.
This special was set to expire at year-end but has now been extended into March 2012 and continues to be available worldwide, with no coupon or promotion code required. It's valid for upgrading to all the latest CS5.5 versions, and also includes Photoshop CS5.1 and Illustrator CS5 as well.
The additional time comes following Adobe's recent news of a major change in upgrade policy whereby only users with CS5.5 or CS5.0 would qualify for upgrade pricing to CS6 when it is released.
The new expiration dates for the additional 20% off upgrade savings are:
North American Store: Extended through March 15, 2012.
European Stores: Extended through 15 March 2012.
Australia/NZ + Asia: Extended through 15 March 2012.
[UPDATE (January 11th, 2012) – Adobe has listened to customers and just reversed this change! CS3, CS4, & CS5 are all good for upgrade to CS6 now.]
HUGE breaking news out from Adobe, regarding substantial changes in upgrade pricing and policies for their very popular Creative Suite software…

For several years, the company has offered a "three-versions-back" upgrade policy – meaning anyone who owned a prior CS product up to three major versions back would be eligible for discounted upgrade pricing when moving up to the latest release.
Meaning, if you've got CS2, CS3, or CS4 – either a full suite or an individual point product like Photoshop – you can receive price reductions of up to 80% when upgrading to CS5.5.
Adobe now says that will be ending – the policy is going to shift dramatically, worldwide.
Starting in 2012 when CS6 comes out, this will be changing to a "one-version-back" plan – meaning to receive a price break when upgrading to CS6, you need to already be on some flavor of Creative Suite 5 – either CS5 or CS5.5.
So, what does this mean for anybody still running CS2, CS3, or CS4 at that time? Basically, if you want to upgrade later or have been waiting for CS6 to do so, it would cost you full price… To receive a discount from older versions, you'd need to upgrade to CS5 before CS6 ships.
Here it is straight from Adobe's "Conversations" Blog:

[UPDATE (Oct. 2017) – Watch 140 hours of new training & tutorials from MAX 2017!]
Just back from Adobe MAX 2011 and it was sensational… The keynote presentations were larger than life and filled with news and demos of new Adobe software and initiatives. The hundreds of diverse product sessions were incredibly educational. The show floor was a buzzing activity of experts, partners, and vendors… And the renowned "MAX Bash" party did not disappoint.
But perhaps the best part for those who weren't there is the majority of the sessions were captured on video and are now offered online for free… In other words, pick your favorite Adobe product(s) and you can learn the latest tips, tricks, and techniques from the top instructors in the field from the comfort of your desktop. There are three major tracks below (Design, Develop, and Envision) with scores of different topics; most sessions are about an hour long and the collection runs to over 160 hours of video in total.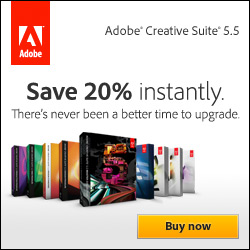 [UPDATE – See all of Adobe's current deals & discounts!]
Are you thinking about moving up to to Creative Suite 5? Well then here's a special new offer – a nice bonus – that will help…
Right now you can save a further 20% off the normally-discounted upgrade price when you upgrade to CS5.5 (to either a suite or an individual product) from any earlier qualifying Adobe tool listed below.
This new offer is now available worldwide, with no coupon or promotion code necessary. It's valid for upgrading to all the latest CS5.5 versions, but also includes Photoshop CS5.1 and Illustrator CS5 as well.
North American Store: Offer period is October 3, 2011 – December 31, 2011 March 15, 2012.
European Stores: Offer period is 3 October, 2011 – 31 December, 2011 15 March 2012.
Australia/NZ + Asia: Offer period is 9 November, 2011 – 31 December, 2011 15 March 2012.
So if you currently have one of these Adobe products with a valid license (either commercial or for education/student), then you qualify:

Even though Creative Suite 5 has been out for over a year, and CS 5.5 since the spring, some components of Creative Suite 4 remain surprisingly popular… In particular, the two applications After Effects CS4 and Premiere Pro CS4, which were released in the fall of 2008, are still sought by many. At first this might seem odd, but there's good reason… Why does this duo of earlier tools remain in demand?
It's no doubt owing to the 64-bit-only requirement for those two products (and only those two products) in Creative Suite 5… Adobe explains the reason for this is because developing in native 64-bit gives the best optimized performance benefits with the demanding technical requirements of working with high definition video. But these won't run on many older computers.
Note this is more of a Windows factor and does not affect the majority of Mac systems using Intel proces­sors… But with no 32-bit Windows versions of After Effects CS5.5 or Premiere Pro CS5.5 offered, perhaps it shouldn't be surprising the CS4 releases continue to be needed. After all, statistics show that 43% of the broad Internet community still runs on Windows XP – making it still the most widely-used Microsoft Windows platform – but which isn't supported for those CS5 apps.
The question then becomes, what to do about it? If you're still on 32-bit or XP, but need one of these products after the free trial has run out, would your best choice be to buy the previous generation version of CS4? Doubtless your next computer will be 64-bit – so wouldn't it be better to invest and get both – CS4 (for current use) and CS5.5 (for future growth) – two for the price of one? Especially since these two latest releases have been getting stellar reviews from many sources…