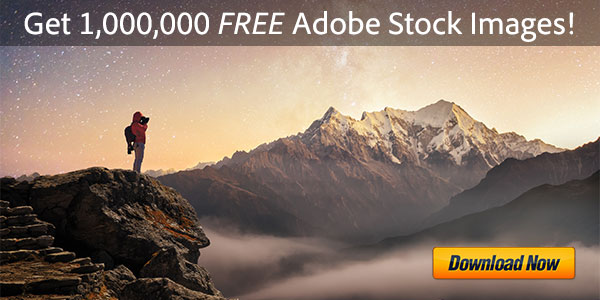 [UPDATE (May 6th) – The next release is announced! Learn more about new Adobe CC.]
In recent days Adobe has been slipping out little sneak peeks of new product versions (perhaps CS7?) entitled, "Early Views Into the Next Generations Of Dreamweaver and Flash Professional." These brief first looks show improvements centered on re-architecting the tools for performance, usability, and stability – as well as adding some new features and keeping on top of technological trends.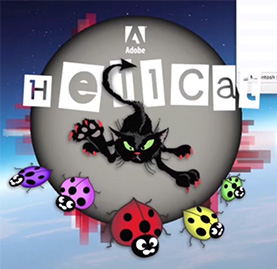 For the next release of Flash Pro (code-named "Hellcat"), there's a blazing new 64-bit archi­tecture, written in native cocoa – making the program modularized, much faster, and more reliable so you can be more efficient. For example, start time has been cut to just 2 seconds, 10X faster than CS6… There's also a new user interface with light and dark themes, plus support for HiDPI displays (e.g. MacBook Pro Retina) – read more details here.
For the upcoming version of Dreamweaver, you'll be getting a modernized, retooled and streamlined user interface with some old features deprecated, and new ones like the CSS Designer added for responsive web design. The CSS Designer is a visual interface to quickly and intuitively work with CSS properties like gradients, box shadows, and media queries to support web content presented in different-sized media. Adobe says this feature will be available later this year and you can find more information in this blog post.
[UPDATE (April 23rd) – Creative Suite 6 is out!]
Similar to how they did before the launch of CS5.5, Adobe has been quietly slipping out a bevy of "sneaks" (now numbering 16 videos including those for Photoshop CS6) for new features that may be in a forthcoming release of the Creative Suite…
"Check out what new technologies, features and innovations the Adobe product teams are working on behind the scenes. Stay tuned to get an early glimpse of what could be next from Adobe."
The latest CS6 products previewed include: Dreamweaver, InDesign (2), Premiere Pro, Audition, Flash Profes­sional, Illustrator (previously), and of course Photoshop.
The drumbeat has been getting louder with plenty of news lately about Creative Suite 6:
So things are starting to get a little exciting.
Here now are some of the significant new preview demos… For the complete set, please see the Adobe Technology Sneaks 2012 page.
If you'd like to learn how to use Adobe's Creative Suite tools to easily and portably create websites and apps for tablets, smartphones, and mobile devices there's a new 2¼-hour course you'll be interested in…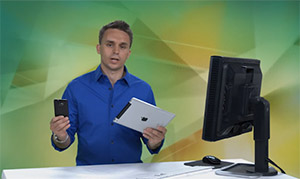 Guru Paul Trani teaches an extensive free class with 18 video chapters that will take you step-by-step on how to create portable content that will run on both Apple iOS and Google Android devices with a wide variety of screen sizes using a single code base. Basic usage of HTML5 and CSS3 is covered, as well as how to bring in Adobe's recent additions PhoneGap (for building fast, cross-platform mobile applica­tions) and Typekit (for delivering custom web fonts).
The first half of the video series employs Adobe Dreamweaver CS5.5 to develop both websites and apps, with steps on how to convert a website into a portable mobile app. The tutorials then move on to using Flash-based tools (with Adobe AIR) to build multi-platform mobile apps. We already know that Flash Professional CS5 can be used to build apps for the iPad and iPhone, but this takes it a step further. The videos guide you all the way through to how to publish your app to your device and to the Android Market (which shows immediately) or to the Apple App Store.
[UPDATE – For a quick tutorial with CS6, see Ten Steps to Building a Website with Adobe Dreamweaver CS6 — or download the free new ebook, Dreamweaver CS6 Basics.]
For some months now, Adobe has had a great set of videos out (17+ hours) covering the highlights and new features of all products in Creative Suite 5… Now comes a terrific new course specifically on getting started from the ground up with Dreamweaver CS5. This 15-chapter step-by-step tutorial really covers all the basics and key topics – not just for Dreamweaver, but for developing websites in general.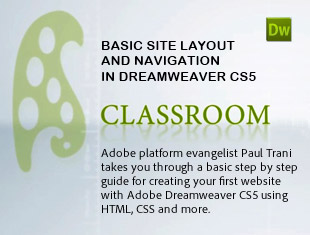 So, it's a helpful and complete background and introduction for getting started with HTML, CSS, Spry, JavaScript, XML, and rich media content such as Flash, video, and online maps. Some of the many fundamen­tal topics covered include images, fonts, layout, hyperlinking, navigation, menus, panels, templates, animation, testing, and uploading. But note that this class is not just for beginners – even experienced Dreamweaver users are learning some­thing new here… (see reviews below)
Basically, if you're looking to get going with website design and development, this is a nice way to get your feet wet (or expand your existing knowledge) with the industry-standard product in just three hours for free – regardless of whether you keep using it. If you want or need a free copy of Dreamweaver CS5 to walk through during the training, you can just download the fully-functional 30-day free trial.
Nicely complementing the new HTML5 and CSS3 capabilities recently added to Dreamweaver CS5, Adobe today announced the availability of the Illustrator CS5 HTML5 Pack. This free add-on provides initial support for HTML5 and CSS3, extends Scalable Vector Graphics (SVG) capability in Illustrator CS5, and helps you easily design web and device content to take advantage of the latest advancements in these technologies.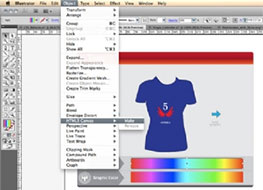 Back about six months ago (before CS5 was released), there was a lot of buzz surrounding sneak-peek videos about multiscreen authoring with HTML5 and CSS3, plus a new "Smart Paste" capability between Illustrator and Dreamweaver. These features are now becoming realized with some pretty cool tools to create and place inter­active vector-based content in live web pages across multiple devices and screen sizes, without the use of Flash or Silverlight. All that's needed is HTML5 canvas support along with JavaScript.
As reported earlier here and here, and contrary to what some rabble-rousers might want you to believe, Adobe very much wants to be a big part of the future of HTML5… As the leading provider of web development tools, Adobe needs to be the leading provider of whatever the future of web development tools is, else they lose their relevancy. And they just took a big first step with the official announcement of the free HTML5 Pack for Dreamweaver CS5, which was tipped at an Adobe Evangelist Q&A session last month…

While HTML5 and CSS3 won't be finalized for some time, this extension provides initial support in Dreamweaver CS5 for a set of currently-implemented functions, helping you easily create HTML5 pages and CSS3 styles. It introduces great features like multiscreen preview (which lets you see what your web page will look like on phones, tablets, and desktop computers simultaneously within Dreamweaver), HTML5 and CSS3 code hinting, video and audio tag support in Live View, and even a few HTML5-compliant starter layouts to get you up and running with HTML5 layouts quickly.
If you've been tuned into the technology news lately, you'll know these sorts of improvements mark a great advance for Dreamweaver users working in this fast-changing world of smart­phones and other portable devices. Although their specifications are still being finalized, HTML5 and CSS3 can be used with any browser that currently supports them. The most recent ver­sions of the leading browsers (Safari, Firefox, Opera, Internet Explorer, Chrome) support at least some (a few support many) HTML5 and CSS3 features.
Here's a complete list of available resources for these new capabilities, available immediately:

Yes, CS5 is out! It looks like a phenomenal release, and we have full coverage – including new products, pricing, configurations, system reqs, videos, "what's new" feature lists, and more:
ALL CS5 products are immediately available for purchase and instant download, with free shipping on all Adobe orders over €500/£350 in Europe and the U.K. (no coupon or promo code is required)…
On Adobe's site: If you're considering upgrading from your current software, here's a helpful upgrade guide. Also new is an excellent FAQ covering purchasing policies and key product changes… The online documentation for all CS5 products also just went up.
Lastly and importantly, the CS5 free trial downloads and Student and Teacher Editions
(up to 80% off) are also now available!
[UPDATE (May 13th) – Adobe CS5 is now shipping and downloadable in 16 languages: English, French, German, Japanese, Spanish, Portuguese, Italian, Dutch, Danish, Swedish, Norwegian, Finnish, Czech, Polish, Russian, and Korean.]
Categories:
Tools
Adobe, after effects, CS5, dreamweaver, flash, illustrator, indesign, photoshop, premiere, suites, upgrade, videos
[UPDATE (May 21st) – More details on the new support in Dreamweaver CS5 for HTML5 here.]
Over the past three days Adobe has quietly released several "preview" videos of future technology in Dreamweaver… Now just as with the sneak-peek Photoshop videos posted last week, there are no assurances on exactly which version of Dreamweaver or when – but considering that CS5 could be coming out fairly soon, we could be seeing some of these new technologies in CS5. But even if not, they are rather impressive…
The first video below covers a very cool new "Smart Paste" command that makes it a snap to bring vector designs (such as artwork from Illustrator) directly into HTML – as simple as copy and paste.
The second one delves into support for multiscreen authoring with HTML5 and CSS3, and so might be considered more in the "emerging" department… This one is a big challenge for designers especially as varied mobile devices become increasingly more prevalent on the web.
The last video comes from the new "CSbuzz" hub site that launched last week, and is a little tease on significant improvements when working in Dreamweaver with dynamic material such as PHP, which historically hasn't been as handy.
For best viewing, click the expand icon after pressing play on each thumbnail for full-screen HD: