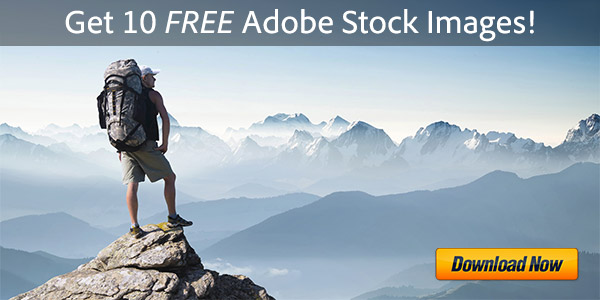 [UPDATE – Also see our new Adobe CC 2020 Giveaway!]
There's no doubt that Creative Suite 6 will be out sometime later this year… We have a pretty good sense of when, but we'd like to get a leg up on the release and give out a brand new boxed copy of Adobe's forthcoming top-of-the-line CS6 suite to our amazing readers who have helped build our site to what it is today…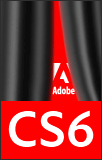 Yes, that's right, this is it: the big enchilada, the numero uno, the biggest of the best Adobe premium suites – it's CS6 Master Collection, containing nearly every great application that Adobe makes! It includes Photoshop Extended, Dreamweaver, Acrobat Pro, InDesign, Illus­trator, After Effects, Premiere Pro, and many more – see all the applications it will likely contain when released.
We've given away a lot of software over the years, but this prize is our largest ever… And it's not an upgrade or an education version – this is the shrinkwrapped, full commercial English release of CS6, which has been generously furnished by Adobe. Master Collection currently sells for $2,599 / €2,899 / £2,303 – and collectively the 15+ major programs within are worth $7,587 if purchased separately.
So what new features will be in CS6, compared to CS5.5? Well, we have a good sense of Photoshop CS6 already through the free beta release download… For the other products, Adobe's CEO dropped some hints recently, in addition to nearly a dozen sneak peek videos, plus the inside scoop on the CS6 video products.
How to get it? Well, it's easy to enter. The contest is open to residents of North America, U.K., Europe, Australia, New Zealand, and South Africa – and all you need to do for a chance to win is one (or more) of the following:
[UPDATE – Also see our new Adobe CC 2020 Giveaway!]

If you like Photoshop and want a free paid trip to Photoshop World plus a CS5.5 suite, check out Adobe's Next Photoshop Evangelist contest… All you have to do is create and upload a 1-2 minute video demonstrating your favorite "Hidden Gem" in Photoshop CS5.
What's a hidden gem? Essentially, it's just a lesser-known feature or workflow of the product that you find valuable – perhaps using a function or tool in a way that Adobe didn't imagine… For some great examples, check out this helpful series of Photoshop Hidden Gems that Adobe produced.
The top 5 videos will be selected and voted on, with the winner receiving a $4,000-$6,000 prize package including a trip to the PSW Conference either in Washington, D.C. this spring, or in Las Vegas this fall – plus a full copy of CS5.5 Design Standard. The trip includes roundtrip airfare, lodging, event admission, and spending money – plus meeting Adobe's Photoshop Product Team personally and the opportunity to demonstrate your hidden gem live at the show. Four runners-up will get a free $1,000 copy of Photoshop CS5 Extended.
[UPDATE – Also see our new Adobe CC 2020 Giveaway!]
Anybody interested in some free copies of new Adobe Lightroom 4?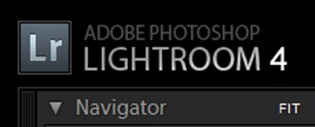 We've got them. Adobe says the 4th release of this very popular photography solution is due to ship fairly soon – however if you want to try it out and get your feet wet before then, you can just download and run the free LR4 beta version, though this shouldn't be used for production or permanent work.
In the meantime, did you know that Adobe just extended an unprecedented deal on the current full version – Lightroom 3 – for half off the regular price of US$300, save 50% worldwide? Yes, it's true, and never been done before – but you can take advantage of that here. And you'd still be eligible and welcome for the free giveaway of version 4 by entering below.
So, we've got two brand new boxed copies of the final official Lightroom 4 product all lined up and would love to give them away to our faithful readers… It's easy to sign up. The contest is open to residents of North America, U.K., Europe, Australia, New Zealand, and South Africa – and all you need to do for a chance to win is one (or both) of the following:
If you'd like to learn how to use Adobe's Creative Suite tools to easily and portably create websites and apps for tablets, smartphones, and mobile devices there's a new 2¼-hour course you'll be interested in…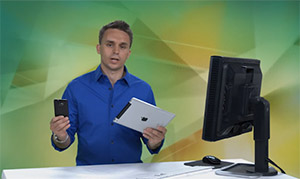 Guru Paul Trani teaches an extensive free class with 18 video chapters that will take you step-by-step on how to create portable content that will run on both Apple iOS and Google Android devices with a wide variety of screen sizes using a single code base. Basic usage of HTML5 and CSS3 is covered, as well as how to bring in Adobe's recent additions PhoneGap (for building fast, cross-platform mobile applica­tions) and Typekit (for delivering custom web fonts).
The first half of the video series employs Adobe Dreamweaver CS5.5 to develop both websites and apps, with steps on how to convert a website into a portable mobile app. The tutorials then move on to using Flash-based tools (with Adobe AIR) to build multi-platform mobile apps. We already know that Flash Professional CS5 can be used to build apps for the iPad and iPhone, but this takes it a step further. The videos guide you all the way through to how to publish your app to your device and to the Android Market (which shows immediately) or to the Apple App Store.
[UPDATE – Also see our new Adobe CC 2020 Giveaway!]
Welcome 2012! Last year we gave away a lot of software, so to kick off the new year right, we're going to be giving away a brand new boxed copy of the Adobe Creative Suite 5.5 Web Premium suite. This is one of the top-selling CS editions and the second largest prize we've ever done…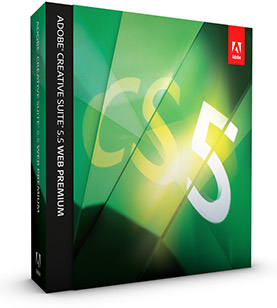 Creative Suite 5.5 was officially released in May, and contains a large number of new product features and improvements over CS5. But this giveaway is not an upgrade or an education version – it is the shrinkwrapped, full commercial English version of CS 5.5.
CS5.5 Web Premium sells for $1,799 / €1,999 / £1,429 and includes the popular applications Photoshop Extended, Dreamweaver, Illustrator, Acrobat X Pro, Flash Pro/Catalyst, Fireworks, among others… (see the complete list of products it contains) If you want to try it out first and install it on your computer, that's easy as the free trial is available for download for both Windows and Mac OS.
Owning Creative Suite 5.5 would also make you eligible to upgrade to CS6 when that product line eventually releases.
[UPDATE (October 2012) – Looking for CS6 tutorials? Check out this Photoshop CS6 primer, or 1,000 pages of free CS6 ebooks, or 30 hours of free CS6 videos.]
Adobe Photoshop is a sophisticated tool with a 21-year history and a seemingly-endless array of powerful capabilities. And after spending $549 for the product with discounts (or $199 for students), who wants to pay a lot more to learn how to use it all?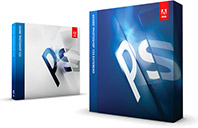 Fortunately there are a number of avenues to get great training and tutorials for free. The first stop is Adobe TV, which has nearly four hours and 37 chapters of 100% free tutorials for Photoshop CS5 alone. There is also a wealth of content for prior versions like Photoshop CS3 and CS4. It's a good place to get started and orient yourself with the major functions, and all of it is gratis.
For learning how to use the best new features added in Photoshop CS5, take a look at our collection of articles with tours of:
We also have a regular page here on the site with a rotating selection of tuts for all versions of Photoshop, stepping through various tips and tricks. And for a terrific set of little-known but very handy techniques, check out Adobe's Photoshop "Hidden Gems" series with Product Manager Bryan O'Neil Hughes.

[UPDATE – Elements 11 is out! Get free tutorials for the new version.]
We've previously covered 17+ hours of free video tutorials for Creative Suite 5, plus three hours for Lightroom 3 – so here are some brand new training resources for the just-released Adobe Photoshop Elements 10… Most of these tutorials also apply to Photoshop Elements 9, which shares the same interface but just doesn't have as many features.
In these three courses the experts share how to get started, the basics of the software, new features, how to use key tools and functions, plus their favorite tips and techniques. In sum, there is over four hours of free content, with 46 separate chapters.
[ Bonus! Here also are 70 minutes of free tutorials for Premiere Elements 10 for taking care of your video. ]
If you need a copy of Photoshop or Premiere Elements 10 to get going right away, just download the free trial and it will work fully for 30 calendar days, which should be plenty of time to get through the classes.
If you prefer learning in written form, we've got the Adobe Photoshop Elements Guide – a free 95-page e-book you can download as well.
[UPDATE – Also see our new Adobe CC 2020 Giveaway!]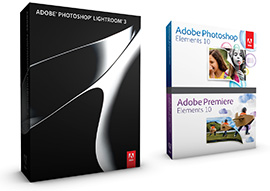 We've given away a lot of products over the past couple years, but haven't yet offered Adobe Lightroom… So here, now, we're giving away Adobe Lightroom 3 (value US$300) with a new camera bag! Second prize is the Photoshop & Premiere Elements 10 Bundle (US$150), and for third place we have an Adobe-branded prize pack with T-shirt, pen, lanyard, and other surprises.
Actually, all three winners will receive one of those prize packs, so much the better. The free copy of Lightroom is graciously sponsored by Adobe, and should do nicely until Lightroom 4 is released. Photoshop and Premiere Elements 10 are brand new, out five weeks ago.
The goal of the contest is to learn from our readers worldwide:
What would you like to see in the next release of your favorite Adobe product?
It could be any one – CS6 (any application), Lightroom 4, Acrobat 11, Photoshop Elements 11, and the rest. What do you hope for, want Adobe to add/do/change, what's on your wishlist?
Just share it in a comment below and/or on Facebook, and you're entered. Please be sure to include the name of the future product you're talking about (for example, "In CS6 I'd like …").
To double your power and effectiveness, then copy and paste the same comment into Adobe's Official Feature Request form to let them know directly. Here's your chance to make your voice heard, and win some nice products doing it.

[UPDATE (Oct. 2018) – Watch 132 hours of new training & tutorials from MAX 2018!]
Just back from Adobe MAX 2011 and it was sensational… The keynote presentations were larger than life and filled with news and demos of new Adobe software and initiatives. The hundreds of diverse product sessions were incredibly educational. The show floor was a buzzing activity of experts, partners, and vendors… And the renowned "MAX Bash" party did not disappoint.
But perhaps the best part for those who weren't there is the majority of the sessions were captured on video and are now offered online for free… In other words, pick your favorite Adobe product(s) and you can learn the latest tips, tricks, and techniques from the top instructors in the field from the comfort of your desktop. There are three major tracks below (Design, Develop, and Envision) with scores of different topics; most sessions are about an hour long and the collection runs to over 160 hours of video in total.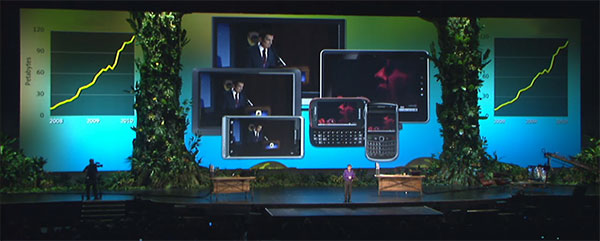 [UPDATE (Oct. 2018) – Watch 132 hours of new training & tutorials from MAX 2018!]
Adobe MAX 2011 – the worldwide user conference – runs this week and if you aren't in Los Angeles, the two major keynotes will be broadcast free, with both live and on-demand streaming… The company is promising lots of big news and announcements, so if you can't join us there in person, you can see it all unfold online.
What's more, over 160 free hours of the best training and tutorial sessions from this year's show will also be available.
Adobe Dreamweaver tweets, "To hear BIG Adobe MAX announcements, register now to listen LIVE to the keynote presentations Monday & Tuesday morning…"
Adobe Creative Suite posts, "The countdown has officially begun for Adobe MAX! Even if you can't make it to the live event, you can still join in on the fun! To hear the BIG announcements we have planned, register now to listen LIVE to the MAX keynotes Monday & Tuesday morning."