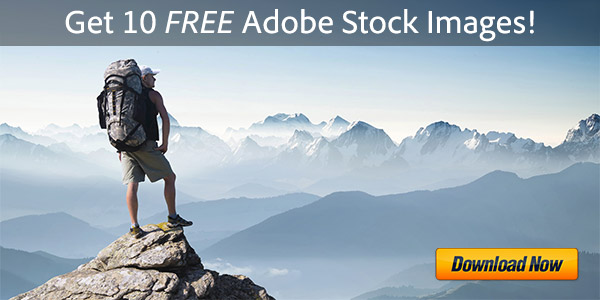 [UPDATE (Sept. 2015) – Elements 14 is here! These books still work for the new version.]
Just out and completely free! Download the new Adobe Photoshop Elements 11 Guide and Premiere Elements 11 Guide ebooks, together containing 22 chapters and 185 pages of visual tutorials and feature how-to's, and both 100% gratis for personal use…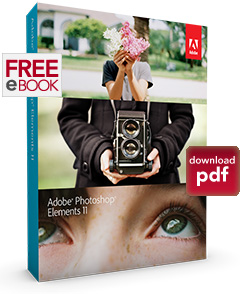 These e-books are great overviews and introductions to the Elements 11 tools, and cover a good deal of helpful material for getting started with the products or picking up more skills and techniques if you're already familiar. Each volume is a collection of techni­cal lessons for learning how to best use the popular programs.
The downloads are 7.5 MB (PSE) and 5.5 MB (PRE) in size, in PDF format (get the free and better Adobe Reader XI, if you haven't done so yet). All you need to do to activate the ebook downloads is sign in with your Adobe ID (which is easy to create if you haven't already got one).
If you don't yet own Elements 11, just download the fully-working trial from Adobe to run it for free for 30 days. Some of the training in the book will be relevant for older versions of Elements as well, although if you need them we've also got older ebooks for Elements 9/10.
[UPDATE – Also see our Winter Creative Cloud 2020 Giveaway!]
Creative Suite 6, Adobe's flagship product line, has been doing very well in recent months… Available standalone for instant download or direct shipping, or as the central focus of their new Creative Cloud offering, there are many important differences in this release compared to Creative Suite 5, including hundreds of new features added to the individual applications.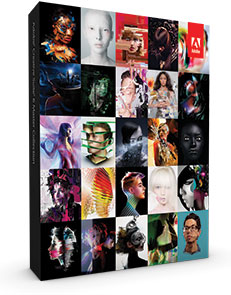 And now we'd like to give away a brand new boxed copy of Adobe's top-of-the-line CS6 suite to our incredible readers who have helped build our site to what it is today… It's the CS6 Master Collection – the biggest of the best Adobe premium suites, containing nearly every amazing application that Adobe makes! It includes Photoshop Extended, Dreamweaver, Acrobat Pro, Illus­trator, InDesign, After Effects, Premiere Pro, and many more – see all the applications it contains.
We've given away a lot of software through the years, but this prize is our largest one ever… And it's not an upgrade or an education version – this is the shrink­wrapped, full commercial English release of CS6. Master Collection currently sells for $2,599 / €2,707 / £2,223 – and collectively the 14+ major programs within are worth US$7,988 if purchased separately.
[UPDATE (May 2020) – These links still work to download the old Acrobat XI trials. We also now have the all-new Acrobat DC 2020 Direct Download Links!]
Adobe Acrobat XI (Acrobat 11) is now shipping! Adobe has really listened to users with this release and incorporated many new features and improvements that will make customers happy. And continuing in our custom of providing the direct download links for major Adobe products such as Creative Cloud, CS6, Captivate 11, and Elements 2020, below you'll find the direct links for the brand new Acrobat XI…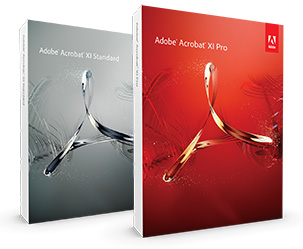 The links given below go to the authentic and secure files residing on Adobe's servers, are guaranteed genuine, safe, legal, and will not change. They are especially useful when you are unable to download these products via other means – perhaps due to issues with the Adobe Download Assistant or the Akamai Download Manager. Here the access is open and you can just use your browser, or anoth­er download manager (DLM) of your choice.
And there's big news – after many years and customer requests, Adobe is officially making a free trial of Acrobat Pro available for Mac OS! For Windows, the Acrobat XI download below is in the form of a single .exe file, and for Mac OS it's a single .dmg file. Read more…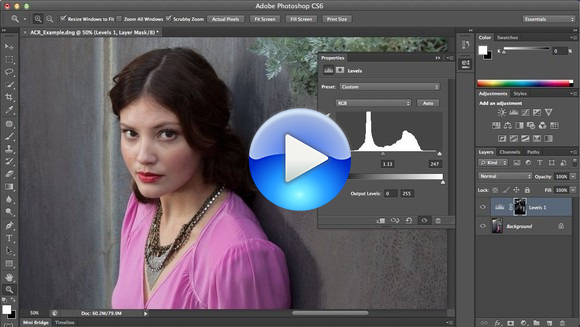 Adobe Evangelist Terry White has a great new training session out to show you how to get started achieving immediate and powerful results using new Photoshop CS6… The 40-minute class covers the basics and steps through how to accomplish the top 10 things that beginners always want to know how to do.
But even seasoned Photoshop users are saying they learned new techniques from the tutorial video below… Here's the overview, plus some user reviews:
[UPDATE (February 2013) – Adobe has just released a free software upgrade and everyone can now get Edge Animate 1.5 (still) for free! (download it here) They've also now made available for all users a free preview version of Edge Reflow, their new responsive-web design tool.]
Perhaps the biggest news from Adobe's Create the Web event earlier this week is how much they're giving away their new mobile-ready web development software… The new Edge Tools & Services collection includes some great products for free download and use, including the final official release of Edge Animate 1.0 – the full and permanent version at no charge (regularly US$499) – for creating interactive and animated web content.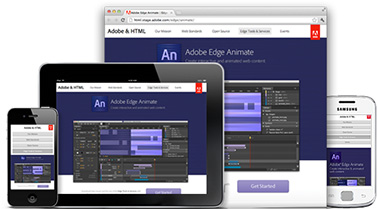 Edge Animate (formerly known as "Adobe Edge" during its long Preview period) is effectively Adobe's "Flash Pro for the HTML5/CSS3 world" – this new application works similarly to how Flash Professional does for creating rich media – but instead of generating Flash, it outputs standards-based HTML that can be viewed in browsers all across the web, on desktops and laptops as well as mobile devices and tablets.

We've previously covered 30 hours of free video tutorials for Adobe's Creative Suite 6, as well as four hours for Lightroom 4 – so here are some helpful (and free) new learning resources for the just-released Elements 11 product line…
Because Elements 11 has an all-new intuitive editing environment with a revamped Organizer plus other new features, the content here doesn't carry well to older versions of Photoshop Elements. However, we do also have a page still available with several hours of free tutorials for PSE 10 & 9 and earlier.
In the brand new course given below, the experts share how to get started with Photoshop Elements 11, the basics of the software, new features, how to use key tools and functions, plus their favorite tips and techniques. In sum, there is nearly 3 hours of free training video, with 33 separate chapters.
Most modern cameras now also take great videos in addition to photos, so Photoshop Elements is well-integrated with Premiere Elements for video editing – and since many people use the tools together, we've also included links for over two hours of free tutorials for learning how to use Premiere Elements 11.
If you need a copy of Photoshop or Premiere Elements 11 to get going right away, just download the free trials and they will work fully for 30 calendar days, which should be plenty of time to get through the classes. Note at the bottom of this page, you'll also find quick demos of the two programs.
[UPDATE (October 2019) – These still work to download the old Elements 11 trials. We also now have the new Elements 2020 Direct Download Links!]
Continuing our custom of providing the direct download links for major Adobe products such as Creative Cloud, CS6, Lightroom 6/CC, and Acrobat DC, below you'll find the direct links from Adobe's servers for the free trials of the all-new releases of Photoshop Elements 11 and Premiere Elements 11, for both Windows and Mac OS.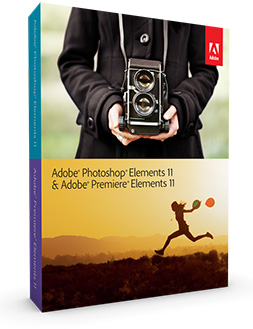 These links go to the authentic and secure files residing on Adobe's servers, are guaranteed genuine, safe, legal, and will not change. They are especially useful when you are unable to download Adobe's free trials via other means – often due to difficulties with the Akamai Download Manager or Adobe Download Assistant…
With the links provided below, you can use your own browser's download capability (without DLM), or another download manager of your choice.
For setting up Elements on Windows (both PSE 11 and PRE 11), each program consists of two downloaded files: an .exe and a 7-Zip file (.7z). The .exe file will only work (and install) once the .7z file is fully downloaded and resides in the same location. For the Mac, it's just a single .dmg file for each program.
[UPDATE – Also see our Winter Creative Cloud 2020 Giveaway!]
Adobe Acrobat X, the world's leading PDF document creation software, has been with us for nearly two years now, and there are questions out there on when the next version Acrobat XI will be released…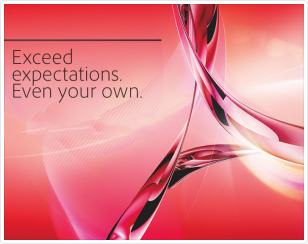 Now, nobody can actually say whether it would be called Acrobat XI or Acrobat 11, but one thing for sure is that the upgrade will be incorporated into the next release of Creative Suite (CS6.5 according to plan) and the new Creative Cloud, as well as sold separately.
It hasn't been announced by Adobe when or what new features would be in an Acrobat XI Pro or Standard, but we do have some educated guesses…
In the meantime while we wait for developments on this front, we're going to give away two copies of Acrobat 11 to two lucky readers here (meaning you!) as soon as it's available… Pricing is not definite but if version 11 costs the same as version 10, then Acrobat XI Pro would sell for US$449 for a full copy – meaning this new giveaway is valued at US$948.
And importantly, by popular request from previous giveaways, this one is open worldwide.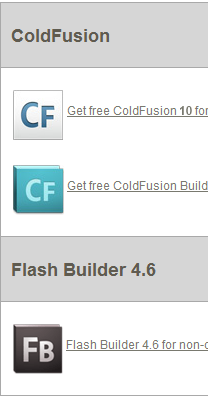 You may have heard of the recent releases of Flash Builder 4.6 (formerly Flex Builder, and part of CS6), plus ColdFusion 10 and ColdFusion Builder 2…
And we've written about this particular offer before, but it bears repeating now that we have these major product refreshes for both Flex and ColdFusion.
Adobe will give you full versions of these premium devel­opment tools (US$249 – $1,499 values) absolutely free world­wide if you qualify! And if you don't, you might know someone who does and could benefit…
Free copies of Adobe Flash Builder 4.6 Standard are given for non-commercial use to: (a) students, faculty and staff of eligible educational institutions, or (b) software devel­opers who are affected by the current economic conditions and currently unemployed.
The ColdFusion products are also available for free to educational customers, to use for learning purposes only and not for production purposes. Complimentary installation support is available, and if you are a teacher and would like ColdFusion 10 for multiple systems in your lab, you can request up to 30 education serial numbers.
[UPDATE – Also see our Winter Creative Cloud 2020 Giveaway!]

Creative Suite 6 has been out since May, for instant download and direct shipping – with many important differences in this release compared to Creative Suite 5, including hundreds of new features added to the individual applications…
And after giving away CS6 Master Collection and CS6 Design & Web Premium this spring, we're now offering a free annual member­ship for the Adobe Creative Cloud – and this giveaway is open worldwide.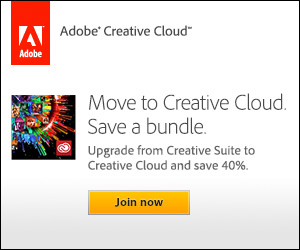 The Creative Cloud includes access to all CS6 applications, as well as Lightroom 4, Adobe Muse, Adobe Edge Preview, plus a collec­tion of great publishing services tied together in a digital hub with 20GB of online space for storing, sharing, and syncing your files. If you're our lucky winner you will receive a one-year membership for the full commercial Creative Cloud for Windows and Mac, in any available language.
This product sells for US$49.99 per month for the annual plan, so the total value of the prize for this drawing is as much as US$600. If you are an existing Creative Suite cus­tomer then the price could be 40% less at $29.99/month for the first year for those who sign up now using Adobe's introductory offer.