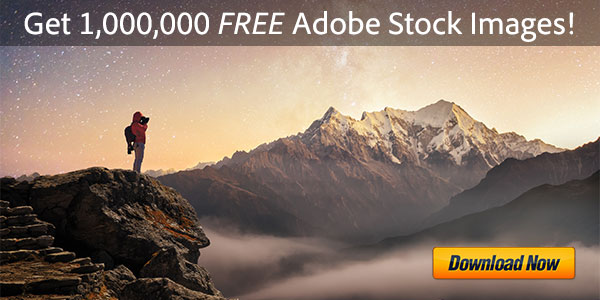 [UPDATE (April 23rd) – Creative Suite 6 is out!]
Similar to how they did before the launch of CS5.5, Adobe has been quietly slipping out a bevy of "sneaks" (now numbering 16 videos including those for Photoshop CS6) for new features that may be in a forthcoming release of the Creative Suite…
"Check out what new technologies, features and innovations the Adobe product teams are working on behind the scenes. Stay tuned to get an early glimpse of what could be next from Adobe."
The latest CS6 products previewed include: Dreamweaver, InDesign (2), Premiere Pro, Audition, Flash Profes­sional, Illustrator (previously), and of course Photoshop.
The drumbeat has been getting louder with plenty of news lately about Creative Suite 6:
So things are starting to get a little exciting.
Here now are some of the significant new preview demos… For the complete set, please see the Adobe Technology Sneaks 2012 page.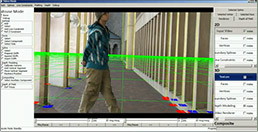 Last week Adobe revealed 11 sneak peek videos of technology they are working on but haven't released yet, and while Photoshop Image Deblurring and InDesign Liquid Layout got much of the attention, there were still some amazing developments in the video realm as well – and all three of those are covered below.
Naturally, Adobe says there are never any guarantees for what may or may not appear in a production release, or when… (maybe CS6?) But nevertheless, major new product features very often appear in these previews before they make the real tools (case in point, Content-Aware Fill).

Even though Creative Suite 5 has been out for over a year, and CS 5.5 since the spring, some components of Creative Suite 4 remain surprisingly popular… In particular, the two applications After Effects CS4 and Premiere Pro CS4, which were released in the fall of 2008, are still sought by many. At first this might seem odd, but there's good reason… Why does this duo of earlier tools remain in demand?
It's no doubt owing to the 64-bit-only requirement for those two products (and only those two products) in Creative Suite 5… Adobe explains the reason for this is because developing in native 64-bit gives the best optimized performance benefits with the demanding technical requirements of working with high definition video. But these won't run on many older computers.
Note this is more of a Windows factor and does not affect the majority of Mac systems using Intel proces­sors… But with no 32-bit Windows versions of After Effects CS5.5 or Premiere Pro CS5.5 offered, perhaps it shouldn't be surprising the CS4 releases continue to be needed. After all, statistics show that 43% of the broad Internet community still runs on Windows XP – making it still the most widely-used Microsoft Windows platform – but which isn't supported for those CS5 apps.
The question then becomes, what to do about it? If you're still on 32-bit or XP, but need one of these products after the free trial has run out, would your best choice be to buy the previous generation version of CS4? Doubtless your next computer will be 64-bit – so wouldn't it be better to invest and get both – CS4 (for current use) and CS5.5 (for future growth) – two for the price of one? Especially since these two latest releases have been getting stellar reviews from many sources…
[UPDATE – See all of Adobe's current deals & discounts!]
Adobe has launched a true barnburner of a deal, a "first" for owners of competitive software and also for owners of many versions of Adobe products who can now buy the latest CS5.5 release of Premiere Pro or the full Production Premium suite (Windows or Mac) for half-off their normal prices with coupon code, and the offer is available all over the world…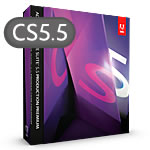 It's officially targeted at video users and producers, but because the suite contains products like Photoshop Extended, Illustrator, Flash Professional, Audition, and Flash Catalyst in addition to Premiere Pro* and After Effects* (see the full list of applications included), many could take advantage at these prices. For example, the normal price of Photoshop CS5 Extended is US$999, but with this special you get that plus an entire suite of 10 other products for US$849 total!
Apple Final Cut Pro and Avid Media Composer customers can receive the 50% savings off the full versions of Premiere Pro CS5.5 or CS5.5 Production Premium – but you must use the promotion code linked here: SWITCH. If you need more convincing, see the Top 10 Reasons to Switch to Premiere Pro CS5.5 (now just $399), or learn why Adobe is offering this sale.
Owners of any of the Adobe tools listed below are also eligible to receive the same price (50% off the full version) on the Production Premium suite, under a parallel offer…
[UPDATE – Download the newer free Premiere Elements 11 book!]
A special gift for our readers: For a limited time, we're offering a download of the Adobe Premiere Elements 9 Guide ebook, with 9 chapters and 78 pages of visual tutorials and feature how-to's, completely free for personal use… And the vast majority of it will apply to the new Premiere Elements 10 as well.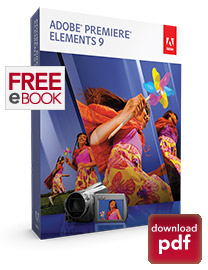 This e-book presents a nice overview and introduction to PRE 9, and covers a range of helpful material for getting started with the product or learning more skills if you're already familiar. You won't find this book anywhere else.
The download is 3.9 MB in size, in PDF format (get the free and better Adobe Reader X, if you haven't already).
If you don't yet own Premiere Elements 9, just download the fully-working trial from Adobe to run it for free for 30 days. Much of the training in the book will be relevant for older and newer versions of PRE as well.
See what's new in Premiere Elements 9 – including easier import, terrific new audio tools, better sharing, and now available for Mac…
If you currently have an older version of the software, you might be interested in a handy chart with the differences between Premiere Elements 9 vs. 8 vs. 7 vs. 4.
Or, if you also like to learn by video training, here's close to an hour of free video tutorials for Premiere Elements.
[UPDATE (April 11th) – Adobe CS5.5 is out!]
We just got confirmation from Adobe that a "mid-cycle release" of Creative Suite 5 will be out later this year, perhaps in the coming months.
The definitive word came from a conference call on Tuesday afternoon with financial analysts, where the Adobe CEO Shantanu Narayen stated:
We will continue to expand our content authoring offerings by providing a mid-cycle release to CS5.
[ Read the full transcript here ]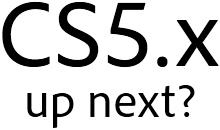 We've known for some time now (see our October piece) that a "dot release" of Creative Suite 5 would be coming and due to incorporate the new version of Acrobat X Pro – similarly to how CS2 and CS3 had mid-cycle upgrades for that exact reason…
But here Adobe has been working quite a bit harder and longer, with no "CS5.3" at the November ship date of Acrobat X… So instead, we have clear indications of a larger upgrade in store – and here's what's going to be in it:

[UPDATE – Elements 11 is out! Get free tutorials for the new version.]
We've previously covered 17 hours of free video tutorials for Creative Suite 5, plus three hours for Lightroom 3 – so here's a chance for Photoshop Elements and Premiere Elements… Below the experts share how to get started, the basics of the programs, new features, plus their favorite tips and techniques. Most of the lessons will work for either version 8 or 7. All together there is five hours of free content, spanning over 50 chapters.
The majority of the videos were produced by Lynda.com, which is another excellent source of online tutorials (some free, some paid), and just released a new app for software training on the iPhone.
If you need a copy of either Elements product for your work, just download a free trial.
Over the next six weeks Adobe is launching a new series of in-depth online seminars to learn the best and get the most out of some top CS5 products, including InDesign, Illustrator, Premiere Pro, and Flash Professional…
The presentations are 90-minute live "deep dives" with Adobe product experts where you can get firsthand detailed information on the new features of these releases, see demonstrations, and get direct answers to your questions. All sessions are from 11:30 AM – 1:00 PM ET on upcoming Tuesdays, and will be presented in English: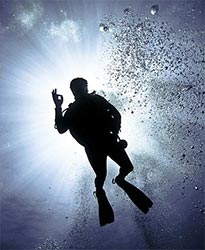 Deep Dive: Adobe Illustrator CS5
Tuesday, July 13, 11:30am – 1:00pm US/Eastern
Complimentary Registration
Deep Dive: Adobe InDesign CS5
Tuesday, July 27, 11:30am – 1:00pm US/Eastern
Complimentary Registration
Deep Dive: Adobe Flash Professional CS5
Tuesday, August 10, 11:30am – 1:00pm US/Eastern
Complimentary Registration
Deep Dive: Adobe Premiere Pro CS5
Tuesday, August 24, 11:30am – 1:00pm US/Eastern
Complimentary Registration

Yes, CS5 is out! It looks like a phenomenal release, and we have full coverage – including new products, pricing, configurations, system reqs, videos, "what's new" feature lists, and more:
ALL CS5 products are immediately available for purchase and instant download, with free shipping on all Adobe orders over €500/£350 in Europe and the U.K. (no coupon or promo code is required)…
On Adobe's site: If you're considering upgrading from your current software, here's a helpful upgrade guide. Also new is an excellent FAQ covering purchasing policies and key product changes… The online documentation for all CS5 products also just went up.
Lastly and importantly, the CS5 free trial downloads and Student and Teacher Editions
(up to 80% off) are also now available!
[UPDATE (May 13th) – Adobe CS5 is now shipping and downloadable in 16 languages: English, French, German, Japanese, Spanish, Portuguese, Italian, Dutch, Danish, Swedish, Norwegian, Finnish, Czech, Polish, Russian, and Korean.]
Categories:
Tools
Adobe, after effects, CS5, dreamweaver, flash, illustrator, indesign, photoshop, premiere, suites, upgrade, videos