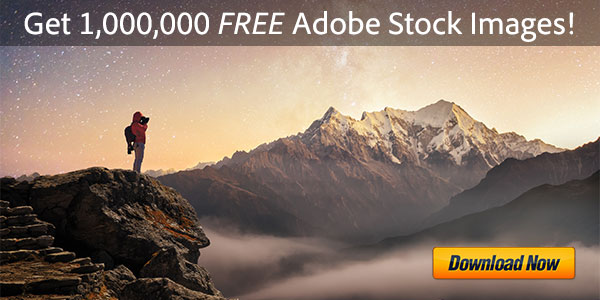 Archive for November, 2011
[UPDATE (October 2012) – Looking for CS6 tutorials? Check out this Photoshop CS6 primer, or 1,000 pages of free CS6 ebooks, or 30 hours of free CS6 videos.]
Adobe Photoshop is a sophisticated tool with a 21-year history and a seemingly-endless array of powerful capabilities. And after spending $549 for the product with discounts (or $199 for students), who wants to pay a lot more to learn how to use it all?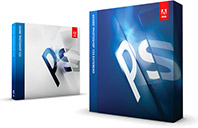 Fortunately there are a number of avenues to get great training and tutorials for free. The first stop is Adobe TV, which has nearly four hours and 37 chapters of 100% free tutorials for Photoshop CS5 alone. There is also a wealth of content for prior versions like Photoshop CS3 and CS4. It's a good place to get started and orient yourself with the major functions, and all of it is gratis.
For learning how to use the best new features added in Photoshop CS5, take a look at our collection of articles with tours of:
We also have a regular page here on the site with a rotating selection of tuts for all versions of Photoshop, stepping through various tips and tricks. And for a terrific set of little-known but very handy techniques, check out Adobe's Photoshop "Hidden Gems" series with Product Manager Bryan O'Neil Hughes.
[UPDATE (May 2013) – CS4 and CS3 users no longer receive upgrade discounts to CS6, but to the new Adobe CC release instead.]
[UPDATE (January 2012) – Adobe has listened to customers and just reversed this change! CS3, CS4, & CS5 are all good for upgrade to CS6 now.]
Earlier this month Adobe made a major change in the Creative Suite upgrade policy that has been in place since CS3 came out in April 2007…
Have you heard about it yet? If not, you might want to read the new upgrade policy for CS6.
Also helpful: see Adobe's planned new business model, a membership-based Creative Cloud.
---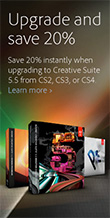 OK, all caught up? Good. So, how will these changes affect you?
First off, for anybody currently running the latest major release, Creative Suite 5 (either 5.0, 5.1, or 5.5), you're fine. You will not be affected by this revision, and will be eligible for the discounted pricing on upgrades when CS6 comes out.
For everyone else, if you're still running older versions – like CS2, CS3, or CS4 – when CS6 releases, you wouldn't qualify for that upgrade price break. And customer reaction on this point has been understandibly unfavorable.
Adobe is trying to mitigate the impact of this change by offering an extra 20% off all CS5.5 upgrades worldwide until the end of the year the extended date of March 15, 2012 (see banner).
But in trying to figure out what this means for everybody, it might be helpful to first take a step back with the Creative Suite release history and expected future schedule… Here's how the big picture looks:
[UPDATE (Nov. 2020) – Check out Adobe's new 2020 Black Friday & Cyber Monday Deals!]
Adobe has got a boatload of money-saving deals lined up for Black Friday 2011 and Cyber Monday this year, and we've got the full scoop… There are more than a dozen great offers on tap in many countries covering all major products – with some of them as low as half price!
With these holiday promotions you can save up to $250 on Photoshop, $100 on Lightroom, 10% on full versions of CS5.5, 30% on CS5.5 upgrades, 50% on Elements, 10% on Acrobat, free shipping, and much more. The specials kick off on Saturday, November 19th, with most running through Tuesday, November 29th.
All the different deals and some of their graphics are detailed below, and are available only for direct purchases. So if you've been waiting for a great sale to make a step – especially with the recent changes in Creative Suite upgrade policy – now could be your time with these deep discounts…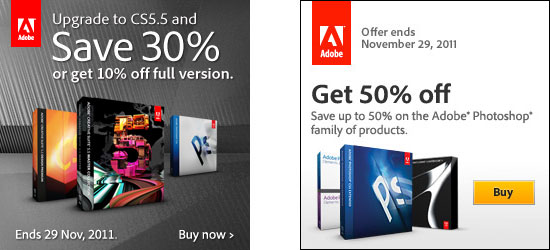 Many people have been making guesses on what's happening now that Flash Player for Mobile will not be further developed. There's a lot of talk and speculation out there, as folks try to figure out what it means… So take two dozen common questions on the subject, and here are the official answers Adobe sent to us: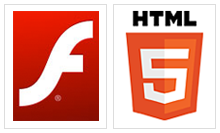 What is it that Adobe is announcing?
Adobe announced plans to increase its efforts on HTML5, and to focus Flash on mobile applications (packaged with AIR) and PC browsing with an emphasis on use cases not yet addressed by HTML5, including premium video and console-quality gaming. Adobe will no longer develop Flash Player for mobile web browsers. See the blog post for more details.
Does this mean that Adobe is no longer supporting content publishers focused on delivering content via a browser on a mobile device?
Adobe offers world-class tools and technologies including HTML5 tools like Adobe Edge that allow content publishers and developers to bring rich content and experiences across mobile web browsers using HTML5.
What does this mean for Flash Player support on desktops?
Adobe is fully committed to providing a great experience for use cases not yet well supported by HTML, including console-quality gaming and premium video. In fact, Flash Player 11 just introduced dozens of new features, including hardware accelerated 3D graphics for console-quality gaming and premium HD video with content protection. We are already working on Flash Player 12 and a new round of exciting features which we expect to again advance what is possible for delivering high definition entertainment experiences.
[UPDATE (January 11th, 2012) – Adobe has listened to customers and just reversed this change! CS3, CS4, & CS5 are all good for upgrade to CS6 now.]
HUGE breaking news out from Adobe, regarding substantial changes in upgrade pricing and policies for their very popular Creative Suite software…

For several years, the company has offered a "three-versions-back" upgrade policy – meaning anyone who owned a prior CS product up to three major versions back would be eligible for discounted upgrade pricing when moving up to the latest release.
Meaning, if you've got CS2, CS3, or CS4 – either a full suite or an individual point product like Photoshop – you can receive price reductions of up to 80% when upgrading to CS5.5.
Adobe now says that will be ending – the policy is going to shift dramatically, worldwide.
Starting in 2012 when CS6 comes out, this will be changing to a "one-version-back" plan – meaning to receive a price break when upgrading to CS6, you need to already be on some flavor of Creative Suite 5 – either CS5 or CS5.5.
So, what does this mean for anybody still running CS2, CS3, or CS4 at that time? Basically, if you want to upgrade later or have been waiting for CS6 to do so, it would cost you full price… To receive a discount from older versions, you'd need to upgrade to CS5 before CS6 ships.
Here it is straight from Adobe's "Conversations" Blog: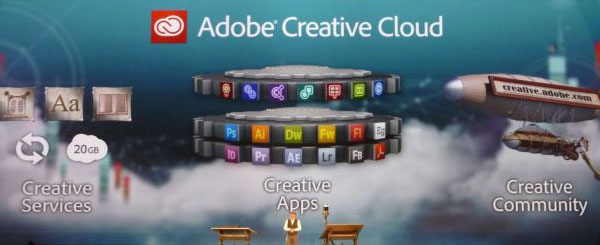 Arguably the biggest announcement to come out of the annual Adobe MAX Conference last month was the unveiling of the Adobe Creative Cloud…
It was the major focus of the first day's keynote address, and then different components of it were covered in greater detail in a number of the later educational sessions.
What Is the Creative Cloud?
Adobe CTO Kevin Lynch describes it as an optional membership-based program formed of three pillars: Creative Services, Creative Community, and Creative Applications.
Knowing how to make a good mask is one of the most important things you can learn to do in Photoshop. With accurate masks you can completely control the placement and movement of all the elements of your image. The techniques shared in these videos will help you get the most out of the new masking capabilities in Photoshop CS5… And when you combine them with the new content-aware fill feature to magically fill backgrounds of moved or deleted objects, well then you've really got something.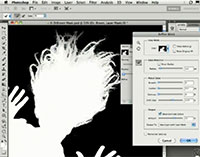 The first video is a two-part playlist, New Masking Basics: Get up-to-speed with the great new masking tools and techniques in Photoshop CS5, to quickly and easily create professional quality masks, including a photograph with challenging hair.
The second video, to the right, also plays in two parts – New Advanced Masking: Learn some of Photoshop guru Russell Brown's favorite methods for masking out the background from a really difficult image.
The third and final video is Advanced Motion Blur Masking and Blending: This tutorial will get you through the toughest motion blur with flying colors… Also learn some advanced blending tips and techniques.

[UPDATE – Elements 11 is out! Get free tutorials for the new version.]
We've previously covered 17+ hours of free video tutorials for Creative Suite 5, plus three hours for Lightroom 3 – so here are some brand new training resources for the just-released Adobe Photoshop Elements 10… Most of these tutorials also apply to Photoshop Elements 9, which shares the same interface but just doesn't have as many features.
In these three courses the experts share how to get started, the basics of the software, new features, how to use key tools and functions, plus their favorite tips and techniques. In sum, there is over four hours of free content, with 46 separate chapters.
[ Bonus! Here also are 70 minutes of free tutorials for Premiere Elements 10 for taking care of your video. ]
If you need a copy of Photoshop or Premiere Elements 10 to get going right away, just download the free trial and it will work fully for 30 calendar days, which should be plenty of time to get through the classes.
If you prefer learning in written form, we've got the Adobe Photoshop Elements Guide – a free 95-page e-book you can download as well.
[UPDATE – Also see our all-new Creative Cloud 2021 Giveaway!]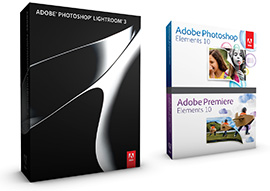 We've given away a lot of products over the past couple years, but haven't yet offered Adobe Lightroom… So here, now, we're giving away Adobe Lightroom 3 (value US$300) with a new camera bag! Second prize is the Photoshop & Premiere Elements 10 Bundle (US$150), and for third place we have an Adobe-branded prize pack with T-shirt, pen, lanyard, and other surprises.
Actually, all three winners will receive one of those prize packs, so much the better. The free copy of Lightroom is graciously sponsored by Adobe, and should do nicely until Lightroom 4 is released. Photoshop and Premiere Elements 10 are brand new, out five weeks ago.
The goal of the contest is to learn from our readers worldwide:
What would you like to see in the next release of your favorite Adobe product?
It could be any one – CS6 (any application), Lightroom 4, Acrobat 11, Photoshop Elements 11, and the rest. What do you hope for, want Adobe to add/do/change, what's on your wishlist?
Just share it in a comment below and/or on Facebook, and you're entered. Please be sure to include the name of the future product you're talking about (for example, "In CS6 I'd like …").
To double your power and effectiveness, then copy and paste the same comment into Adobe's Official Feature Request form to let them know directly. Here's your chance to make your voice heard, and win some nice products doing it.