[UPDATE – Also see our new Holiday Creative Cloud 2024 Giveaway!]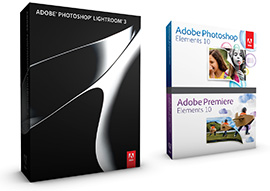 We've given away a lot of products over the past couple years, but haven't yet offered Adobe Lightroom… So here, now, we're giving away Adobe Lightroom 3 (value US$300) with a new camera bag! Second prize is the Photoshop & Premiere Elements 10 Bundle (US$150), and for third place we have an Adobe-branded prize pack with T-shirt, pen, lanyard, and other surprises.
Actually, all three winners will receive one of those prize packs, so much the better. The free copy of Lightroom is graciously sponsored by Adobe, and should do nicely until Lightroom 4 is released. Photoshop and Premiere Elements 10 are brand new, out five weeks ago.
The goal of the contest is to learn from our readers worldwide:
What would you like to see in the next release of your favorite Adobe product?
It could be any one – CS6 (any application), Lightroom 4, Acrobat 11, Photoshop Elements 11, and the rest. What do you hope for, want Adobe to add/do/change, what's on your wishlist?
Just share it in a comment below and/or on Facebook, and you're entered. Please be sure to include the name of the future product you're talking about (for example, "In CS6 I'd like …").
To double your power and effectiveness, then copy and paste the same comment into Adobe's Official Feature Request form to let them know directly. Here's your chance to make your voice heard, and win some nice products doing it.
Then, at the end of the month, we'll choose the three best comments posted to receive these three prize packages. Multiple comments per visitor on different applications are okay, but be reasonable and be sure to share and tell your friends and colleagues who'd like a chance to win and express their feedback as well – it's good karma!
Submissions will be open until 11:59pm EST on Wednesday, November 30th, 2011. The three winners will be contacted via email – and we'll announce the lucky recipients right here in early December. Good luck and please spread the word!
» Download free trials: Lightroom 3 or Elements 10
» Many hours of free tutorials: Lightroom 3 or Photoshop Elements
» "Sneak peeks" from Adobe MAX 2011: Photoshop – InDesign – Premiere Pro
---
Terms & Conditions
Contest is open to residents of North America, Europe, United Kingdom, Australia, New Zealand, and South Africa. Participants whose comments are chosen must respond to email notification within 72 hours. The opinion of our judges is final. By entering, all entrants agree to release prodesigntools.com (the Sponsor), and its employees from all liability and claims relating to participation in the contest. No substitutions or transfer of prize or cash redemptions permitted by winners. Sponsor reserves the right, in its sole discretion, to cancel, suspend or alter the rules and parameters of the sweepstakes. Sponsor also reserves the right to substitute a prize or prizes as Sponsor deems suitable in the event that prize becomes unavailable for any reason.
All federal, state and local taxes, as well as any customs duties, other taxes, fees and/or sur­charges will be the sole responsibility of the prize winners. Winners under the age of 18 (as of winner announcement date) must have their parents' and/or legal guardians' consent to accept prize. By acceptance of prize, the winners agree to release prodesigntools.com from any and all liability claims or actions of any kind whatsoever for damages. Offer void where prohibited, regulated or restricted by law in a manner inconsistent with the purposes and rules hereof.