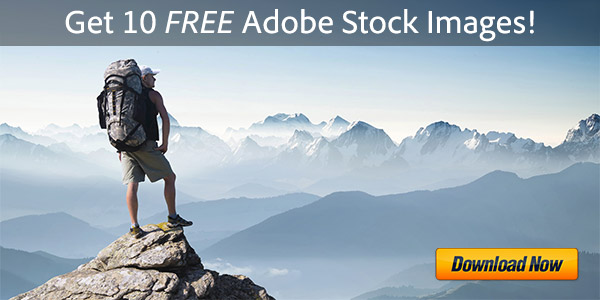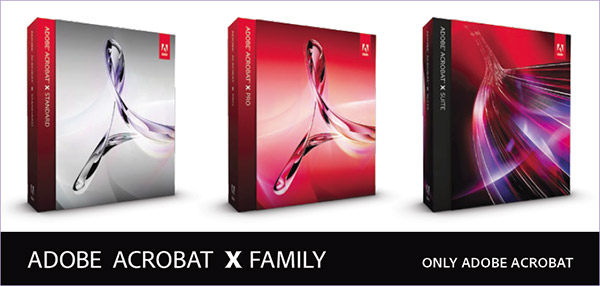 Yes – Adobe Acrobat X has just been announced with all the details… Pretty much on the timeframe we forecast, you can learn about and order any of the three new versions, or download the free trials. For this 10th generation of the PDF industry standard, Adobe is offering two versions – Standard and Pro – plus a brand new Acrobat X Suite Edition that features Acrobat X together with Photoshop, Captivate, and three other Adobe products.
As was announced last spring, the previous "Pro Extended" version which focused largely on 3D had its technologies transferred to two other companies for future development – but some of the other things that Extended did are picked up by the new Suite.
The very first version of Acrobat came out in 1993 and there have been 40 million total Acrobat units sold since then, Adobe's biggest product ever… Over 90% of Internet-connected computers have the Adobe Reader installed, and there are over 160 million PDF files on the Web. So what's new in Acrobat version 10?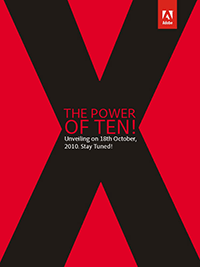 Adobe has just launched Acrobat X (Acrobat 10) and the first thing everybody wants to know is what's been added or improved in the new version… Fortunately we've been following the Acrobat 10 story for a long time, so we have the answers for you…
Adobe went back to fundamentals with Acrobat X and reimplemented much of the interface and functionality to make them better, faster, and smoother. They used their extensive Product Improvement Program with a dataset of hundreds of thousands of users to make things really work like you think they should and want them to, saving you time and helping you complete your work quickly and effectively.
Here are Adobe's overriding goals and themes for this release:
[UPDATE (April 11th) – Adobe CS5.5 is out! See also when CS6 is penciled.]
Last week Adobe held a private briefing for partners under non-disclosure agreement, where they gave "an overview of the upcoming Creative Suite release"… While we can't speak to what transpired within the presentation, the invitation itself is publicly available.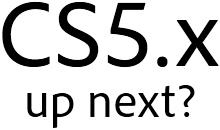 Given that the next release of Adobe Acrobat is due out within a matter of weeks (see why and when, or get a chance to win a free upgrade to Acrobat 10 Pro), and given the two year age of Acrobat 9, it's likely Adobe would be refreshing CS5 with the addition of the new Acrobat X. When Acrobat moved from version 7 to version 8, Adobe subsequently updated the Creative Suite and issued CS2.3 – and then once again when Acrobat revisioned from 8 to 9, Adobe incorporated the new version into CS3.3 in 2008. Acrobat 9 is still what we have today in CS5 – but since it's obviously way too early for CS6, it seems a safe bet we'll be seeing a point release (CS 5.3?) that would incorporate the new Acrobat 10.
But from reading the briefing invitation, it looks like there will be more in store for this next release than "just" integrating the new version Acrobat X Pro. It says, "… an overview of the upcoming CS release with a focus on InDesign and ePublishing…" Adobe has been hard at work on a new Digital Publishing Platform (you may have seen or read about the tablet editions of WIRED or The New Yorker magazines) that ties in with InDesign, and is (over)due to be made available on Adobe Labs. It seems logical that this would also be part of a CS5 point release, as it is a major deal for magazine and print publishers to deliver their content to the iPad, iPhone, Android, and other mobile devices, and has been quite successful thus far… But since the publishing tools haven't yet been released in beta form on the Labs, it could be a while longer before the final version of this new technology is ready for the world at large.
[UPDATE – Also see our new Summer CC 2019 Giveaway!]
With the official launch of Adobe Acrobat 10 (or Acrobat X) looking to be coming soon here!, it's time to also launch our fall contest… And by popular request, this one is open to everyone in all countries of the world. This time we're giving away a free upgrade to the new Acrobat X Pro (worth US$200-$300), and all you need to do for a chance to win the box sent to you is the following steps: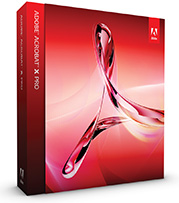 Follow us on Twitter and/or Like us on Facebook – this will allow us to contact you if you win…
Retweet this post by clicking on the green "retweet" button just above, and/or Share this post on Facebook by clicking the blue "Share" button next to that.
Done.
It's open worldwide until 11:59pm EDT on November 15, 2010, at which time we expect Acrobat X will be out (or close to being out)… The winner will be drawn at random from all fans and followers who have shared or retweeted this post (each reader can enter once on each). If you're the winner, we'll ship you the shiny new shrinkwrapped upgrade to Acrobat X Pro (from versions 7, 8, or 9; English) for free! We'll contact you via Twitter or Facebook just to get your address for shipping, and then announce it back here with your first name and hometown. That's all there is to it!
[UPDATE (October 18th) — Right on time, Adobe Acrobat X is out! Download a free trial.]
We first wrote about the next version of Acrobat three months ago, when the current Acrobat 9 celebrated its second birthday. At the time, we highlighted the window for the likely availa­bility of Acrobat 10. Last week on a financial conference call, Adobe's CEO confirmed it is on target for that window when he said, "We are on track to deliver a new version of Acrobat late this quarter." Adobe's current fiscal quarter ends in late November, so we continue to expect the launch date anywhere from mid-October to the end of November.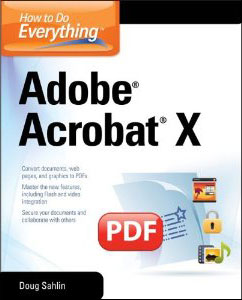 The Prerelease Program for Adobe Reader and Acrobat Pro recently opened as well, which is free and open to the public. So one interesting question remaining is, what will the new product be called, and with which configurations and features? We had previously speculated it might be called "Acrobat X" because of the Roman numeral aspect of 10. Now we may have confirmation of that as well…
A new book entitled, "How to Do Everything with Adobe Acrobat X," was just made available for pre-order at the Amazon websites in the U.K., USA and Canada. This is a continuation of the popular McGraw-Hill series by Doug Sahlin, who has written the same comprehensive book for many earlier versions of Acrobat (9, 8, 7, 6, and 5). So this lends further credence that the "Adobe Acrobat X" name is real.

We've been following the story closely on the upcoming next version of Adobe Acrobat (which could be called Acrobat 10, or possibly Acrobat X), including timing on possible release dates. A few weeks ago we wrote about the new Adobe Reader and Acrobat Prerelease Program that is open for public participation. This morning we received our invitation to join: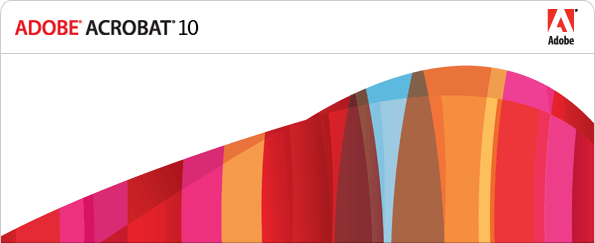 Two months ago we studied the likely release dates for Adobe Acrobat 10 and concluded, "it looks like Acrobat 10 (or Acrobat X) will be shipping sometime between mid-October and late-November this year."
At a financial conference presentation last week, Adobe's Chief Financial Officer Mark Garrett was quoted as saying, "Acrobat 10 ships later this year, the next cycle in the Acrobat product family – which will continue to drive Acrobat growth and penetration going forward."
[UPDATE – Download the newer free Acrobat XI and X books!]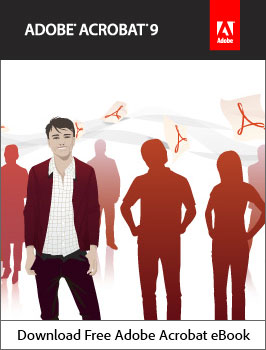 While we're waiting for the release of Adobe Acrobat 10, you can save countless hours in minutes by getting more out of Acrobat 9… Increase your productivity with a free download of 21 Key Ways to Save Time with Acrobat 9, featuring simple, step-by-step tutorials designed for both basic and advanced users. Easily get up to speed in no time with this resource guide featuring one-page, printable "cheat sheets" on creating PDF documents, assembling PDF Portfo­lios, working with forms, Acrobat collaboration, keeping files secure, and more. The easy-to-use instructions introduce you to new ways to save time and simplify complex projects.
The eBook has five categories with step-by-step instructions for performing common tasks effi­ciently. Keep a copy of this PDF portfolio on your computer as a quick resource for learning new techniques. Here's what the collection includes to help you unlock the power of Adobe Acrobat:
Happy second birthday Acrobat 9!
Yes, it's true – two years ago today Adobe officially released Acrobat 9:
Adobe Acrobat 9 Software Now Available

New Version Receives Accolades for PDF Portfolios, Real-time Capabilities and Support for Adobe Flash Technology

SAN JOSE, Calif. — June 25, 2008 — Adobe Systems today announced the immediate availability of Adobe® Acrobat® 9 software, a significant upgrade that transforms the process of creating and sharing electronic documents… [continues]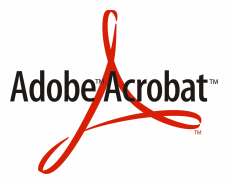 So considering Adobe usually runs on two-year product release schedules, give or take, what does this imply for when Acrobat 10 will be coming out?
In early May, we reported here that "Acrobat 10 is going to launch in the second half of this year" – but now we have more precise information…
This week Adobe's CEO gave a presentation and Q&A to financial analysts in which he talked about CS5, Acrobat, and business in general. He said some great things, and here are the highlights for when Acrobat 10 will be avail­able and its new features:
Read more…
[UPDATE – See all of Adobe's current deals & discounts!]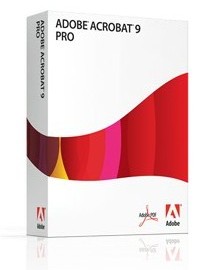 We have a new voucher to save $10/€10/£10 on Acrobat Pro or Acrobat Pro Extended (full or upgrades) with coupon code: prodesigntools. Just enter this promotion code after adding the product to your shopping cart at the Adobe Store for the discount to activate.
This special offer is available in the U.S., Canada, U.K., Australia/NZ, and throughout Western Europe – save $10 in the US and Canada; save €10 in France, Germany, Ireland, Belgium, Netherlands, Luxembourg, Austria, Portugal, Spain, Italy and Finland; save £10 in the UK; save A$10 in Australia; save CHF 10 in Switzerland; save DKK 100 in Denmark; save NOK 100 in Norway; and save SEK 100 in Sweden.
This promo code is valid until July 21, 2010, in Adobe Commercial stores only (not Education or Volume).