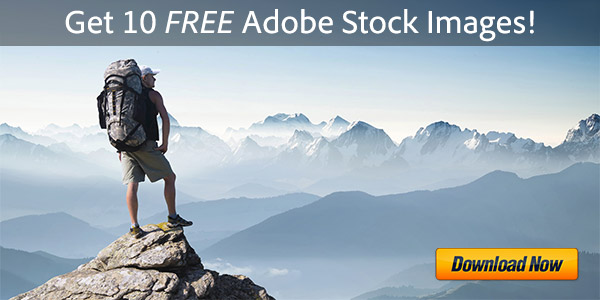 [UPDATE – See all of Adobe's current deals & discounts!]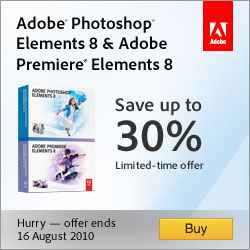 New limited-time offer – discount pricing on award-winning Adobe Photoshop and Premiere Elements 8 software… Make summer photos look extraordinary! Adobe's Elements 8 products make it easy to edit, enhance and share photos and video clips. Create amazing images and incredible movies, and use them together in cinematic slide shows and more.
The deal is available in many countries and varies a little depending on location. In North America, it's save $50 on Photoshop and Premiere Elements together, or $30 on either product alone. In Europe and the U.K., it's save 30% on the full bundle, or 15% on the single products or upgrades. No coupon or voucher code is needed to take advantage of this promotion, just click through.

[UPDATE (Sept. 21st) — Right on time, Elements 9 is now shipping!]
[UPDATE (9/20/2011) — Photoshop Elements 10 has been released.]
With our post last week for five hours of free tutorials for Elements 7 and 8, it begged the question – when will Adobe Photoshop Elements 9 and Premiere Elements 9 be available?
Adobe historically ships a new version of Elements every year, in the fall – but when exactly? Let's do some digging and find the release schedules for recent versions:
Version
Announce Date
Ship Date
Based On
Platforms

*

Our estimate
Elements 6
Sept. 24, 2007
Sept. 24, 2007
CS3
Windows, Mac
Elements 7
Aug. 26, 2008
Oct. 6, 2008
CS3/CS4
Windows
Elements 8
Sept. 23, 2009
Sept. 23, 2009
CS4
Windows, Mac
Elements 9
Sept. 22, 2010

*

Sept. 22, 2010

*

CS5
Windows, Mac

*

[UPDATE – Elements 11 is out! Get free tutorials for the new version.]
We've previously covered 17 hours of free video tutorials for Creative Suite 5, plus three hours for Lightroom 3 – so here's a chance for Photoshop Elements and Premiere Elements… Below the experts share how to get started, the basics of the programs, new features, plus their favorite tips and techniques. Most of the lessons will work for either version 8 or 7. All together there is five hours of free content, spanning over 50 chapters.
The majority of the videos were produced by Lynda.com, which is another excellent source of online tutorials (some free, some paid), and just released a new app for software training on the iPhone.
If you need a copy of either Elements product for your work, just download a free trial.

[UPDATE – These still work to download the old Elements 8 and Lightroom 3 trials. We also now have the new Elements 2018 Direct Download Links, and the same for Lightroom 6/CC!]
We're seeing some folks reporting problems trying to download the new Lightroom 3 using the Akamai Download Manager, which is enabled by default at Adobe.com… There are several posts on the user forums (like here), as well as incoming visitor search queries here like "download link for lightroom 3 without akamai," "adobe lightroom 3 direct download link," and "how to download lightroom 3 from adobe without the download manager."
So to complement our earlier set of direct links for Adobe CS5.5, below are the direct down­load links for Photoshop Lightroom 3 – they are very straightforward, just one single file for each platform that covers all languages (with both 32-bit and 64-bit versions contained inside for Windows)… Languages offered below include English, French/Français, German/Deutsch, Dutch/Nederlands, Italian/Italiano, Portuguese/Português, and Spanish/Español.
Because we've also had requests for links for the Elements product line (Photoshop Elements 8 and Premiere Elements 8), you'll find those further down as well – including the extra con­tent files for Premiere Elements. All of these links go to the auth­entic and original files residing on Adobe's servers, are guaranteed genuine and will not change.
[UPDATE – See all of Adobe's current deals & discounts!]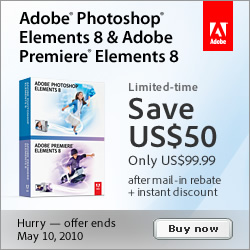 Photoshop and Premiere Elements 8 are the top consumer photo- and video-editing products on the planet*, and this is one of the best deals we've ever seen on the bundle package, which has received great reviews. You get $50 off for the pair, with a combination of instant savings ($20) plus mail-in rebate ($30) – yielding a one-third price cut and a net cost of just $99.99, plus you can download them instantly.
If you want Photoshop Elements by itself, the total savings is $30 instead. The offers are valid until May 10, 2010 for purchases made through the Adobe Store, and the only bad news is these discounts are available in U.S. and Canada only.
See our earlier quick take on Elements 8. Or if you like you can try them out for free first.
(* Source: The NPD Group/Retail Tracking Service based on units sold, 2002 to 2010.)
[UPDATE – See all of Adobe's current deals & discounts!]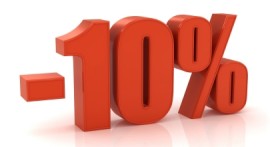 Adobe has a new voucher code: Use adobe10 to save 10% on all products in the Commercial Store in Europe, from now until March 17th 10th… (Update – Adobe has just notified us this offer was so overly successful that they had to expire it early – our apologies!) The code should be entered at time of checkout to receive the discount in the United Kingdom, Germany, France, and elsewhere in the EU.
Another new offer, valid worldwide, is save $20 (£13/€17) instantly when you purchase Photoshop Elements with Acrobat. This discount is in addition to the existing $20 Mail-in Rebate for Photoshop Elements products. See our quick take on Elements 8 here.

Lastly, Adobe has extended the deal for purchasing multiple copies of Adobe Acrobat – buy four, get one free – until April 23, 2010. So that translates into savings of up to US$449 when you sign up for the easy new online Volume Licensing Program with Adobe Acrobat software. Note that Adobe has just rechristened their volume licensing store to be called the Adobe Business Store, and this offer also works in both North America and Europe.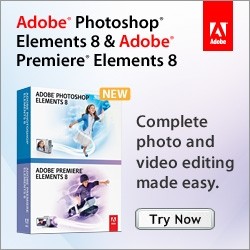 "SAN JOSE, Calif.–Adobe Systems today announced Adobe® Photoshop® Elements 8 and Adobe Premiere® Elements 8, the highly anticipated new versions of the No. 1 selling consumer photo- and video-editing software. Available as standalone products or as a single retail package, the bundle offers the most complete photo and video solution by seamlessly integrating two powerful, yet easy-to-use, products. With this landmark release, Adobe has … [continues]"
OK, we've had a look inside these new products and there are a lot of cool new features, much inherited from their big brothers Photoshop and Premiere Pro CS4. In addition to many new automated options and smart editing tools for saving time and effort on your photos and videos, there is also much improved media management, tagging, and integration. Yet the Elements versions remain significantly easier to learn and use (not to mention less expensive) than their CS4 brethren…
So what exactly is in there, and what exactly is new? Fortunately Adobe has put together a great feature comparison page giving all the details.
Other points of note: In contrast to version 7, Adobe is issuing a brand new and fully-featured version for the Mac with Photoshop Elements 8. And PC World magazine just published a product review where they gave Elements 8 a Superior rating with a score of 94 out of 100.
Best of all: Both versions are available immediately for full download with 30-day free trials… And right now there's a $30 rebate.