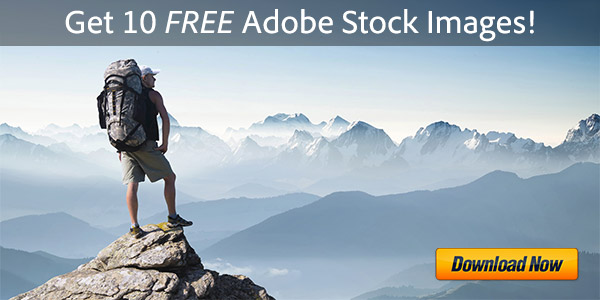 Adobe this week launched a new initiative to bring some of their best and most favorite font faces to wide use for textual content on virtually any website. The new Adobe Web Fonts offering is designed to work seamlessly with the browser and computer of any site visitor, and thus allows website developers to move past the limitations of the narrow set of web-safe fonts we have been using since the web began. Some of the over 120 200 typefaces being made available are Myriad, Minion, Trajan, Chaparral, Text Pro, Cooper Black, News Gothic, Adobe Garamond, and Bickham Script.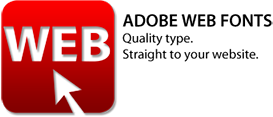 Previously, the only consistently certain way to display these font faces in portable fashion on websites was via static images. For standard textual content, website developers needed to stick to a small set of browser-safe fonts guar­anteed to be available on all platforms (both Windows and Mac systems) – like Arial, Times, and Verdana. But now you can display your website text in your choice of many fonts and have it look great while being usable, flexible, searchable, editable, and indexable. This really is going to change web design.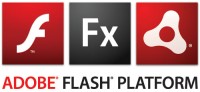 Adobe announced their second quarter financial results yesterday and during the accompany­ing conference call, Adobe CEO Shantanu Narayen spoke about their Flash technology and how it's doing given the recent contro­versy with Apple. The call transcript quotes Narayen as saying:
Enabling our customers to deliver engaging experiences across multiple devices remains a focus of the company. Today we announced availability of Flash Player 10.1 for mobile devices, which delivers on the promise of enabling access to the full web across desktops and devices. We expect millions of devices to ship with 10.1 in the second half of 2010.

Flash is strategic for Adobe because it delivers great value to our customers. Approxi­mately 3.5 million Flash designers and developers are working with Flash-based solutions today, and their ranks grew by 59 percent in 2009. The new release of Flash Player creates a whole new sandbox for these millions of designers and developers to create next-generation content, advertising, games, applications and experiences.

We've already seen that those who have been using the new Flash Player on Android phones love it; and as devices start to ship with Flash during the rest of the year, those that don't have Flash on their smartphones will wish they did.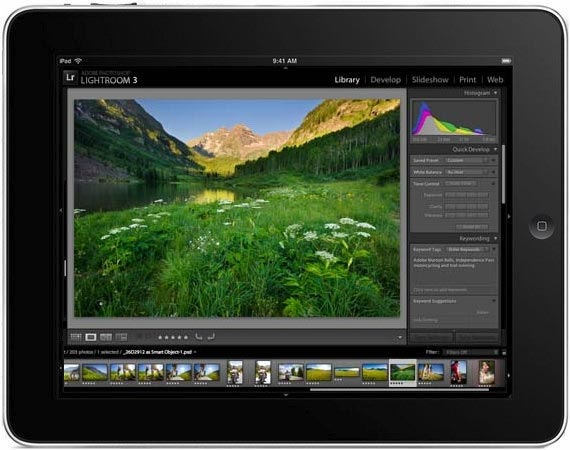 [UPDATE (May 2013) – The release of a Lightroom iPad app came much closer to reality today!]
[UPDATE (April 2014) – The new Lightroom Mobile app for iPad is out today!]
The buzz is building that Adobe is hard at work on a new version of Lightroom custom-built for Apple's iPad… In his blog review of the iPad Camera Connection Kit in late April, Adobe's Terry White dropped the following hint:
I know what you're thinking: Wouldn't it be cool if we had Lightroom for the iPad? All I can say on that one is…… 😉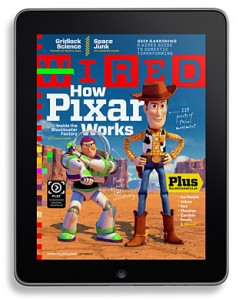 Back at the TED Conference in February, Adobe unveiled a prototype of a new digital magazine solution running on a tablet computer… The demo was built on the cross-platform (and Flash-based) Adobe AIR environment and illustrated the possibilities for magazine publishers to reach readers in new ways. The concept enabled — in digital form — the immersive content experience maga­zines are known for, and allowed new interactive features to stimulate reader engagement. The idea was that with the upcoming release of Creative Suite 5, publishers could use the new InDesign CS5 to create the rich media content for the new format, and then run the reader applications across a variety of device types because Adobe AIR is portable – including the iPhone and iPad through the new Packager for iPhone capa­bility included in Flash Professional CS5…
But then in early April, just before CS5 was launched, Apple made some changes to their SDK license restricting the technologies that developers can use for their products, including Adobe Flash software… So without Flash-derived apps being approved in Apple's App Store, would that mean the end of Adobe's new magazine publishing initiative on Apple devices?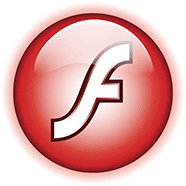 At a west coast investor conference Monday, Adobe Chief Financial Officer Mark Garrett said he doesn't see an impact to Creative Suite 5 adoption from the recent moves by Apple to restrict Flash development for the iPad and iPhone. And Adobe Investor Relations VP Mike Saviage asserted that HTML5 is still in its formative stages but Adobe will lead the pack for tools when it's ready.
Highlights from the 25-minute presentation are transcribed and excerpted here:
I'm sure you read the papers – there's a lot of press around Flash, but there's actually also a lot of momentum with Flash as well, moving from PC to non-PC devices. We've announced that Flash Player 10.1, which is shipping soon, will be supported by 19 out of the top 20 smartphone manufacturers, so we're going to be on virtually every smart­phone out there. We're very excited about Flash 10.1 and think it's going to be a great, compelling experience for customers and a big product launch here for Adobe.

There are roughly 1.3 billion devices in the world that already have Flash in some form on mobile handsets. We think there's 3.5 million Flash designers and developers in the world, a number that grew 59% last year over 2008. You're going to see Flash 10.1 first on Android devices, but we're working closely with companies like RIM for BlackBerry, Palm/HP, and others to bring that same capability to their devices.

Obviously the bar has been set by Apple with their devices, and everybody's racing to either hit that bar or to exceed it – and every one of them is using Adobe as a differen­tiation because of the prevalence of Flash in the world and how people use it to create rich, engaging experiences – video being only one aspect of why Flash is used in the world. We're on track to ship 10.1 imminently – you'll see it at Google I/O, and in the second half of this year you're going to start to see a lot of devices shipping with the code we're going to deliver to handset manufacturers in the coming weeks.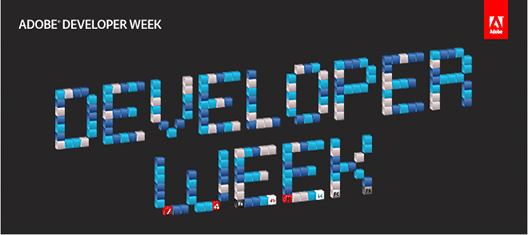 [UPDATE (May 17th) – All sessions were recorded & are now available for on-demand viewing.]
Adobe Developer Week 2010 begins today worldwide and will showcase Adobe end-to-end web devel­opment tool suites and solutions. This is your opportunity to learn about the Adobe Flash Platform, including Flash Professional CS5, Flex, Flash Builder, Flash Catalyst CS5, AIR, and other Adobe technologies for free, directly from Adobe evangelists and product managers. Speakers include Ben Forta, Ryan Stewart, and many others.
These technology experts will present live, online webinars and demos, with the oppor­tunity to ask questions during interactive Q&A sessions. There are twenty hour-long present­ations throughout the week and you can sign up for as many as you like, and you may be eligible to win cool prizes such as Flash Builder 4 and CS5 Web Premium.
Here's a preview of some of the topics to be covered this week:
Introduction to the Adobe Flash Platform
What's New in Adobe Flash Builder 4
Building Multi-Screen Applications with the Adobe Flash Platform
Adobe Flash Catalyst CS5 for Developers
New Features in Adobe Flash Player 10.1
Building Mobile Applications with Flash Pro CS5: Create a Game
Adobe ColdFusion 9 and Adobe Flash Catalyst CS5
Creating Sexy Applications with Flash: Designer-Developer Workflow
Flash Builder 4 for Dreamweaver CS5 Users
Building Desktop Applications with Adobe AIR 2.0
Advanced Features in Adobe Flex
Visit the Adobe Developer Week site for more details and to enroll for free.
As you may have heard, Creative Suite 5 was released on Friday, and the stories are starting to roll in… Here's one – it's amazing what one committed fan would do to be first in line when it hit the stores! The devotion, the dedication… plus Bryan O'Neil Hughes of Content-Aware Fill fame even shows up:
Good thing for the rest of us we have instant download!
While we're waiting for Creative Suite 5 to ship (any day now so take advantage of the grace period if you can), here's a pithy interview with Adobe CEO Shantanu Narayen talking about the product line on the day of its launch. Entitled "Suite" News from Adobe, Narayen discusses CS5 upgrades, content creation, Flash, mobile devices, Apple, Steve Jobs, Android, Omniture, cloud computing, and new online services:
Also wanted to mention there's just one day left in our Free Photoshop CS5 Giveaway…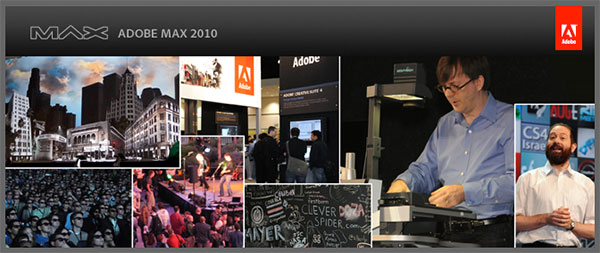 Adobe MAX 2010
October 23–27, 2010
Los Angeles Convention Center and
Nokia Theatre L.A. LIVE
Los Angeles, California
At Adobe MAX 2010, you'll discover the next wave of opportunities fueled by the explosion of rich content and applications across multiple screens (from smart phones to tablets to PCs to TVs), the merging of digital content and commerce, and workflows that bring design and development together. MAX is an experience unlike any other – for five unforgettable days, MAX 2010 will bring together thousands of designers, developers, and decision-makers to set the course for the next generation of digital experiences.
[UPDATE – Adobe has stepped up their hiring lately, with hundreds of openings in the USA and internationally – see their current job listings…]
It looks like Adobe is hiring:
Work for Adobe building Great Experiences out of California!

MARCH 5, 2010

As we build out our capability to deliver innovative, customer-centric experiences with our platform technologies upon our enterprise technologies, we're creating a Solution Center in our San Jose office. The solution center is a fantastic innovation-space, where a team of designers, developers and quality engineers will work together to create incredible experiences alongside Adobe partners, on behalf of some of our most strategic customers.

If you're a developer, designer or quality engineer who thinks you could be a pivotal part of this initiative, then please check out Peter Martin's blog post and drop him a note.
Have you heard of other tech companies hiring right now? Feel free to let other readers know with a comment below.
Or search 50,000 current job openings requiring Adobe skills.