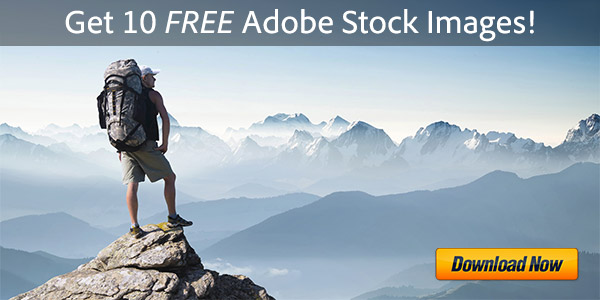 [UPDATE (Jan. 2017) – Adobe just stopped selling CS6 entirely – here's why.]
Yes – Adobe CS6 has just been announced with all the details… Pretty much on the time­frame we forecast, you can learn about and order any of the new products or suite editions, or even download the free CS6 trials. An on-demand video of the global Creative Suite 6 Launch Event is also now available. Adobe calls this "a huge release, our best ever," so let's take a closer look…
CS6 arrives one year following CS5.5 and two years after CS5. Photoshop and Illustrator did not get CS5.5 versions, so both of these tools have received very significant upgrades for CS6. But all the individual applications, including InDesign, Dreamweaver and the video tools, are receiving additional features, enhanced functionality, updated technologies, and/or solid performance boosts with Creative Suite 6. There are also two new products: Prelude CS6 and SpeedGrade CS6; plus the Design Premium and Web Premium suites have been combined into one (see how these fit into the Product Matrix).
[UPDATE (April 23rd) – Creative Suite 6 is out!]
Similar to how they did before the launch of CS5.5, Adobe has been quietly slipping out a bevy of "sneaks" (now numbering 16 videos including those for Photoshop CS6) for new features that may be in a forthcoming release of the Creative Suite…
"Check out what new technologies, features and innovations the Adobe product teams are working on behind the scenes. Stay tuned to get an early glimpse of what could be next from Adobe."
The latest CS6 products previewed include: Dreamweaver, InDesign (2), Premiere Pro, Audition, Flash Profes­sional, Illustrator (previously), and of course Photoshop.
The drumbeat has been getting louder with plenty of news lately about Creative Suite 6:
So things are starting to get a little exciting.
Here now are some of the significant new preview demos… For the complete set, please see the Adobe Technology Sneaks 2012 page.
[UPDATE (May 7th) – Here it is, Creative Suite 6 is out!]
On a publicly-available conference call this week, Adobe's CEO shared some new details on the timing and features of an upcoming CS6 release… It was the most information given to date on the question, and it confirms the expectations from our recent forecast.
Adobe CEO Shantanu Narayen

In our Digital Media business, recent research shows our customers are excited about our upcoming launch of Creative Suite and the Creative Cloud. Among creative professional customers and students, we found that over 40% of those surveyed are waiting for the new release to upgrade.

Our upcoming Creative Suite release will include major updates to all of the core CS products, including Photoshop, Premiere Pro, After Effects, InDesign, Illustrator and Dreamweaver. We have created significant anticipation for the release through a series of "sneak peeks" of great new features. One sneak video featured a break­through Photoshop innovation called Content-Aware Move, which has driven more than a million online views.

The upcoming CS release will also advance our HTML5 and mobile content creation and app development offerings, where we see strong interest to help our customers deal with the complexity they face. All of this is on track for delivery late in Q2.
[UPDATE (May 7th) – Here it is, Creative Suite 6 has been released!]
Late last week we received these two inquiries via our Contact page:
"Could you please provide a proposed release date for CS6 Design Premium software? I can't see anywhere on your site where this is mentioned except for the U-turn regarding upgrade policy from earlier versions."
"I have a budget meeting tomorrow and need to know the approximate release date and projected cost of the CS5 to CS6 Master Collection Suite upgrade."
---
So, this is something people really want to know now. And we have written about it before, giving clues in posts here as far back as March and July of last year…
But it's clearly time for an update.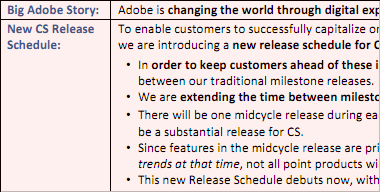 Even today, we wish we could give you exact dates and numbers for those questions, but Adobe hasn't publicly disclosed that information – and likely won't until CS6 is launched… However, we can make a best estimate of the possible timing for the Creative Suite 6 release window.
On Adobe's site now there is a document referencing the new CS Release Schedule. Here are a few of the key elements contained within this Message Summary:
[UPDATE (May 2012) – Creative Suite 6 is out! So see our forecast for the next release.]
Adobe has publicly confirmed what they've been hinting for a while now: a new annual release schedule for the Creative Suite – with milestone releases in even years, and mid-cycle releases in odd years. The shift comes as the technology world turns faster from the previous cycles of 18-24 months historically.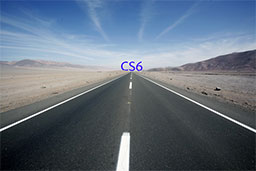 Adobe didn't actually say what future CS versions would be named or called – but for the sake of simplicity, let's presume they continue with the established trend…
This means after CS5 in 2010, and CS5.5 in 2011, we could reasonably expect CS6 to be coming out in 2012, CS6.5 in 2013, CS7 in 2014, and so on.
They also gave guidance on "when" during each year, the expected timing for the launches… What's more (and importantly), Adobe Photoshop will be getting a significant upgrade in CS6, after relatively minor updates for CS5.5.
Read on below for the specific details from the recent conference call and subsequent question and answer session… Or just read the full transcript.
[UPDATE (May 2012) – The all-new Creative Suite 6 is now shipping!]
Three weeks after its official introduction, Adobe this morning has released Creative Suite 5.5, with major upgrades for mobile, publishing, HTML5, video, audio, and Flash. The CS5.5 configurations are similar to CS5 and the product prices are the same. The new software is available immediately for Windows and Mac via full purchase or discounted upgrade (from as far back as CS2), with delivery via boxed shipment or instant download.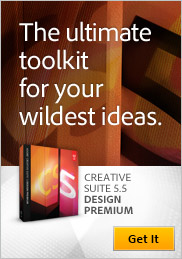 Adobe has simultaneously made CS5.5 free trials available for download (with the new Adobe Download Assistant app). These trials are fully-functional for 30 days and work side-by-side with any previous version(s) of the Creative Suite, including CS5. If you decide not to buy CS5.5 when the trial period is up, you can just uninstall it and your older software will continue to run – while buyers can easily convert their trial to permanent use without reinstalling the software. For upgrades, you can install a trial and then buy an upgrade to convert your trial into a purchased version. (For more informa­tion, refer to the complete Trial FAQ.)
If you have any difficulty with that process, you can instead use the direct download links to get the Adobe CS5.5 trials without the Download Assistant.
The CS5.5 Student & Teacher Editions are also now shipping. These offer up to 80% off the regular prices for education customers including students, teachers, and academic staff. Just be sure you know the key differences between Adobe's academic versions vs. regular.
[UPDATE (May 2012) – The all-new Creative Suite 6 is now shipping!]
Yes – Adobe CS5.5 has just been announced with all the details… Pretty much on the time­frame we forecast, you can learn about and order any of the new products or suite editions, or download a free CS5.5 trial. And while the version and software have changed, the boxes look much the same as before.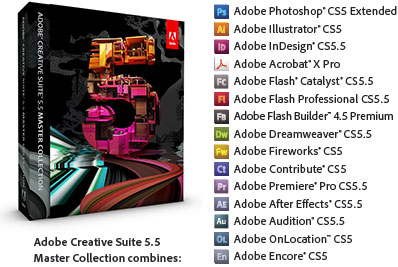 For this "mid-cycle release" coming one year after CS5 first arrived, Adobe is offer­ing similar configurations and prices, but with most of the individual products receiving additional features, enhanced functionality, updated technol­ogies, or nice performance boosts.
Overall we present some highlights here, but see our two companion "what's new" articles for: (1) an overview of the key differences between CS5 and CS5.5, including what's been added and what's been taken away, and (2) a detailed product-by-product review of the significant new features and enhancements in CS5.5.
Adobe has just unveiled Creative Suite 5.5 – and one of the upgrade questions people are asking is what's new, what's different, what's changed in CS5.5 as compared to previous version(s)? So our job here is to give you a quick "cheat sheet," or guide to the updates. Adobe calls it "the most compelling release yet" and these kinds of answers can help decide about upgrading…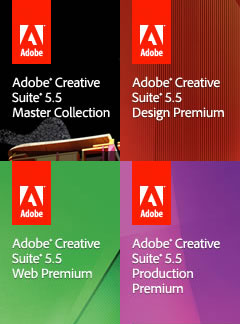 You may be wondering, why a Creative Suite 5.5? What happened to CS6? See what Adobe's CEO says about it, or read our launch overview… You might also be interested to know that a CS6 release won't be out until a long time from now.
CS5.5 updates most of the individual products, but not all… The 11 upgraded applications are: InDesign, Dreamweaver, Premiere Pro, After Effects, Flash Pro, Flash Catalyst, Flash Builder, Audition, Acrobat X Pro, Media Encoder, and Device Central. Learn more about the new features added to these applications in detail, with our special coverage.
The CS5 tools not revisioned to CS5.5 are Photoshop (Extended), Illustrator, Fireworks, and Contribute.
While Photoshop officially remains at CS5, there is a new Photoshop Touch SDK (Software Development Kit) that allows developers to create companion apps for desktop and mobile use… Read about 3 of the coming tablet apps, or find out more and see a demo of the new Photoshop functions running on the Apple iPad and Motorola Xoom.
Adobe today has launched Creative Suite 5.5 and we just took a high-level look at how CS5.5 is different from CS5 – and so now here we'll step through the significant new features at an individual product level, product-by-product…
The upgraded applications and their key new functionalities are detailed below. If you're coming from further back and would like to know the differences between older versions – like an upgrade from Adobe CS4 to CS5.5, or from CS3 to CS5.5 – the last section will also help.
Major Changes to the Creative Suite Products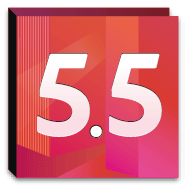 Similar to how they did before the launch of CS5, Adobe has been quietly slipping out a bevy of "sneaks" (now numbering 16 videos) for new features that may be in a forthcoming release of the Creative Suite…
"Check out what new technologies, features and innovations the Adobe product teams are working on behind the scenes. Stay tuned to get an early glimpse of what could be next from Adobe."
The products covered include: InDesign, Dreamweaver, After Effects, Premiere Pro, Audition, Adobe Story, Media Encoder, Flex, Flash Pro, Flash Builder and Flash Catalyst.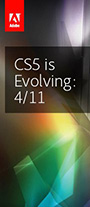 Given the recent news of a "mid-cycle release to CS5" (e.g., CS5.5), and a forecast for when CS6 could be out, one question might be in which future version might we see these new capabilities?
Well, Adobe tips their hand once again – because at the end of a couple of these videos they flash the graphic, "CS5 is Evolving: April 11th, 2011″……
Which says to us, you might expect some of these features soon, in fact you might expect more about them next week!
The company has scheduled a special session with Creative Suite Evangelists on Monday, and is tweeting: "CS5 is getting even better. Stay tuned to #Adobe.com on 4/11, and join this Q&A"