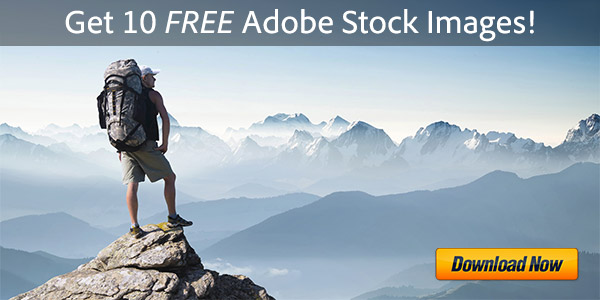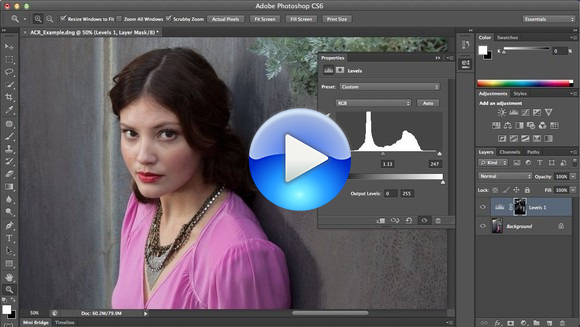 Adobe Evangelist Terry White has a great new training session out to show you how to get started achieving immediate and powerful results using new Photoshop CS6… The 40-minute class covers the basics and steps through how to accomplish the top 10 things that beginners always want to know how to do.
But even seasoned Photoshop users are saying they learned new techniques from the tutorial video below… Here's the overview, plus some user reviews:

We've previously covered 30 hours of free video tutorials for Adobe's Creative Suite 6, as well as four hours for Lightroom 4 – so here are some helpful (and free) new learning resources for the just-released Elements 11 product line…
Because Elements 11 has an all-new intuitive editing environment with a revamped Organizer plus other new features, the content here doesn't carry well to older versions of Photoshop Elements. However, we do also have a page still available with several hours of free tutorials for PSE 10 & 9 and earlier.
In the brand new course given below, the experts share how to get started with Photoshop Elements 11, the basics of the software, new features, how to use key tools and functions, plus their favorite tips and techniques. In sum, there is nearly 3 hours of free training video, with 33 separate chapters.
Most modern cameras now also take great videos in addition to photos, so Photoshop Elements is well-integrated with Premiere Elements for video editing – and since many people use the tools together, we've also included links for over two hours of free tutorials for learning how to use Premiere Elements 11.
If you need a copy of Photoshop or Premiere Elements 11 to get going right away, just download the free trials and they will work fully for 30 calendar days, which should be plenty of time to get through the classes. Note at the bottom of this page, you'll also find quick demos of the two programs.

Adobe's first-ever 'Creative Week' kicked off today in the UK, with 18 hours of free program­ming available either live or on-demand anytime…
The latest trends, the hottest issues, the coolest technology! Join us for lively interactive debates, informative presentations, creative challenges, and exclusive demonstrations broadcast live online over 5 days from our London studio. We'll be covering every aspect of the creative industry with the help of creative luminaries, industry experts, Adobe evangelists and many members of the creative community.
[UPDATE (June 2013) – Lightroom 5 is now out! Check out over 3 hours of free LR5 training that takes you in-depth with the new features, workflows, and improvements.]
Adobe Lightroom 4 is only days old, yet it's quickly getting rave reviews across the net…
PC Magazine gives it 4½ stars and their Editors' Choice Award for photo workflow software, writing: "For anyone who's serious about digital photography, Adobe Photoshop Lightroom 4 is now a more essential tool than ever – this is the app you need."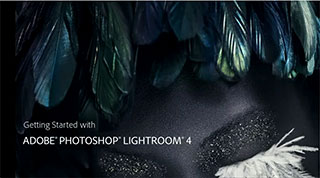 Digital Photography Review also has great things to say: "Lightroom 4 is a substantial upgrade … offers an impressive list of features … on image quality, the Lightroom team has kept its eye on the prize … consistently getting pleasing results in fewer steps … works impres­sively well on a range of images … you can get superior results compared to previous versions … video users will also be pleased … welcome surprise price drop … compel­ling reasons to upgrade."
And there is already a wealth of free learning resources available… Here are some good ones:
If you'd like to learn how to use Adobe's Creative Suite tools to easily and portably create websites and apps for tablets, smartphones, and mobile devices there's a new 2¼-hour course you'll be interested in…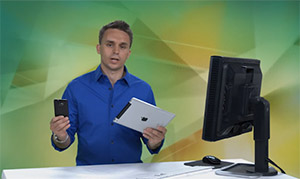 Guru Paul Trani teaches an extensive free class with 18 video chapters that will take you step-by-step on how to create portable content that will run on both Apple iOS and Google Android devices with a wide variety of screen sizes using a single code base. Basic usage of HTML5 and CSS3 is covered, as well as how to bring in Adobe's recent additions PhoneGap (for building fast, cross-platform mobile applica­tions) and Typekit (for delivering custom web fonts).
The first half of the video series employs Adobe Dreamweaver CS5.5 to develop both websites and apps, with steps on how to convert a website into a portable mobile app. The tutorials then move on to using Flash-based tools (with Adobe AIR) to build multi-platform mobile apps. We already know that Flash Professional CS5 can be used to build apps for the iPad and iPhone, but this takes it a step further. The videos guide you all the way through to how to publish your app to your device and to the Android Market (which shows immediately) or to the Apple App Store.
[UPDATE (October 2012) – Looking for CS6 tutorials? Check out this Photoshop CS6 primer, or 1,000 pages of free CS6 ebooks, or 30 hours of free CS6 videos.]
Adobe Photoshop is a sophisticated tool with a 21-year history and a seemingly-endless array of powerful capabilities. And after spending $549 for the product with discounts (or $199 for students), who wants to pay a lot more to learn how to use it all?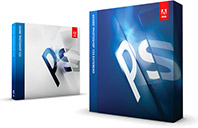 Fortunately there are a number of avenues to get great training and tutorials for free. The first stop is Adobe TV, which has nearly four hours and 37 chapters of 100% free tutorials for Photoshop CS5 alone. There is also a wealth of content for prior versions like Photoshop CS3 and CS4. It's a good place to get started and orient yourself with the major functions, and all of it is gratis.
For learning how to use the best new features added in Photoshop CS5, take a look at our collection of articles with tours of:
We also have a regular page here on the site with a rotating selection of tuts for all versions of Photoshop, stepping through various tips and tricks. And for a terrific set of little-known but very handy techniques, check out Adobe's Photoshop "Hidden Gems" series with Product Manager Bryan O'Neil Hughes.

[UPDATE – Elements 11 is out! Get free tutorials for the new version.]
We've previously covered 17+ hours of free video tutorials for Creative Suite 5, plus three hours for Lightroom 3 – so here are some brand new training resources for the just-released Adobe Photoshop Elements 10… Most of these tutorials also apply to Photoshop Elements 9, which shares the same interface but just doesn't have as many features.
In these three courses the experts share how to get started, the basics of the software, new features, how to use key tools and functions, plus their favorite tips and techniques. In sum, there is over four hours of free content, with 46 separate chapters.
[ Bonus! Here also are 70 minutes of free tutorials for Premiere Elements 10 for taking care of your video. ]
If you need a copy of Photoshop or Premiere Elements 10 to get going right away, just download the free trial and it will work fully for 30 calendar days, which should be plenty of time to get through the classes.
If you prefer learning in written form, we've got the Adobe Photoshop Elements Guide – a free 95-page e-book you can download as well.

[UPDATE (Oct. 2018) – Watch 132 hours of new training & tutorials from MAX 2018!]
Just back from Adobe MAX 2011 and it was sensational… The keynote presentations were larger than life and filled with news and demos of new Adobe software and initiatives. The hundreds of diverse product sessions were incredibly educational. The show floor was a buzzing activity of experts, partners, and vendors… And the renowned "MAX Bash" party did not disappoint.
But perhaps the best part for those who weren't there is the majority of the sessions were captured on video and are now offered online for free… In other words, pick your favorite Adobe product(s) and you can learn the latest tips, tricks, and techniques from the top instructors in the field from the comfort of your desktop. There are three major tracks below (Design, Develop, and Envision) with scores of different topics; most sessions are about an hour long and the collection runs to over 160 hours of video in total.

If you're interested in learning about the best web and interaction design techniques, there's a free new 2½-hour course you'll find worthwhile…
It's the third installment in the excellent Classroom series, which features free expert training in well-designed sessions with high-quality production values. Previous classes have been an in-depth Dreamweaver CS5 tutorial and a terrific After Effects CS5 tutorial.
This latest presentation details how to design your interfaces in the most effective way with the behavior of the user in mind. Some of the topics include crafting effective navigational systems, creating a liquid layout, how to best deliver images and media, designing forms and dialogs to smoothly guide users through a positive user experience, and more. The best practices covered here will help you make better design decisions in your work going forward.
[UPDATE – For a quick tutorial with CS6, see Ten Steps to Building a Website with Adobe Dreamweaver CS6 — or download the free new ebook, Dreamweaver CS6 Basics.]
For some months now, Adobe has had a great set of videos out (17+ hours) covering the highlights and new features of all products in Creative Suite 5… Now comes a terrific new course specifically on getting started from the ground up with Dreamweaver CS5. This 15-chapter step-by-step tutorial really covers all the basics and key topics – not just for Dreamweaver, but for developing websites in general.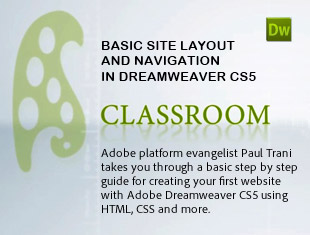 So, it's a helpful and complete background and introduction for getting started with HTML, CSS, Spry, JavaScript, XML, and rich media content such as Flash, video, and online maps. Some of the many fundamen­tal topics covered include images, fonts, layout, hyperlinking, navigation, menus, panels, templates, animation, testing, and uploading. But note that this class is not just for beginners – even experienced Dreamweaver users are learning some­thing new here… (see reviews below)
Basically, if you're looking to get going with website design and development, this is a nice way to get your feet wet (or expand your existing knowledge) with the industry-standard product in just three hours for free – regardless of whether you keep using it. If you want or need a free copy of Dreamweaver CS5 to walk through during the training, you can just download the fully-functional 30-day free trial.