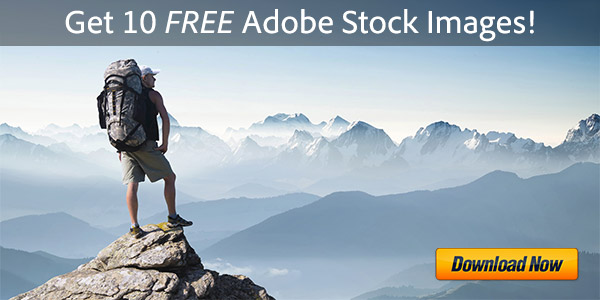 We've previously featured over 17 hours of free video tutorials for Creative Suite 5, plus three hours for Lightroom 3 – so here's a brand new set for the recently-released Adobe Acrobat X Pro & Standard… In the free courses below, product experts share how to get started, the basics of the software, overviews of major new features, how to use key tools and functions, plus their favorite tips and most useful techniques. In total, there are three courses with 3½ hours of free content, spanning over 57 separate chapters.
If you need a copy of Acrobat X Pro to get going, you can just download a free 30-day trial.

[UPDATE (February 2013) – The commercial version of Project ROME will remain free for public download! (Windows and Mac OS)]
In all the excitement last week with the hundreds of free online sessions from the Adobe MAX conference, there was a brand new product debut that should get just as much press. Adobe launched a free preview of their new Project ROME content creation and publishing applica­tion for print, photo, presentations, animation, and web. And this is a pretty cool tool if you haven't checked it out yet. The streamlined interface with plenty of templates helps you get started quickly, and the "all-in-one" nature allows you to easily borrow and repurpose content across projects or from the cloud.
The best way to get a sense of it is a quick one-minute demo:
Yesterday at the big MAX conference, Adobe finally announced their Digital Publishing Suite – a new publishing solution that allows authors to deliver innovative digital reading experiences that attract readers and advertisers. This set of end-to-end, turnkey hosted services plus viewer technology build on the foundation of Creative Suite (including InDesign CS5) and allows publishers to use existing staff, skills, and workflows to design and deliver engaging, digital content direct to consumers, through content retailers or leading mobile marketplaces. You may have seen this already being used very successfully by magazines such as WIRED and The New Yorker.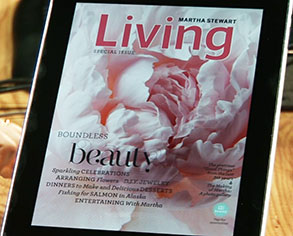 The Digital Publishing Suite will be released in the second quarter of 2011, likely in conjunction with a CS5.5 point release update. In the meantime, Adobe Labs has made some tools available now for writers to get started and create, preview and share their content in the new format. The tools include the Digital Content Bundler and Interactive Overlay Creator, plus the Digital Publishing Plug-in for InDesign, which allows InDesign to interface with and transfer information to the Digital Content Bundler.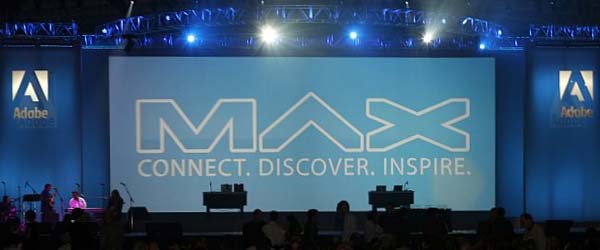 [UPDATE (Oct. 2018) – Watch 132 hours of new training & tutorials from MAX 2018!]
Adobe MAX 2010 – the worldwide user conference – runs this week and if you aren't in Los Angeles, the two major keynotes will be broadcast live plus all of the conference sessions will be available on demand for free… A full attendance pass with these informative technical sessions normally goes for $1,500, so this is a great deal (see a full listing of the hundreds of programs offered below).
Adobe InDesign tweets, "don't be the last to know… if you can't be at Adobe MAX, you can still watch the keynotes LIVE for some exciting announcements!"
One of these announcements is sure to be the arrival of the long-awaited preview release of the new Digital Publishing Suite on Adobe Labs, just out… Read all about it in the press release here.

There's a fantastic new resource available for After Effects users – a free three-hour in-depth tutorial on After Effects CS5. This introductory course covers a broad range of topics: learning the basics of compositing and animation, how to use keyframes as well as spatial and temporal interpolation, using parenting to group animated elements together, how to use masks and layers, introduction to effects, importing Photoshop documents into AE, syncing transitions to music, creating a master composition, how to render out your finished video to a standalone file, and more. The program is hands-on and includes downloadable sample files to follow along with for creating a motion graphic title sequence.
[UPDATE – Download the newer free Acrobat XI and X books!]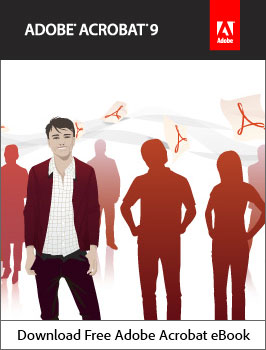 While we're waiting for the release of Adobe Acrobat 10, you can save countless hours in minutes by getting more out of Acrobat 9… Increase your productivity with a free download of 21 Key Ways to Save Time with Acrobat 9, featuring simple, step-by-step tutorials designed for both basic and advanced users. Easily get up to speed in no time with this resource guide featuring one-page, printable "cheat sheets" on creating PDF documents, assembling PDF Portfo­lios, working with forms, Acrobat collaboration, keeping files secure, and more. The easy-to-use instructions introduce you to new ways to save time and simplify complex projects.
The eBook has five categories with step-by-step instructions for performing common tasks effi­ciently. Keep a copy of this PDF portfolio on your computer as a quick resource for learning new techniques. Here's what the collection includes to help you unlock the power of Adobe Acrobat:

[UPDATE – Elements 11 is out! Get free tutorials for the new version.]
We've previously covered 17 hours of free video tutorials for Creative Suite 5, plus three hours for Lightroom 3 – so here's a chance for Photoshop Elements and Premiere Elements… Below the experts share how to get started, the basics of the programs, new features, plus their favorite tips and techniques. Most of the lessons will work for either version 8 or 7. All together there is five hours of free content, spanning over 50 chapters.
The majority of the videos were produced by Lynda.com, which is another excellent source of online tutorials (some free, some paid), and just released a new app for software training on the iPhone.
If you need a copy of either Elements product for your work, just download a free trial.
Over the next six weeks Adobe is launching a new series of in-depth online seminars to learn the best and get the most out of some top CS5 products, including InDesign, Illustrator, Premiere Pro, and Flash Professional…
The presentations are 90-minute live "deep dives" with Adobe product experts where you can get firsthand detailed information on the new features of these releases, see demonstrations, and get direct answers to your questions. All sessions are from 11:30 AM – 1:00 PM ET on upcoming Tuesdays, and will be presented in English: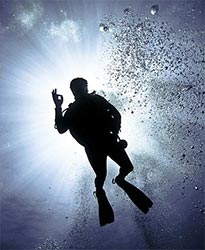 Deep Dive: Adobe Illustrator CS5
Tuesday, July 13, 11:30am – 1:00pm US/Eastern
Complimentary Registration
Deep Dive: Adobe InDesign CS5
Tuesday, July 27, 11:30am – 1:00pm US/Eastern
Complimentary Registration
Deep Dive: Adobe Flash Professional CS5
Tuesday, August 10, 11:30am – 1:00pm US/Eastern
Complimentary Registration
Deep Dive: Adobe Premiere Pro CS5
Tuesday, August 24, 11:30am – 1:00pm US/Eastern
Complimentary Registration

If you're weighing whether to upgrade to Photoshop CS5, or just want to see the best of the new features, Adobe's got a free new seminar series for you… Digital Imaging Evangelist Julieanne Kost just gave a one-hour online session (now available on-demand) highlighting at least 10 good reasons to become a Photoshop CS5 believer:
Top Ten Reasons to Upgrade to Photoshop CS5 — Watch now

Photoshop CS5 is packed with features that save time, and helps you create images with the desired impact. Easily make complex selections. Remove any image element and see the space fill in almost magically. Paint realistically. Create stunning HDR images, remove noise, add grain, and create vignettes with state-of-the-art photo­graphy tools. Seeing is believing.
This is the second in the What's New in Photoshop CS5 eSeminar Series. The first was given last month by Photoshop Product Manager Bryan O'Neil Hughes of Content-Aware Fill fame, and is also available for on-demand replay:
Adobe Photoshop CS5 for Photographers (1 hour) — Watch now

See how Photoshop CS5 gives photographers a set of breakthrough tools to help you refine your images and get superior results faster than ever before. This seminar highlights key features and the reasons why photographers should consider upgrad­ing to Photoshop CS5.
With the final releases of new Flash Player 10.1 and AIR 2, Adobe is hosting a new series of free webinars introducing the new multi-screen web content and applications development capabilities of the Flash Platform. You will discover the exciting new features of Flash Player 10.1 and AIR 2 and learn the best practices from leading industry experts on how to create unique experiences and optimize web content, video, and applications across desktop and mobile. Here's the session list, with detailed descriptions available on the registration page:
Best practices in optimizing web content for Flash Player 10.1
Tuesday, June 22, 9AM–10AM PDT — Watch Free On-Demand
The quickest way to build cross-platform apps with AIR 2
Tuesday, June 22, 1PM–2PM PDT — Watch Free On-Demand
Rich Internet App development with Flash Builder 4 for Flash Player 10.1 and AIR 2
Wednesday, June 23, 9AM–10AM PDT — Watch Free On-Demand
Multi-screen web content development with Flash Pro CS5
Thursday, June 24, 9AM–10AM PDT — Watch Free On-Demand