[UPDATE – Download over 20 Adobe books free now!]
Our last giveaway went so well that we're launching a new one for the month of May – we're giving away ten copies of some of the best CS5 books coming, Adobe's popular "Classroom in a Book" series! The books will be published in early June, just after the contest ends… They sell for up to $59.99 and include companion DVDs for Windows or Mac with bonus content including lesson files and video tutorials. Our winners can choose a book for whichever product you'd like: Photoshop CS5, Dreamweaver CS5, Illustrator CS5, InDesign CS5, Flash Pro CS5, Flash Catalyst CS5, Premiere Pro CS5, After Effects CS5, Fireworks CS5, or CS5 Design Premium.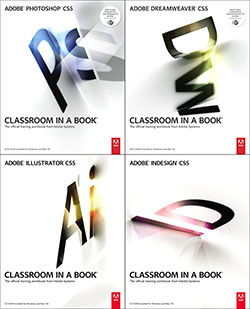 To enter, all you have to do is add a comment below describing what you like about CS5 and how you'll be using it, in up to four sentences – that's it! The contest runs until 11:59pm EDT on Monday, May 31st, 2010, when we'll choose the ten entries we like the best. One entry per person please, and if two submissions are similar, the first one will count. The contest is open to residents of the USA, Canada, U.K. and Ireland, and the winners will be chosen and books shipped out next month. Be sure to give an accurate email address as we'll be contacting ten commenters via email to get shipping information, and then follow up back here announcing first names and home­towns.
---
Speaking of giveaways, we're also pleased to announce the winner of our big Photoshop CS5 Giveaway last month… The lucky fellow who won the drawing is Dayne from North Lincoln­shire, England, and he will be receiving a shiny new shrinkwrap­ped box of Photoshop CS5 for free!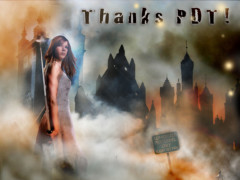 It turns out Dayne is a talented young artist who after­wards sent us some work he did with Photoshop CS4, which we'd like to share with you here…
Congratulations Dayne, and we'll look forward to seeing what you do with CS5. And thanks again to everyone who entered for your participation and enthusiasm.
---
Adobe has some more great product releases coming up, so we expect to be running one new contest each month for a while to come… And since we have a full ten new Creative Suite 5 books to give away this month, if you enter now plus facebook and tweet your friends and colleagues, hopefully one of you will get one!