[UPDATE – See all of Adobe's current deals & discounts!]
Adobe is continuing its special "Deal of the Day" program and the next big deal is a healthy 30% off their bestselling product, Photoshop CS5 – although it is not widely publicized…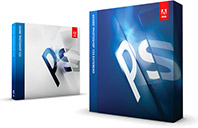 This means – for one day only – you'd pay $489 instead of $699… and for the Extended (top-of-the-line) version, it's now $699 instead of $999.
[ See: What's the Difference Between Photoshop CS5 and Extended? ]
This is the real deal – genuine, authentic, and you're getting it direct from Adobe.
And it's not an upgrade – it's the full commercial version… You can receive it via instant download or shrinkwrapped box delivered by FedEx, for either Windows or Mac OS, in any language.
For even more savings, it appears this sale is stackable with another current Adobe special where you can save 30% off Lightroom when the two products are purchased at the same time…
The offer doesn't apply for product upgrades from older versions of Photoshop, there's no additional discount for those – they remain $199 every day, with no coupon or promotion code needed… Meanwhile, students and teachers can continue to benefit from the 80%-off education pricing to buy Photoshop CS5 Extended for just $199.
However, if you already own an Adobe CS product, there's a worldwide opportunity for even greater savings – for a very limited time, you can get the full Creative Suite 5.5 Production Premium suite for half price – or $849 – and that includes Photoshop CS5 Extended, plus six other major Adobe applications (see what's included).
These really are stunning offers, the lowest prices we've ever seen on any version of Photoshop or for any Premium Creative Suite. And Photoshop CS5 is a fantastic release:
For the Photoshop "One Day Deal," the 30% off savings is available only on purchases made directly from Adobe by retail customers in North America by Tuesday, September 27th, 2011, at 11:59pm PDT. The discount will be reflected in the shopping cart just prior to checkout. Pricing is available only through the Adobe Store. Education, OEM, and licensing customers are not eligible. This offer is valid in US, Canada, and Mexico. One discount per customer.

So if you've been thinking about making the jump to this industry-gold-standard tool, here is a terrific entry! If you prefer to try before you buy, you can immediately download the fully-functional free trial, and then just convert it before midnight tonight to secure the lower price.
This savings will not be available anywhere else and is the best offer online at the lowest price Adobe has ever offered on an external promotion! Don't miss out on this great opportunity.
To hear about future Adobe promotions, follow us on Facebook or Twitter, or subscribe to our RSS feed… You can also enter your email and have new articles sent directly to your Inbox. We are reader-supported; when you buy through links on our site, we may earn an affiliate commission.