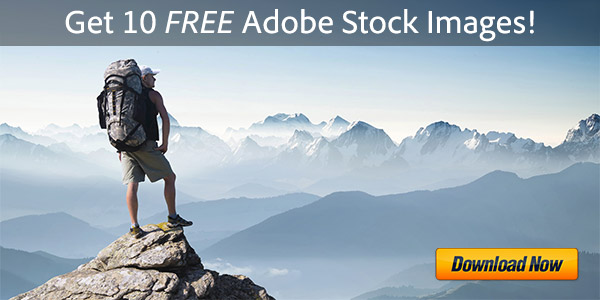 Missed the big event? No problem! You can watch a full replay… It's about an hour in length, but we promise you there's so much tightly packed into that hour that it could easily be five times as long! And even if you caught it the first time, we found it to be worth a review to catch what flew by before – plus the production values (as you might expect from Adobe) are pretty sweet…
(click at the bottom right for full-screen HD)
You can find dozens more great videos on what's new in Creative Suite 5 here:
www.cs5.tv
Late yesterday, in a post entitled, "CS5 Countdown is on…", Adobe Chief Technology Officer Kevin Lynch wrote about the recent decision by Apple to restrict which Software Development Kits can be employed to produce iPad and iPhone apps:
So, what's all the fuss about the Apple proposed revised SDK license?

Yesterday Apple released some proposed changes to their SDK license restricting the technologies that developers can use, including Adobe [Flash] software and others such as Unity and Titanium.

First of all, the ability to package an application for the iPhone or iPad is one feature in one product in Creative Suite. CS5 consists of 15 industry-leading applications, which contain hundreds of new capabilities and a ton of innovation. We intend to still deliver this capability in CS5 and it is up to Apple whether they choose to allow or disallow applications as their rules shift over time.

Secondly, multiscreen is growing beyond Apple's devices. This year we will see a wide range of excellent smartphones, tablets, smartbooks, televisions and more coming to market and we are continuing to work with partners across this whole range to enable your content and applications to be viewed, interacted with and purchased.

Tune In

Creative Suite 5 is a tremendous leap forward, and I encourage you to tune into the global webcast on Monday 8am PDT and find out all the details.
---

As referenced in our previous article about CS5 shipping timeframes, Adobe's top dog gave a presentation last week to financial analysts in which he talked about Creative Suite 5. He said some interesting things, but as most regular folks and creatives don't often read financial transcripts, here are the highlights:
We are excited about the upcoming launch of CS5. It will be a phenomenal release, rich with innovative "wow" features, new products and integrated workflows. It will enable an even broader set of designers and developers to more effectively create deliver and measure engaging experiences across media and devices. We're hosting a global online event to launch CS5, which is on track to ship in major languages [English, French, German and Japanese] late in Q2. [Ed. note – Adobe's fiscal second quarter ends in late May.]

It's clear the trends continue to be in favor of what we've been doing which is to enable our customers to offer once and deliver across multiple media types and the amount of digital content that we see created continues to increase, and frankly it continues to be richer – so more video, more use of animation and interactivity.

Our need is to enable our customers to have one workflow rather than multiple stovepipe workflows. So with that backdrop, we recognize that creative pros and companies are facing unprecedented challenges frankly, which is how can they deliver this engaging consistent brand experience across many devices.

We now think that our solution, the combination of Creative Suite with Omniture as well as with Flash Player 10.1, really provides a comprehensive approach to enable them to do that. That coupled with the strengthened economy and the innovation we've done in CS5, gives us a lot of confidence for the remainder of the year, but also frankly for the entire duration of the CS5 release.

Since it's probably going to get asked, let me give you a few factors about what is in CS5. I think the big themes for us are first, the ability to design without boundaries, and that comes both from new products we're introducing in CS5 like Flash Catalyst. Everything we've done with InDesign where you can now use InDesign content and repurpose that for electronic delivery without writing a single line of code, what we've done in Photoshop including support for 3D capabilities.

The second theme is really all about working faster with greater precision and this is support for new formats, HD for example, as well as what we've done with the new Mercury Engine and our video product which allows people to render video using hardware acceleration as well as native 64-bit support.

And finally, services – we've talked about the desire to extend our desktop function­ality with services. You'll see that with CS Live. So all of that points to a solid release and we're excited. You'll learn a lot more about what's in the products and pricing at the launch event.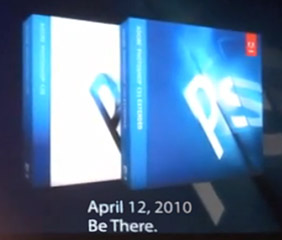 [UPDATE – Also see our new MAX 2019 Ticket Giveaway!]
Less than a week to go now until the big Global Online Launch of Creative Suite 5, if you haven't signed up yet … We've talked a lot here about Photoshop CS5, so here's your chance to win it for free! All you have to do is enter your email address in the "Adobe Special Offers" box in the sidebar to the right for our free occasional e-newsletter. That's it.
It's open worldwide with one subscription per person and submissions end at 11:59pm EDT on Friday, April 30th, 2010. Then on May 1st (right before we think CS5 is released) we'll choose one new subscriber at random, and if it's you we'll ship you a shiny new shrinkwrap­ped box of Photoshop CS5 for free! (up to $699 value) We'll contact you via email just to get your address for shipping, and then follow up back here announcing your first name and home­town. It's that simple, no kidding!
If you like, you can find out more about the newsletter you'll be receiving – it typically contains select Adobe-related news items plus the latest discounts and great coupon codes. And of course you can easily unsubscribe from the bottom of any issue. Naturally we'll never spam you or share your email address with anyone else, ever. So enter your email today and tell your friends – someone has to win the giveaway and there's nothing to lose!
Just out: a very cool Adobe Photoshop CS5* preview demo on a new feature called Puppet Warp that lets you distort and warp images with extreme accuracy… Just set a few control points and then it becomes a breeze to precisely reposition or warp any image element – like swing a raised arm to a person's side in a photo, wrap a rope any way you want, manipulate a puppet, stretch or wind text to create new effects, or structurally realign images with a click or drag of the mouse… What else can you think of?
Incredible convergence happening with these tools and what they can do.
* Creative Suite 5 inclusion is subject to the same disclaimers confirmed! as for our earlier previews on Photoshop CS5 and Dreamweaver CS5.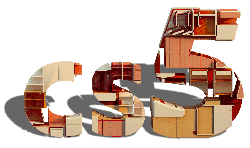 [UPDATE (April 30th) – CS5 is now shipping!]
As you may have heard, Creative Suite 5 will be launched on April 12 with a big rollout event that Adobe anticipates over 200,000 people to sign up and attend… So we'll all learn about what's coming – but we won't be able to use or download the software yet – for that we have to wait further. But when will that happen? Well, there's a lot of mis­information and stray guesses out there about when the shipping date(s) will be, so we thought it might be instructive to take a look at exactly how things happened last time for CS4, eighteen months ago…
So here is our analysis on what CS5's important dates will be, if the CS4 model is followed – although please note these are our own working estimates and not from Adobe:
Product Release Matrix
Creative Suite 4
Creative Suite 5

*

Our estimate

†

Updated 4/23 to reflect latest intelligence
Preannounce Date
September 6, 2008
March 23, 2010
Official Launch Date and Event
(with Pricing Out and Preorder Open)
September 23, 2008
April 12, 2010
First Product Shipping Date
(Full Release Date in English)
October 15, 2008
May 4 April 30

*†

Ship Date for Other Languages
(e.g., French, German, Japanese)
November 3, 2008
May 24 May 7

*†

Downloadable Free Trials Available
November 10, 2008
June 1 April 30

*†

New Student Editions Available
November 17, 2008
June 7 April 30

*†
Since our popular post Thursday with the latest "sneak peek" preview of the stunning new Content-Aware Fill (aka PatchMatch) technology in Photoshop CS5, another "insane" video has surfaced… This one comes from last week's Photoshop World in Orlando, and shows something we still find impossible to believe.
But before we get to that, first Photoshop CS5 gets unveiled by JohnnyL!
[UPDATE (June 8th) – Lightroom 3 is now shipping! Win a free upgrade.]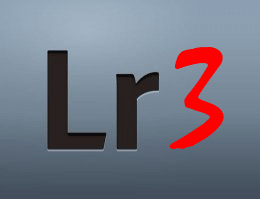 With all the activity this past week for the launch of Creative Suite 5 plus the availability of Flash/Flex Builder 4, a third development didn't get as much attention – the release of the second beta version of Lightroom 3 from Adobe Labs. Some folks were a little surprised to see a 2nd beta, thinking instead the full and final product release might be next – here are a few reasons why…
One is that the timeframe between the first two releases of Lightroom was about 18 months (see chart below). Eighteen further months would have put the GA of version 3.0 at about now. Furthermore, the first beta of LR3 came out on October 22 and expires at the end of April – another factor which would point to the final 3.0 arriving soon. So what happened? Our guess is: CS5 happened. Adobe looks pretty busy right now and likely wanted to give a bit more separation between these two major launches, rather than on top of each other.
| | Adobe Lightroom | Apple Aperture |
| --- | --- | --- |
| Release 1.x | February 19, 2007 | September 29, 2006 |
| Release 2.0 | July 29, 2008 | February 12, 2008 |
| Release 3.0 | June/July 2010? | February 9, 2010 |
"Any sufficiently advanced technology is indistinguishable from magic." [Arthur C. Clarke] — that's what comes to mind when watching this latest preview demo from the Adobe Photoshop team… There have been several videos out on this amazing new Photoshop CS5* Content-Aware Fill (aka PatchMatch) technology, but this new one is the best. Move/remove/repair entire objects with the back­ground automatically filling like the object was never there – jaw-dropping, really. Incredible how easy this makes it and what the possibilities could be – and thinking already of the hours it's going to save.
The best part is about halfway the video when he makes trees and roads disappear and then creates desert and mountains and clouds and sky from seemingly out of nowhere, all with single clicks of the mouse. And just like when watching magic on TV, we found ourselves wondering if there was something going on "behind the scenes" to make it work… But let's hope not – what do you think?
By the way, the breakthrough new technology shown here is a joint development effort between the Adobe Photoshop team and the Graphics Group at Princeton University.
* Creative Suite 5 inclusion is subject to the same disclaimers confirmed! as for our earlier previews on Photoshop CS5 and Dreamweaver CS5.
The wait is over, the date is set! Moments ago, Adobe confirmed they will be officially launching Creative Suite 5 on Monday, April 12, 2010… This lines up well with our earlier forecasts of a CS5 release date in "mid-April" and "just around the corner." The event will be webcast worldwide at 11am ET / 8am PT and 3pm GMT on the thriving Adobe TV, and is open to all who sign up here.
Naturally there are a lot of details left to unfold but here are some of the earliest: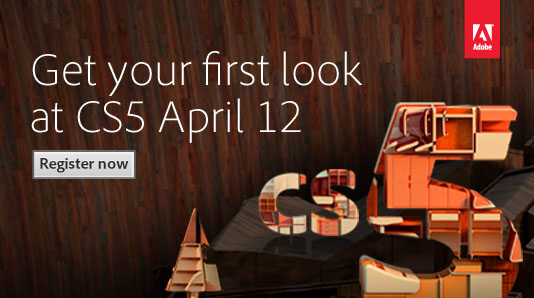 And the pithy invitation: