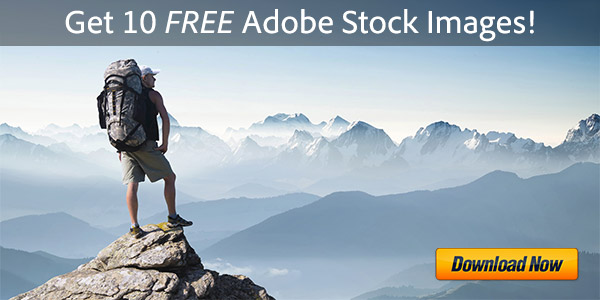 This is one of the most common questions we get, and the answer may pleasantly surprise you… The place to look to find the answer is the Software License Agreement, also called the terms of use or EULA. This agreement governs the use of your Adobe product, and is translated into 28 languages within each document. It also covers some basics about product activation.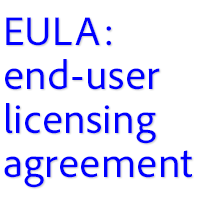 So, in general, how many systems can you install Adobe software on, including the Creative Cloud (CC) and CS6? The answer for individuals (as opposed to businesses) in most cases is two. The catch is that both computers must be used only by you and the two systems cannot be used at the same time. This policy was designed so that you could run Creative Cloud (or Creative Suite) at home on your desktop PC, as well as while traveling with your laptop or tablet PC. But the types of computers and their usage has blurred so much now that you can just pick any two you own and the product should install and properly activate on both…
For example, here is the key text from the Terms of Use for CC Software:
1.1 Use of Software: Subscription-Based License. Your subscription lets you activate the Software on up to two devices (or virtual machines) at a time, however, you may not use the Software on the two devices simultaneously.
Here's a very helpful resource out from James Wamser – a complete reference to all versions and features of Adobe Illustrator from CS6 to CC 2020… Similar to his InDesign and Photoshop handbooks, it's called the Adobe Illustrator New Features Guide: From CS6 to CC – and this 40-page ebook is available for free download now: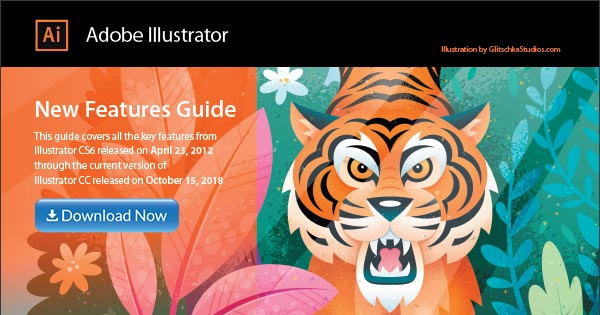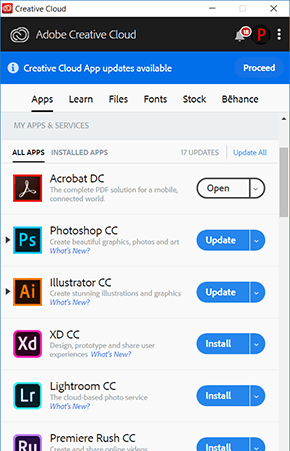 We're on the Adobe Help Forums every day and regularly see users posting queries like "Can't install Photoshop from the Creative Cloud" or "CC 2019 won't download," or "my product updates aren't working"… It could be for the free trials or for the full paid versions.
Often the issue is related to one or the other download managers (DLM) that Adobe uses to deliver its software install­ers. Over the years and for various tools, they have used the Akamai Down­load Manager, the Adobe Down­load Assistant (ADA), the Adobe Applica­tion Manager (AAM), and now the Creative Cloud's CC Desktop App.
Adobe employs these helper utilities because their downloads are usually large – multiple gigabytes – and download managers can help correct for unreliable Internet connections, and resume a download after it has been paused or unexpectedly broken.
But it turns out there can be interactions between the DLM and configurations of your computer, web browser, anti-virus software, Internet connection, or something else which causes it not to work. Read more…
Here's the brand new edition of a very handy resource from James Wamser – a complete reference to all versions and features of Adobe Photoshop from CS1 to CC 2019… Similar to his InDesign and Illustrator handbooks, it's called the Adobe Photoshop New Features Guide: From CS to CC – and this 97-page ebook is available for free download now: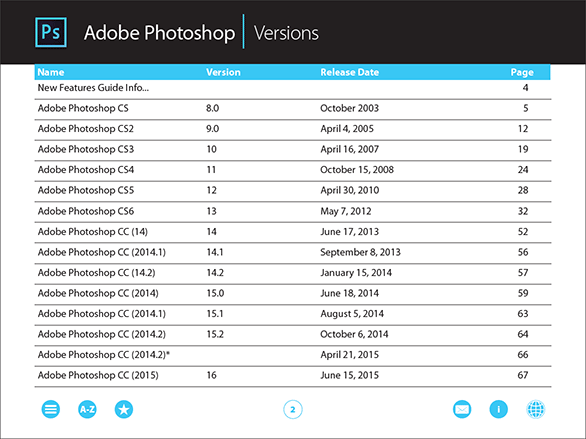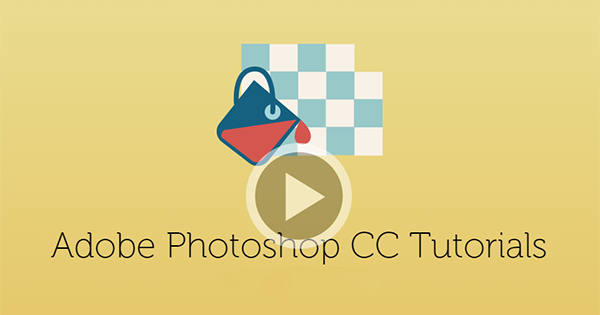 Here's an incredible new resource that you should not miss – and even bookmark/share… It's a compre­hensive professional training course on how to best use Adobe Photoshop from O'Reilly's InfiniteSkills – normally costing US$130, but now completely FREE with no catch. It includes 13 hours of high-quality instruction broken out into 23 chapters with 166 video tutorials (in HD or SD), covering all major aspects of Photoshop – the world's most popular graphics and photo editing software – at no cost!

[UPDATE – See all of Adobe's current deals & discounts!]
It's been over two years now since the initial launch of the Adobe CC release (replacing CS6) and we've seen over 1,000 new features added and included since that time – so recently Adobe confirmed they will be ending their popular Creative Cloud 40%-off discount upgrade offer for existing customers of CS3, CS4, CS5, CS5.5, or CS6:
"Don't miss out on 40% savings. For a short while longer, Adobe will provide Creative Suite customers worldwide (CS3 and later) the option of joining Creative Cloud Complete for 40% off or $29.99 / £27.34 / €36,89 / A$29.99 a month for the first year."
The updated terms and conditions show that this upgrade discount offer for CS3 through CS6 to CC will only be available until May 29th, 2015:
Note that this offer is limited to one (1) purchase of one (1) discounted Creative Cloud Complete annual membership per customer – and may not be assigned, exchanged, sold, transferred, or redeemed for cash.
Adobe's finally done it. In case you haven't heard yet about the new Photoshop Playbook, you should.
After years of offering free video tutorials – and following on to Senior Product Manager Bryan O'Neil Hughes' success with his "Hidden Gems" series – Adobe has built a new collection of bite-sized lessons that cover exactly the kinds of things that many, many people want to (know how to) do with Photoshop.
Adobe's recent and regrettable data security breach has been getting a lot of headlines, but not always for the right reasons…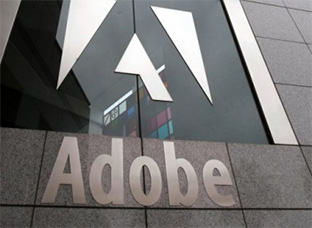 Although the sizeable breach has nothing to do in particular with Adobe's new Creative Cloud offering, it has nonethe­less been scapegoated here.
A popular online photography site wrote, "The attack exposes a weakness in the company's new Creative Cloud subscription model…"
Well, not really.
Adobe Forum posters say things like, "This makes me like Creative Cloud less."
But in fact, the breach was not only for Creative Cloud customers, but rather for Adobe ID accounts generally – which most customers have for any type of product, including CS6 and earlier, Acrobat, Lightroom, and so on.
Creating such an account is/was required for Creative Suite 6 starting in May 2012. It also happens during product registration and if you want to interact online with Adobe in almost any way.

Both Microsoft Windows 8.1 and Apple Mac OS X "Mavericks" (10.9) have been announced and are available immediately to all customers, and naturally our readers' questions turn to: Are Adobe applications like Creative Cloud and Creative Suite 6 compatible with these new operating systems? Should you upgrade your computers, and will this Adobe software continue to run if you do? Will the programs work properly on a new machine with one of these platforms?
Good news: the answer in most cases is generally yes, yes, yes, and yes. This goes for both the full releases as well as the trial versions of CC and CS6. Read on for more details…
Install now: Get all new Creative Cloud 2020 direct download links and free trials.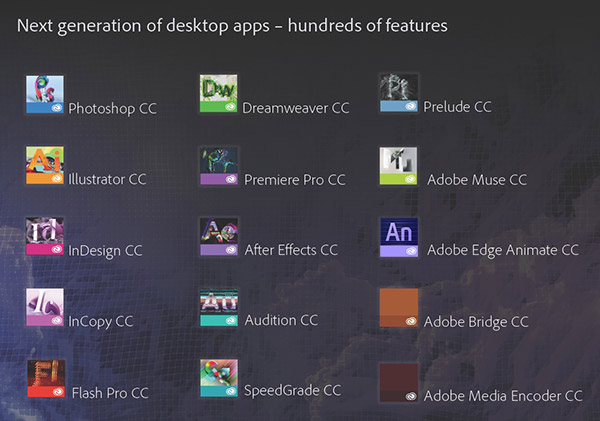 [UPDATE (Nov. 2019) – The all-new Adobe CC 2020 release has launched and is now available! See what's new in features and all the differences compared to older versions and CS6.]
Six weeks after its official introduction, Adobe today has rolled out the the new "CC" release, with hundreds of new features and improvements across the product line centering on productivity, performance, and connectivity – see our guide to what's new in CC…