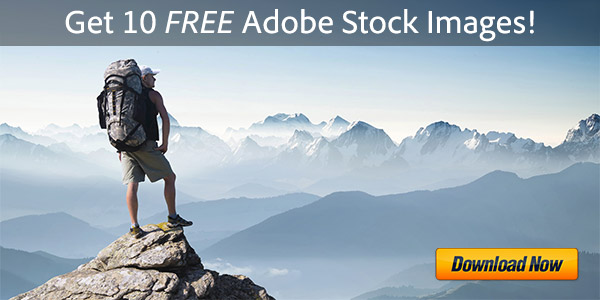 As you may know, Creative Suite 6 was announced on Monday with a big launch event webcast worldwide… So we've learned about what's new and different, and now we're waiting patiently for the actual release date. But there is some official news today that will affect the buying patterns of many customers.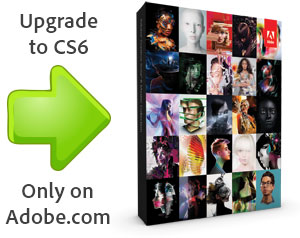 Starting with Creative Suite 6, all individual upgrades — both for CS suite editions and point products like Photoshop CS6 and Illustrator CS6 — are available for purchase only through the Adobe website.*
Normally after a new release comes out, you can find the many upgrade packages at other sites or vendors. But effective with CS6 in many major geographies, Adobe will no longer offer upgrades through resellers, retailers, or other third parties* – including Amazon…
So now in the USA, Canada, Mexico, Australia and New Zealand, the only place you can buy a CS6 upgrade from any earlier version of Adobe software is directly at Adobe's online Store. The rest of the world (including Europe) will continue as before.
* Upgrades for volume licensing customers are still available on Adobe.com or through channel partners.

Missed the big event? No problem! You can watch a full replay… It's about an hour and twenty minutes in length, and available on-demand below. Creative Suite 6 offers hundreds of new capabilities and focuses on four main areas: Application Performance, Enhanced User Interface, Efficient Development for Multiple Devices, and Killer Features. The launch event illustrates these themes through the true story of a fashion designer and how her company benefits from the new features added in CS6.
Adobe says it's taken more than 10,000,000 person-hours to produce this version… If you assume salary, benefits, office and other expenses come out to around US$50/hour, then that's $500 million invested into Creative Suite 6 – and onto your desktop!
If you want to just watch the 22-minute segment with demos of CS6, without the intro pieces or coverage of the Creative Cloud, it's the second video below. For more details on the release such as product adds/drops, suite configurations, system specs, upgrade paths, plus pricing and availability, see our CS6 Launch Guide. Or check out a detailed product-by-product breakout of what's new in every CS6 application.
Meanwhile, the free CS6 trials will be available soon, but if you'd like to get started with Photoshop right away, just download the Photoshop CS6 beta release. You can also enter to win Photoshop CS6 for free…
[NEWS (May 7th) – CS6 has been released!]
As you may have heard, Creative Suite 6 was announced on April 23rd with a big launch event that's being webcast world­wide… So we've learned about what's new and different, but we can't use or download the software yet – for that we have to wait further until the actual release date. When will that be?
Adobe CEO Shantanu Narayen has previously said this regarding availability:
"I know there's been some confusion about what we mean by 'launch' versus what we mean by 'ship.' On the launch date, we'll talk a lot more about the new features and function­alities of the suites, the various product configurations, and what we've done with pricing. We have some new products which will factor into the pricing moving forward. And then traditionally, within 30 days, you tend to ship the software products themselves. The early feedback has been very positive."
The time window now also means you can preorder the software, but you might not want to actually do that. Why? Because you could save a good bit of money by ordering CS5.5 from Adobe's site instead (at lower cost), in which case you will be eligible for an automatic free upgrade to CS6 when it comes out…
Adobe has just unveiled Creative Suite 6 – and one of the upgrade questions people are asking is what's new, what's different, what's changed in CS6 as compared to previous version(s)? Adobe calls it, "a killer release with hundreds of new capabilities rolling up four focus areas: application performance, enhanced user interface, efficient development for multiple devices, and making previously impossible things possible." So our job here is to give you a quick "cheat sheet" on top new features, to help you decide about upgrading…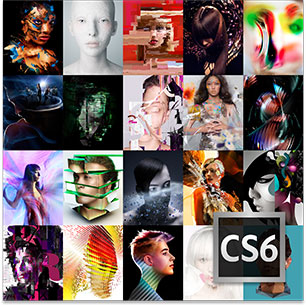 CS6 updates almost all of the individual products from CS5, including Photoshop, Illustrator, Dreamweaver, Fireworks, Flash Pro, InDesign/InCopy, Premiere Pro, After Effects, Audition, and Encore. Learn more about all the new features added to each of these applications in detail, with our special coverage.
The CS5 tools not revisioned to CS6 are Flash Catalyst, Contribute (upgraded to new version 6.5 but sold standalone), OnLocation, and Device Central. Acrobat and Flash Builder are included in the suites but remain the same versions as before.
In addition there are two new applications introduced: Prelude CS6, a video ingest and logging tool to help tag and transcode footage rapidly, and SpeedGrade CS6, a professional color grading system that brings state-of-the-art color science to your video productions. These new tools are included in both the Production Premium and Master Collection suites.

[UPDATE (Jan. 2017) – Adobe just stopped selling CS6 entirely – here's why.]
Yes – Adobe CS6 has just been announced with all the details… Pretty much on the time­frame we forecast, you can learn about and order any of the new products or suite editions, or even download the free CS6 trials. An on-demand video of the global Creative Suite 6 Launch Event is also now available. Adobe calls this "a huge release, our best ever," so let's take a closer look…
CS6 arrives one year following CS5.5 and two years after CS5. Photoshop and Illustrator did not get CS5.5 versions, so both of these tools have received very significant upgrades for CS6. But all the individual applications, including InDesign, Dreamweaver and the video tools, are receiving additional features, enhanced functionality, updated technologies, and/or solid performance boosts with Creative Suite 6. There are also two new products: Prelude CS6 and SpeedGrade CS6; plus the Design Premium and Web Premium suites have been combined into one (see how these fit into the Product Matrix).
[UPDATE – Also see our Winter Creative Cloud 2020 Giveaway!]
Creative Suite 6 is now available for instant download and direct shipping, and there are many important differences in this release compared to Creative Suite 5, including hundreds of new features added to the individual applications.
And after giving away CS6 Master Collection earlier this month, we now would like to focus especially on Adobe's popular lineup of Digital Imaging Products. In particular, we want to give brand new copies of Photoshop CS6, Lightroom 4, and Photoshop Elements 10 to three of you, our amazing readers!
There will be one winner for each of these products, which are the commercial English versions for either Windows or Mac OS. The three winners will receive them in prize packages also containing Adobe/CS6 tee-shirts, pens, and other goodies. 1st prize is Photoshop, 2nd prize is Lightroom, and 3rd prize is PSE – with a total estimated retail value for all prizes of US$1000.
Sound good? These are all brand new releases, so it may help to know what's new in Photoshop CS6, what's new in Lightroom 4, and what's new in Photoshop Elements 10.
How to enter? It's easy to gain up to four chances to win… The contest is open to residents of North America, U.K., Europe, Australia, New Zealand, and South Africa – and to enter just do one (or more) of the following:
[UPDATE (April 23rd) – Creative Suite 6 is out!]
With a barrage of Photoshop sneak peeks plus many for other CS6 products, you knew that finally Adobe Illustrator was bound to get more love of its own… Adobe has now slipped out two cool looks at the new Illustrator CS6, the next generation of the industry-leading vector graphics tool.
Similar to Photoshop, it's been two years now since a major new version was released – and similar to Photoshop CS6, the new edition of Illustrator will also have a redesigned user interface that is both darker and more modern. The idea here is by making the background darker and the controls more streamlined, the content itself will more readily shine through and stand out.
Here below AI Product Manager Brenda Sutherland shares two quick peeks into a bit of what's new for Illustrator CS6 as part of the upcoming Creative Suite 6 – a terrific new Gradients on Strokes feature that lets you create artwork that looks complex but is easy to edit, plus an exciting new way to create seamless, repeating vector patterns… check them out:
[UPDATE (April 23rd) – Creative Suite 6 is unveiled! Learn when it will ship.]
The wait is over, the date is set! After months of hints and "sneak peeks", Adobe has just confirmed they will be officially launching Creative Suite 6 on Monday, April 23rd, 2012…
This lines up well with our earlier forecast for the announce date – and we continue to expect the shipping date to come in early May, as suggested by the current CS6 Grace Period Offer.
The Creative Suite 6 Launch Event will be webcast worldwide on Monday at 10am PT / 1pm ET and 5pm GMT – and naturally it will be recorded so you can watch the video on demand thereafter.
Naturally there are a lot of details left to unfold but here are some of the earliest… Be sure to tune in here: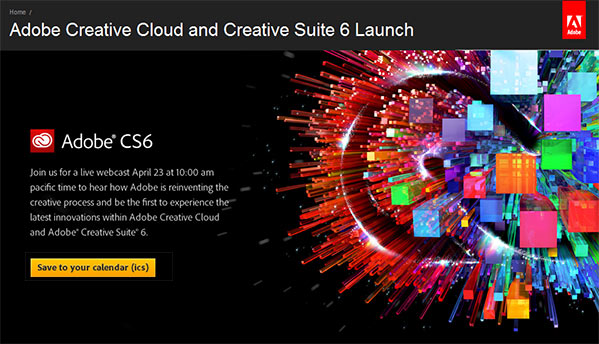 [UPDATE (April 23rd) – Creative Suite 6 is out!]
On Thursday Adobe surprised everyone with an "early reveal" of the new CS6 video products just in time for the NAB 2012 show in Las Vegas kicking off today…
If you missed it, we have coverage of the new features in Premiere Pro, After Effects, and Audition, with a CS6 vs. CS5.5 version comparison – as well as the same for the CS6 Production Premium suite, taking a look at what's new and improved.
These video tools are loaded with new features and performance improvements, and are already getting solid reviews. Lynda.com writes, "Workflow, speed, and efficiency make for a strong CS6 update to veteran production applications Adobe Premiere Pro and After Effects."
And PC Pro Magazine gives its verdict on Premiere Pro CS6: "A significant interface overhaul, both in appearance and day-to-day operation, makes this sophisticated, powerful editor more tempting than ever… Adobe's video-editing flagship completes its transformation from a clunky and unresponsive behemoth to a smooth, efficient professional tool."
Here now are some Frequently Asked Questions (and answers) on the products, and a bit further down are some helpful video demos for each of the three.
[UPDATE (April 23rd) – Creative Suite 6 is out!]
Wondering what's coming soon in Adobe's world-class video suite CS6 Production Premium, before it comes out next month? Read below for the latest details on what's new and improved in CS6, and what's different compared to CS5.5…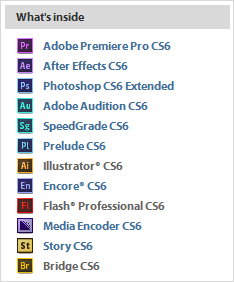 This information is being revealed in advance of the 2012 NAB Show in Las Vegas next week, where the company is planning to make a really big splash with these new tools.
Adobe CS6 Production Premium introduces a sleek, fresh editing environment in Premiere Pro – the hub of your post-production workflow. Freely iterate creative ideas with the new Content-Aware family of technologies in Photoshop Extended and with new 3D advancements in After Effects, where the Global Performance Cache lets you work as fast as you can think. New components – Adobe Prelude, a logging and ingest tool, and Adobe SpeedGrade, for color grading and finishing (originally published by Iridas) – offer superior solutions to common production challenges. Adobe Audition adds dozens of enhanced editing features and support for control surfaces so you can produce audio more efficiently. From planning to playback, CS6 Production Premium gives you tools that help your workflow.