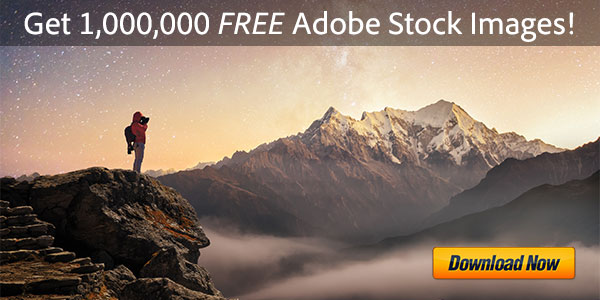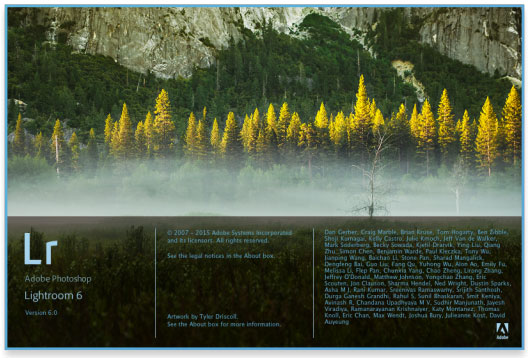 [UPDATE (Oct. 2020) – These links still work to download the Lightroom 6/CC 2015 installers. You can also now get Adobe's new CC 2021 Direct Download Links!]
Yes – the new release of Adobe Photoshop Lightroom 6 is just out and now shipping! There was no beta version/period this time, so we go straight to the final product. And as in the past, this release will work side-by-side with any previous revisions of Lightroom you may have. If you've got an earlier version installed on your system(s), Lightroom 6 will ask if you'd like to upgrade your catalog and copy everything over.

Some exciting news for photographers: Adobe has just brought back a special offer that opens up the popular Photoshop Photography Program to any customer worldwide who would like to participate… This was Adobe's big "Black Friday Deal" that is now making a surprise return – meaning for the next few months, this new discounted plan is available to everybody!
The Photoshop Photography Program includes all of the following for only US$9.99/month with an annual membership (Adobe's best deal ever on PS):
Adobe says this is the regular ongoing price for anyone who signs up for the program by June 30, 2014. So if you join now, then if/when you renew in a year's time, the price will still be $9.99 per month. They do not have plans to change this price.

Adobe has been hinting at introducing a new "photographer's offering" in Creative Cloud since the launch of the all-new CC release in May:
"Photographers and photo-enthusiasts are looking for a more tailored Creative Cloud offering that focuses on their particular needs… We are looking at potential CC bundles to recognize this."
So now, an incredible new package called the Photoshop Photography Program was just announced by Adobe at the Photoshop World conference today:
Since introducing Photoshop CC we've listened to feedback from a spectrum of our customers, from advanced pros to casual enthusiasts. One common request was a solution specifically tailored for photographers. We listened and are announcing a special offer for our loyal Photoshop customers. Beginning today, all customers who own Photoshop CS3 or higher are eligible for a special Creative Cloud membership offer that includes all of the following for just $9.99/month (available worldwide; pricing varies outside the US):

This is the ongoing price for anyone who signs up by June 30, 2014. So if you sign up now, then when you renew next year, the price will still be $9.99 per month. We do not currently have any intention of raising this price.
[UPDATE (April 2015) – The new Adobe Lightroom 6/CC release is now shipping! Download a free trial instantly or check out what's new in Lightroom 6 vs. 5.]
Yes – the final Adobe Photoshop Lightroom 5 is just out and now shipping! Pretty much on the time­frame we forecast, you can download a free trial today… And the new product will work side-by-side with any previous releases of Lightroom you may own. If you have an earlier version installed on your system(s), Lightroom 5 will ask if you'd like to upgrade your catalog and copy everything over.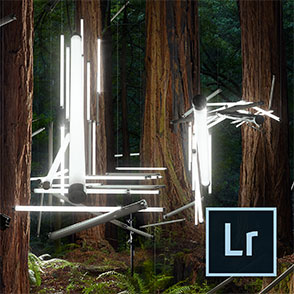 After a 50% price drop for LR4, the price for Lightroom 5 standalone continues to be US$149 for the full version, and $79 to upgrade from any previous release (LR1, LR2, LR3, or LR4)… Students and teachers can get the full education edition for $79.
If you've joined the Creative Cloud, then the full release of Lightroom 5 is already available for you to download and use now as part of your membership – it comes automatically and at no additional cost.
Install now: Get all new Creative Cloud 2021 direct download links and free trials.
Also, if you happened to purchase Lightroom 4 within the past 30 days, then if you like you can return it under Adobe's Refund Policy and order Lightroom 5 instead. It's not an official "grace period," but it works.
[UPDATE (June 10th) – The Lightroom 5 final release is now shipping!]
Adobe has just announced a free public beta release of the eagerly-anticipated Photoshop Lightroom 5, with new tools and advancements to develop, enhance and share your digital photographs… Lightroom 5 provides photographers with an elegant and efficient way to work with their growing digital image collections, bring out the best in their images, and make an impact from raw capture to creative output, all while maintaining the highest possible quality each step of the way.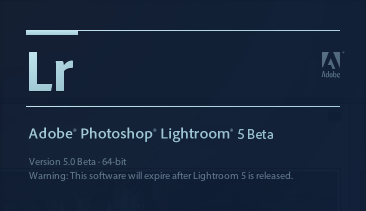 "The Lightroom team is proud to introduce the fifth major version of the product designed for and by photographers. We've been hard at work improving an application that's intended to be as easy to use as it is powerful. This release builds on the image quality improvements in Lightroom 4 to provide a truly complete workflow and imaging solution. We encour­age you to try the beta release and provide your feedback to the product team."
Available as a free public download for Windows and Mac, the Lightroom 5 beta is a limited-time preview of new features and capabilities that will be offered in the final release of LR5, expected in mid-2013 and available separately as well as part of the Creative Cloud.
[UPDATE (June 10th) – The Lightroom 5 final release is now available!]
Last week Adobe Lightroom 4 celebrated its first birthday – yes, it was released one year ago this month – and so this is usually around the time when people start asking: when will Photoshop Lightroom 5 be released, and what new features will be included in it?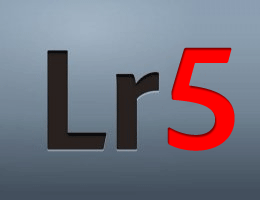 Adobe hasn't said, and has not given advance notice in the past. But as shown in the chart below, Lightroom has run an average of about 20 months between releases (ranging from 17 to 23 months). So if history is any measure, then moving forward twenty months from when version 4.0 came out could put Lightroom 5 shipping in the fall of 2013…
But there's more to the story. Every previous release of Lightroom has had at least one public beta period – and even all the dot-releases have had betas as well – so a beta release would generally be expected for Lightroom 5 too. These beta periods have lasted 2-3 months each. Adobe has not yet announced a Lightroom 5 beta, so it's reasonable to assume that we should be seeing one on Adobe Labs well before the official release of the product. In other words, don't expect (the final) Lightroom 5 for at least several months from now – or from the time the beta comes out.

"What's the difference between the different Photoshops?"
We've seen this question sooo many times, we just had to write a complete article about it.  With four different members of the Adobe Photoshop family, it can be confusing what is what and which to get…  And now that Elements 11 is out, it's a good time to look at this.
If you ask Adobe, they'll tell you:
Q:  How do Adobe Photoshop, Photoshop Extended, Photoshop Elements, and Photoshop Lightroom software differ?

A:  Photoshop Elements 11 (US$99) is designed for people who are just getting started with digital photo editing, and delivers powerful yet easy-to-use options that help you organize, edit, create, share, and help protect your personal photos.

Photoshop CS6 (US$699) is the professional standard for creating and manipulating powerful images, and Photoshop CS6 Extended (US$999) delivers every­thing in Photoshop plus tools for creating and editing 3D images and objects. [Both of these versions have recently been replaced by Photoshop CC, which is available by sub­scription (US$10-20/month), and has additional features compared to CS6.]

Photoshop Lightroom 4 (US$149) addresses the workflow needs of professional and serious amateur photographers, enabling them to import, process, organize, and showcase large volumes of digital photographs quickly, or develop a single image. [Lightroom 4 is succeeded by Lightroom 5 – see the differences between the two.]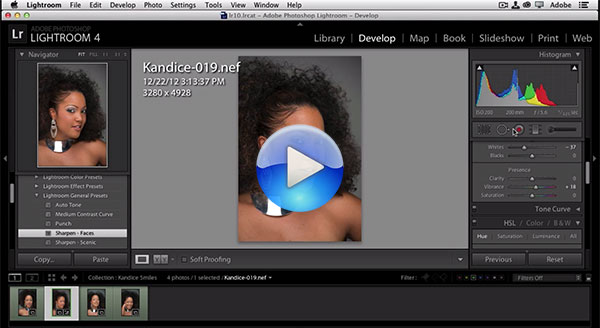 Adobe Evangelist Terry White has a terrific new training session out showing you how to get started achieving immediate and impactful results using new Lightroom 4… This 37-minute class covers all the basics and walks through how to accomplish the top 10 things that beginners always want to know how to do.
Here's the overview:
In this episode we're going to take a look at how to get started with Lightroom 4 – the ten things beginners want to know how to do. It's kind of keeping up with a primer series I've been doing: I started with Photoshop and then I did InDesign, and now it's time to do Lightroom. So let's jump right in and talk about the 10 things beginners want to know how to do right off the bat.
[UPDATE – See all of Adobe's current deals & discounts!]
If you've been thinking of buying or upgrading to the latest version of Adobe Photoshop Lightroom, we have an exclusive coupon code that will save you 15% off the already low price of this industry award-winning product…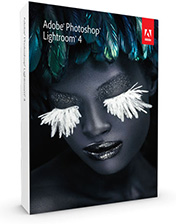 Lightroom used to sell for US$299 as recently as last winter, and then with the release of version 4 in March, Adobe dropped the price by 50% to US$149…
Now, using our new coupon code, you can get an additional 15% off that price, bringing the full version to just $127 – and the upgrade version (from LR 1, 2 or 3) to only $67! These are the lowest Adobe prices ever available for this software.
Grab this unique promotion now before it expires at the end of the month. If you're a student or teacher, you can get an even better deal with $20 off the education version of Lightroom.
Here are the details for this special clickable coupon – and note there is a different coupon code internationally:
[UPDATE – See all of Adobe's current deals & discounts!]
Adobe recognizes that many people use both Lightroom and Photoshop in their workflows, and so is offering a special deal where you can save 30% off the full version of Lightroom 4 if you purchase it together with the new Photoshop CS6 in any form. This means if you buy Photoshop CS6, Photoshop CS6 Extended, or any CS6 suite edition (which all contain PS), you'll get 30% off Lightroom when you buy them at the same time.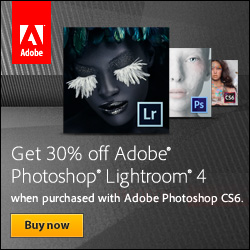 And it works for either buying the full version or upgrading from an older version of Photoshop or the CS suite… So if you are buying Lightroom for the first time, you'll get 30% off the price of the full version (normally $149/€109/£87) – and in the U.S. they round this down to just $99. No promotion code is required to activate the discount, which will be reflected in your shopping cart just prior to checkout. This offer is valid worldwide until Decem­ber 31st, 2012, but pricing is available only through the online Adobe Commercial Store (in other words, Volume and Education customers are not eligible, perhaps because the LR4 student edition is already US$79).