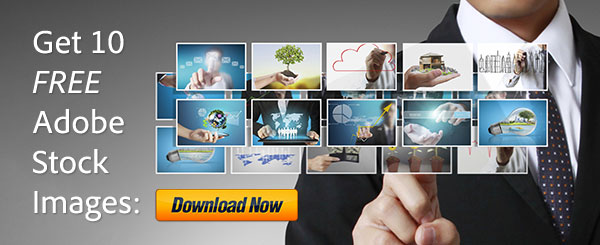 Creative Cloud Version Control: How to Update or Revert CC Apps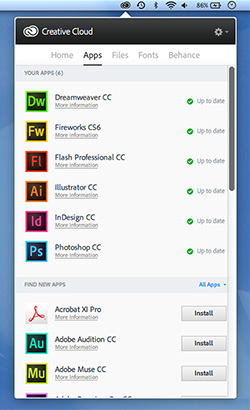 One of the biggest strengths of the Adobe CC 2015 release is receiving a complete set of creative tools with an ongoing stream of updates included at no extra cost… We no longer have to wait 1-2 years for our products to innovate and keep pace with evolving technologies; instead we get the latest & greatest features and improvements as soon as they are ready.
Since the initial launch of CC in 2013, Adobe has regularly issued new upgrades for each individual app about once every 3-4 months, bringing new power and capabilities to all subscribers.
Normally the Creative Cloud works seamlessly with these ongoing product updates… The CC Desktop App runs quietly in the System Tray and gracefully notifies the customer that a new upgrade is avail­able for any of the included applications like Photoshop CC, and (optionally whenever desired) the user clicks one button to auto­matically download and install the update smoothly in the back­ground.
Sometimes, however, subscribers need more control for various reasons… You might want the ability to download and apply updates manually, work with the installers offline, or be able to go back to a previous version by rolling back a specific update – in other words, easily downgrade back to any prior/older CC release.
How to do all this without using the CC Desktop App Manager not readily apparent to most users – but fortu­nately, here, we're going to give you the answers. Generally speaking, to build or restore to any version of any CC app when needed, you can use these steps…
To go backwards to a prior/earlier CC version (downgrade)
Uninstall the Adobe tool using your operating system's uninstall function… Next, download and run the Adobe Cleaner Tool to ensure it is removed completely. Reboot your computer.
Download and install the base (original .0) release of app you want to restore using the special direct links… Use the direct download links for CC 2015 (the current version), or CC 2014 (the previous version), or CC 2013 (the earliest version). Then run the app and make sure it is activated by signing in with your Adobe ID.
Then download and apply the CC patch update for the version you want to upgrade your base release to. We maintain complete sets of all updates available for CC 2015 (Windows or Mac), for CC 2014 (Windows or Mac), and for CC 2013 (Windows or Mac). Note all patches are cumulative and include earlier updates for that release.
Or, to go forwards to a newer/later CC version (upgrade)
If you don't already have it running on your computer, then start by downloading and installing the base release for the desired version – all those links are given in step 2 just above.
Then simply download and apply the CC patch update for the version you want to upgrade your current release to… The direct links for all CC updates are given in step 3 above.
Because all patches are cumulative, you can just pick the one you want to upgrade to.
Note: If you're not sure what is the current version of the tool you're running, then just select "About…" or "System Info…" on the the app's Help menu and it will give you that information.
To go back or use a previous release, like CC 2014, CC 2013, or CS6
If it helps or if you didn't know already, the older CC 2014, CC 2013 and Creative Suite 6 (2012) versions of the applications are also included in your Creative Cloud membership – and they can be used & run together with the newer CC 2015 releases… You can actually choose any version(s) you want.
If you need to get those installers quickly, you can access them via the Creative Cloud Download Center, which keeps a permanent archive of prior releases available to you – or you can instead use our collections of Adobe CC 2014 Direct Links, the CC 2013 Direct Links and/or the CS6 Direct Links.
So there you have it: three common and helpful use cases for situations you may encounter, either now or bookmark for future use… If you have difficulties with any of the above instructions or steps, please
post a comment
below and we'll try to assist!
---
See Also

Do you have any questions about CC? Just ask below and we'll get you answers fast!
Keep up with the latest on Adobe software — subscribe to our RSS feed or follow us on Twitter or Facebook… You can also enter your email and have new articles sent directly to your inbox.
Share This