[UPDATE – See all of Adobe's current deals & discounts!]
Looking at Creative Cloud, with its 5-star customer reviews? Adobe has announced new and unprecedented special offer that we have to share with you…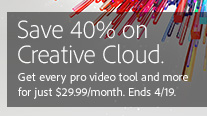 Using a limited-time promotion code, you can now join the Creative Cloud for $29.99 a month for the first year, which is 40% off the regular $49.99 price of an annual membership.
No previous ownership of any Adobe product is necessary, but the price reduction is only available during this very brief window.
This deal comes via the big annual NAB show and is aimed at video professionals — though it's apparent that anyone interested can use it… It's valid through April 19, 2013 in North America, and available one-to-a-customer direct from the Adobe Store only:
With a new version of Creative Suite expected soon, one of the key benefits of Creative Cloud is that all members automatically get access to the latest upgrades and new CS features as soon as they are released for no additional cost.
In fact, after revealing a series of sneak peek videos and first looks at some upcoming new features in major CS(7?) applications, Adobe says:
The new version's release date has not been announced, but there is a great way to get yourself to the front of the line. If you join Creative Cloud now, you will immediately receive the entire stable of currently shipping CS6 applications AND you will automatically receive the new versions of all your favorite Adobe applications as soon as they are available. Until April 19th, we're offering a NAB Show Special giving you 40% off Creative Cloud for your first year – that's only $29.99/month It's an amazing way to keep your costs really low and your tools up to date all the time."
This discount code won't last, but if you don't feel you're ready for the Creative Cloud at $29/month or would just need/use a single Adobe tool instead at this time, then there's also the option of individual product subscriptions such as Photoshop CS6 (including the latest updates) for $19 a month.
For students and teachers the deal is similar – Adobe is also offering 40% (or $20) off Cloud member­ships to education customers worldwide. Likewise it's 40% off for owners of any previous CS product going back to Creative Suite 3.
Existing volume licensing customers also get a first-year discount of $20 per month with the new Creative Cloud for Teams.
Check this helpful FAQ for the 90 top questions (and answers) about the Cloud:
The Adobe Creative Cloud Q&A – Your Top Questions Answered
See Also

Do you have any questions about the Creative Cloud? Just ask them below and we'll get you answers fast!
Keep up with the latest on Adobe software — follow us on Facebook or Twitter, or subscribe to our RSS feed… You can also enter your email and have new articles sent directly to your Inbox. We are reader-supported; when you buy through links on our site, we may earn an affiliate commission.