The 10 Most Frequent Myths About Adobe's Creative Cloud (CC)
With over 9 million customers having already signed up in the 3½ years since it launched, Adobe's Creative Cloud (CC) product line has been a success exceeding even the company's own expecta­tions. Still, there are a lot of misconceptions out there that we see from time to time, or that some folks seem to believe… (do you?) Here below we dispel and debunk the top 10 most common myths we've heard – and hopefully even if you already know the scoop or use Creative Cloud you'll pick something up… read on!
Myth #1: "'Creative Cloud' sounds like cloud storage only – which is just a way to store your files, and I already have Dropbox which is free."
Some say the name is misleading – but the Creative Cloud is actually a comprehensive collection of creative tools and services including the new CC 2015 release of desktop products, Acrobat DC Pro, Adobe Muse, Lightroom 6/CC, Behance ProSite, Adobe Edge, and more – the full working versions… You do also get 2-20 gigabytes of online storage space for syncing and sharing your files, but that is only one piece of of the big picture.
Myth #2: "I don't want to be constantly connected to the Internet to start and run my creative apps; what happens when I'm on a plane?"
You do not have to be continually connected to the Internet. After the CC applications are installed and running on your desktop, online access is only required once every 4 months for revalida­tion of your annual membership. Plus there are solutions in place if you'll be offline for an extended period – like traveling for six months without web access… just contact Customer Service.
Myth #3: "The applications can't be very powerful if they are running in a browser – trying to run Photoshop over the web is going to be really slow."
None of the the tools mentioned above are hosted or web-based versions… These are the genuine desktop products that you download and install right on your computers, and work just like usual – these are not web applications, it's not "software as a service" (SaaS), and your CC programs like Photoshop will run as normal.
[ Related: Photoshop Will Always Run on the Desktop ]
Myth #4: "The subscription model sounds like it might be more expensive than perpetual licensing, so it may not be worth it to me."
When you add up the price tags of all the individual products you can install and use in the Creative Cloud, the total value is over US$10,000. The Master Suite by itself historically sells for $2,600, and that's just part of what you get with a newer CC 2015 release… All ongoing updates and upgrades are included, as well as free professional training. You can access these leading products for $9-$49 a month, one year at a time, and install & run them on up to two of your computers (including both PC and Mac) – compare the two options in detail here.
Myth #5: "So I can have the entire latest Master Collection and more for $1-2/day, and do anything with it – it must be too good to be true, no?"
There's no catch. It works exactly as described, you can imagine and create without bound­aries using all of the world's best tools for photo, image, video, audio, graphics, illustration, web, print, mobile, publishing, gaming, animation, development and design – and so far the overall user reviews and ratings are close to 5 stars out of five.
Myth #6: "Well, then Adobe is going to entice everyone to the Cloud – and once we are all hooked, they are going to jack up the prices."
Adobe has offered subscription-based CS products for seven years now, and over that time their prices have only fallen, never risen… You've got elasticity of the demand curve – the lower the monthly rate, the more people sign up, the greater the cost is spread out, and repeat. It's a virtuous cycle in our view – and if anything, no guarantees but we think prices will continue to drop as the Cloud grows… The most recent evidence (and price cut) is Adobe's new introduction of a $9.99/month plan. The bottom line is raising to unaffordable rates would be counterproductive. But if you're still worried about it, then you can always choose to lock in your pricing in advance.
Special: Legally download dozens of free Adobe books for a limited time!
Myth #7: "If my friend or client or colleague isn't a Creative Cloud member, I can't share my files with them." …or… "But I don't want to share all my work publicly/online."
If you're concerned about sharing files with people using older versions of the CS tools, check out our CC File Compatibility Guide. And using the cloud storage is not required. For any files you choose to store online in Adobe's Cloud, you can easily set different levels of sharing – from keeping them completely private to sharing them publicly with anyone at all. Viewers will be able to do many things like see thumbnails and larger previews, change layer states of PSD files, step through Illustrator artboards and InDesign and PDF pages, and see file metadata all from within their browsers [watch video demo here]. But you can also keep your files entirely offline on your local disk as normal, because saving a copy to the online Cloud storage is completely optional.
Myth #8: "The Creative Cloud isn't free (is it?), so if I leave then I will lose all my files."
No worries – there is a totally free (for life) level of Creative Cloud membership which provides ten terrific benefits including free products & services, that anyone can sign up for… If you cancel a paid membership then you'll have a 90-day grace period bring any cloud storage down to the size of 2GB free (or can buy additional storage separately if you like). You prob­ably also saved your files locally on your computer as well, before sharing online.
Myth #9: "Even if I only use one or two applications, I have no choice but to buy the complete Creative Cloud membership, right?"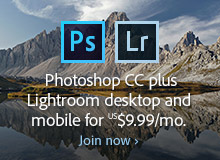 No, this is false. Just like it was with the previous suites and point products, you still have the option to buy either the discounted bundle of everything or just a single program if you prefer. If you only want to use an individual tool or two, then you can sign up for a Single-App Membership at a lower price ($9-19). For example, Adobe is now offering a special Photography Plan worldwide that gives both Photoshop CC + Lightroom CC (the full desktop and mobile releases) for $9.99 a month.
Myth #10: "With the Cloud you can't ever stay on or run previous versions if you want to, you are always forced to update to the latest release, right? I might not always be ready to do that, plus some plug-ins might not yet work with the newer version."
No, in fact it's optional – and your call. Creative Cloud makes updates avail­able for those who want to install them, but the applica­tion manager will not automati­cally update your system without your go-ahead… You can continue using the versions you have already downloaded, and then choose if and when to install the new releases, whenever is convenient and best for you. On average for each CC tool, the pacing of available upgrades has been every 2-3 months. And IT administrators can use the new Creative Cloud Packager utility to fully control all aspects of deploy­ment on any group of computers.
Bonus Myth: "If for some reason Adobe decides to stop offering products in the Creative Cloud, then I'll be stuck."
In the event that Adobe decides to discontinue any products in the Creative Cloud, then they will make the most recent full and permanent version of the software available free of charge to active members on an as-is basis. But that seems unlikely to happen, because with the brisk adoption the offering has been receiving – almost 65,000 new customers each week – the future of Creative Cloud appears bright.
"In the event that Adobe decides to discontinue any of the products in Creative Cloud, we will make the most recent version of the product available for download free of charge to active Creative Cloud members for a period of no less than 90 days. Such downloads will not require a subscription and will be licensed on an as-is, no warranty basis …"
Do you have any questions, thoughts, or other myths you've heard about the Creative Cloud? Check out our extensive Creative Cloud FAQ, or just post them below and we'll get you answers fast!
---
See Also

Share This