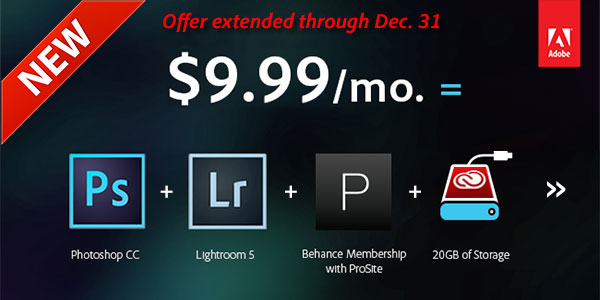 Creative Cloud Adoption Grows to Over One Million Paid Members
Adobe's Creative Cloud has been available for 15 months now (see chart) and is gaining strong adoption in the marketplace, the latest published figures show.
Paid/premium membership continues to accelerate and has now passed 1 million subscribers, as the new "CC" release replaced Creative Suite in the spring.
While the company still sells last year's CS6 for those who would rather have the previous licensing model, the Creative Cloud package compares favorably on almost all measures and is Adobe's highest-rated major product ever in their history – likely because it gives access to almost everything they make, all for one easy price.
From last night's conference call:
Across our Creative business, the transition to Creative Cloud is happening sooner than expected, with the overwhelming majority of customers moving away from perpetual licenses and towards subscription-based licenses, demonstrating acceptance of the new offering. Individual, team and enterprise customers are realizing the advantages of Creative Cloud. Individuals are receiving an ongoing stream of innovation (like the new Photoshop Generator) at an affordable price. Teams and groups are benefiting from being on the same version and the ability to seamlessly share files, fonts and preferences.

As of the third quarter, 81% of subscriptions are for the complete Creative Cloud, rather than point products. What's more, we experienced strong retention among individual customers renewing at full price as their introductory promotions expired. And so we're pleased so far with what we are seeing in terms of renewal rates. We also continue to see meaningful number of people who give us the feedback that if they did not have the Creative Cloud option, they would have not chosen to transact business with us in the quarter or the year.
The figures quoted do not count the free memberships to Creative Cloud, which Adobe previously said they had 2.5 million, and is surely larger now.
The company sees momentum continuing with new subscriptions, and expects close to 1.4 million paid members by the end of 2013, and over 4 million subscribers by the end of 2015!
You can read the full transcript here.
[ Do you believe any of these? The 10 Most Common Myths About Creative Cloud ]
Mighty & Napoleon – New Hardware Devices for Creative Cloud
In a sneak preview at the annual MAX conference in May, Adobe demonstrated prototypes of hardware(!) for artists working on tablets such as the iPad – two smart devices code-named Projects Mighty and Napoleon. Now these initiatives are turning into full-blown new products due in 2014:
To facilitate design on tablets, we announced today we will partner with Adonit to produce two new devices. One is Project Mighty, a cloud-connected pen; and the other is Project Napoleon, a digital ruler. Our goal is to enable these two new devices to work together with tablet apps like Adobe Ideas and Photoshop Touch, and smoothly integrate with Creative Cloud files.
Here's a great demo, very cool stuff:
See Also
Share This